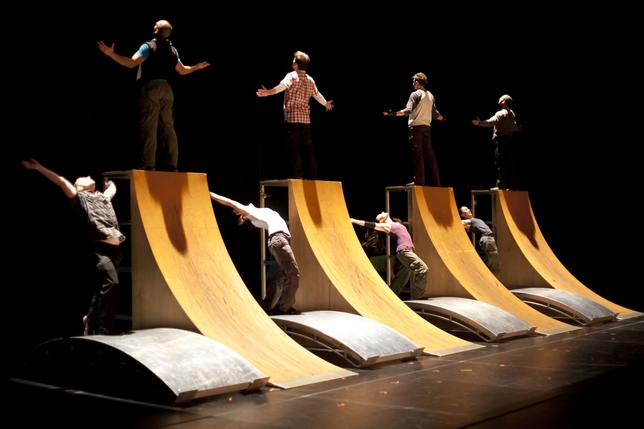 Jacques Heim, artistic director of the rebranded Diavolo Dance Company, is experiencing a creative evolution. "The garage band days are over," he told Backstage. Now, Heim is readying his Los Angeles-based company for a Sept. 12 performance at the city's Greek Theatre.
Diavolo, which is now called Diavolo / Architecture in Motion, remains one of the L.A.'s best-kept dance secrets. Working out of downtown's Brewery Artist Lofts, Diavolo's daredevil dancers have perfected their signature style of moving on structures and set pieces. The choreography is part modern dance, part acrobatics, part aerial, and always involves a combination of movement and architecture. Heim calls their style "architecture in motion."
"I realized I'm more a director and an architect of motion than I am a pure choreographer," he explained.
Diavolo has come a long way since its inception in 1993. Heim described their early years as "garage band days" where they would create pieces by improvising and playing on structures. Today, a piece like "Transit Space" takes six months to a year of careful planning, research, modeling, and pre-production.
Heim credits his work choreographing Cirque du Soleil's production of Ka at the MGM Grand in Las Vegas as the catalyst for his creative evolution. "That was like my Ph.D.," Heim said. "I was pushed in so many different directions. It really changed me as a man, as a director, as an artistic director."
Heim calls his team of 10 dancers "a special breed of gladiators" who incorporate all kinds of mental and physical prowess into their performances. In its piece "Trajectoire," the company teeters and sways on a 2,000-pound rocking boat, using gravity and momentum to their advantage, dancing on and off the moving structure, some catapulted across the stage into the arms of their human catcher teammates—all without the assistance of harnesses or safety gear.
Meanwhile, in the piece "Transit Space" the company combines acrobatics, modern, and hip hop on skateboard ramps. It dazzles while exploring the themes of isolation and connection to a soundtrack of music and spoken word created and dramaturged by Paul James Prendergast and spoken word artist Steve Connell, who will also appear in the Friday show.
"Transit Space," which uses the familiar urban landscape of skateboarding ramps as a metaphor for life, was influenced by "Dogtown and Z-Boys." Heim drew from the documentary, which follows a group of young skateboarders in Venice, Calif., by listening to "interviews with young men and women who had a problem connecting with their families, problem focusing at work and at school, but as soon as they were connected with their group skateboarding, they felt a sense of freedom and purpose.
"I saw a connection with my own childhood," he said.
Want more L.A. news? Sign up for our Backstage L.A. newsletter!