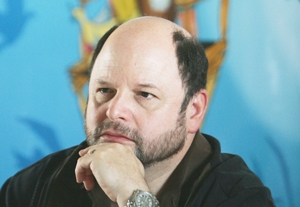 It was Jason Alexander's wife, Daena E. Title, who introduced him to acting teacher Larry Moss. This was in the early 1980s, when Alexander appeared in a workshop production at Manhattan Theatre Club. Title, who had studied with Moss, invited the teacher to the performance, hoping that she might convince her husband to work with him. Moss was impressed with what he saw of Alexander in the workshop. "I can't remember the play," says Moss. "I can't remember who was in it. I remember this one moment of a kind of connection he had with himself. It was very deep and emotionally powerful."
Alexander describes their first meeting, after the MTC performance: "He came striding over to me. He introduced himself, and I was well-aware of who he was. But suddenly he was there in front of me—this gigantic, passionate, insane beast. And he said to me, 'You are very, very good. Really excellent. And I could make you much better.' "
Flattered and taken aback, Alexander replied, "Oh, really? And how long would it take you to make me much better?" He expected an "artsy-fartsy" rejoinder. "If you work your ass off," Moss replied, "I can change your career in a year." Admiring this succinct answer, Alexander enrolled in a musical theater performance course that Moss was conducting at Circle in the Square. On his first day in the class, Alexander performed the song "Love Revolution" from "I Love My Wife," a musical that Moss had acted in on Broadway. "Love Revolution" was written for a female character. But as rendered by Alexander, the number became the plaintive squeak of a mousy man who longed to be a swinger. In the course of the performance, Alexander ripped off his coat and unbuttoned his shirt to reveal a 1970s-style gold chain. As Moss recalls, he then "started to dance in a groovy way." The class literally got up on their chairs to roar approval.
Remembers Moss, "I said to him, 'Jason, that was pretty top-notch work, on any stage.' But what I noticed in him—and it wasn't necessarily a bad thing—was a kind of tremendous sheen on his work, a slick quality. And because I had seen him go deeper in that workshop, I said, 'I think we need to work on material that is darker and more vulnerable.' And he went for it and began to work on ballads and all different kinds of songs."
Moss was unlike other teachers Alexander had studied with. "He was as intuitive and insightful as any person I have ever known," the actor says. "He was silly and holy-cow funny. And I was intrigued and compelled by him every step of the way."
So began a decades-long partnership that included work on both coasts. Moss learned that Alexander was "relentless in his work ethic." Many years after that initial meeting, Moss taught an evening class in Santa Monica, Calif. Alexander was filming "Seinfeld" at the time but would come to class to work on scenes from Shakespeare's "Richard III." Sometimes the class would continue until 1a.m. "He was so interested in being a good actor," Moss says. "Stella Adler used to say, 'It's not enough to have talent. You have to have a talent for your talent.' And Jason really had that in spades."
Alexander especially admires two of his teacher's skills. The first is Moss' ability to demystify the acting process. Moss, Alexander explains, created a step-by-step formula for character development: a list of questions designed to help actors make choices. "And he insisted that the answers to those questions contain specifics, not generalities." The other skill Alexander appreciates is Moss' ability to identify and help remove "emotional or behavioral blocks that prevent actors from experiencing or portraying something fully."
As Alexander progressed in his craft, he began to view Moss as a "colleague rather than an icon." For his part, Moss sensed a kinship with Alexander that was rooted in their mutual, lifelong passion for theater. "We have loved and been involved in and committed to being in the performing arts since the time we were little children," he says.
Moss suggests that Alexander's "Seinfeld" celebrity might have stymied a lesser performer. "It's very difficult when people love you on the level that George [Costanza] was loved for so many years to get that out of people's minds and have them say, 'Oh, he's an actor. He's not George.' That's the terror of television." Moss contends that Alexander "does not walk with his fame" and values work over acclaim.
Noting Alexander's work as a director, writer, and artistic director of L.A.'s Reprise Theatre Company, Moss predicts that the coming years will be creatively rewarding for his longtime pupil. He says he hopes Alexander will continue to stretch as an actor, as well—to work on Shakespeare and Pinter and Chekhov, as he did in seasons past.