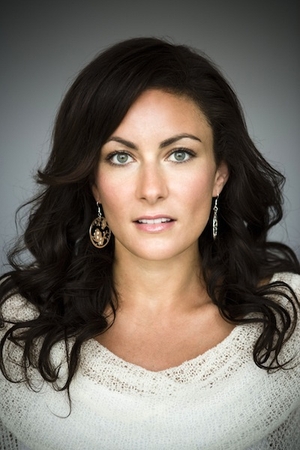 Laura Benanti is a human lady—at least according to her Twitter bio. But she must have some sort of super human power with the amount she's been working lately.
From returning to 54 Below for an encore of her solo concert in September, and releasing a live album "In Constant Search of the Right Kind of Attention," to now preparing to co-star with Carrie Underwood in "The Sound of Music Live!" which will premiere Dec. 5 on NBC, you could say Benanti's been busy. And frankly, the busyness is making her sick.
"I've been sick for like a frickin' month. I'm not even kidding you," she says during an early morning phone interview between coughs. "I think it's because of those kids! There's so many of them. My little sister is a school psychologist and the first year she was at school, she was like deathly ill because little children are like petri dishes. I've been sick since 'The Sound of Music' started."
Benanti plays Elsa, the finacée of Captain von Trapp (Stephen Moyer) in the upcoming live broadcast of the Rodgers and Hammerstein musical, but this isn't her first time in the Alps. She made her Broadway debut as Maria opposite Richard Chamberlain. So does she have any tips for Underwood on tackling the role?
"I mean, look, what kind of a dick would I be if I walked up to her and was like, 'Let me give you some advice.' So no. That really wasn't my M.O.," she says.
We chatted with Benanti about her live album, preparing for "The Sound of Music," and the secret to television acting.
Be a goofball.
One of the many highlights of Benanti's 54 Below album is her hilarious banter. She shares funny (false?) facts about the nightclub—like the time Liza Minnelli gave birth to a baby made entirely of glitter—and she also gets into a fairly ridiculous conversation with a gynecologist in the audience. But Benanti has no formal comedy training. "I'm a just a professional idiot," she says. "It's not like I sit down and go, 'I'm gong to write this right now.' I wish I could say I have some intense process but really it's kind of haphazard."
Be yourself.
What Benanti loves most about doing her solo concert is she gets to show audiences who she really is instead of portraying a character. "For me it's the most fun part of my career," she says. But does it make her feel vulnerable? "I don't know if vulnerable is the word that I would use," she explains. "Maybe exposed, maybe you feel a little bit more like there's no place to hide. If people don't like your act, it feels a little bit more like they don't like you as opposed to they didn't like that character…It's weird because on one hand we make our living from being permeable and vulnerable, but we also have to have very thick skin."
Be honest.
And while Benanti has a thick skin, she's also very open about the ups and downs of her career. On the CD, she riffs on the cancellations of her TV series "Go On" and "The Playboy Club," and she also sang a hilarious number at the Tony Awards this year poking fun at her work in TV. "I think all we have is honesty," she says. "I would rather be the one to poke fun at the fact that both my TV shows were cancelled. I'd rather do that than act like nothing's happened and have people tip-toe around me. I'd rather acknowledge it. I'm not embarrassed by it. It's nothing that I blame myself for. Most people don't even get to be on TV so I got to be on TV a bunch of times…I feel so lucky that I get to go back and forth between television and theater. And so if I can make some people laugh by bringing it up then I'm going to do that. I think poking fun at oneself is fun. Self-deprecation humor is my favorite thing to watch."
Approach each project with fresh eyes.
Even though Benanti has appeared in "The Sound of Music" before, she had to look at the show from a new perspective. "It's weird," she says. "I've only ever looked at that show through the lens of Maria. So to look at it through the lens of this other person, who I used to think of as a bit of a villain, has been tricky but also really fun."
Be funny (and act drunk).
But Benanti has come to really love Elsa, the upper-crust baroness, and she's finding the humor in the part. "I always approach every role through a lens of comedy," she says. "I think she's hilarious. My take on her is that she's always half a martini in at all times. You know those people, those rich people, where you're like, 'Are you a little tiny bit drunk?' And the answer is yes. I feel like that's her thing."
Hit your mark.
But Benanti won't really be drinking on set. While rehearsals for "Sound of Music" are similar to how a cast prepares for a show on Broadway, the cast will have to be aware of cameras and marks when they shoot the performance live in the studio. "I can't tell you the amount of times they've said, 'Uh Laura we can see you looking at your mark.' I'm like, oh god what kind of an idiot am I? But it's just hard you know!" Benanti says. "You have to learn how to peripherally look at it and still seem like you're acting. That's all TV acting is. Like let me find my mark and seem like I'm still acting. Sometimes they'll put sandbags there, but then it's even funnier because you're walking and you're like stepping into sandbags so now you look like you're having a seizure. So that doesn't help either."
Inspire the next generation.
If you're not already following Benanti on Twitter, you should be. She is hands down one of the funniest celebrities writing in 140 characters. Some recent tweets include "Hey people going to the gym at 8pm you've heard of bars right?" and "'This isn't about you' is something I say to myself 5000 times a day but never reallllly believe." While her initial goal was not to use it as a medium for self-promotion, she has received an overwhelming response from young girls who want to grow up to be like her. "That makes me feel so hopeful for the future," she says. "I get so frickin' nervous about live theater and what on earth is going to happen. And when I have these teenagers say how much they love me it makes me feel like, oh everything is going to be fine. These kids love theater and they make it a priority to see theater so we're gonna be fine."