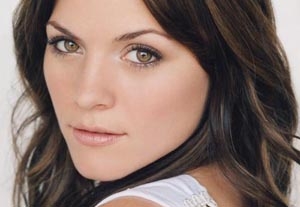 "I remember loving movies as a kid and if they would've done a sequel I would've been so disappointed if it didn't live up to my expectations. And I think we did that!" Lauren Bittner admits happily, about her record breaking box office hit "Paranormal Activity 3." Best known for playing Julie in the Paranormal prequel, you might also recognize Lauren from her roles in "Bride Wars" or "The Mighty Macs."
Growing up in Long Island Lauren started doing Community Theater, but had no idea that this could be her career. She attended St. John's University and studied English. Sometimes she regrets not having a typical college campus experience. "I wish I had done that, but then again I wouldn't have anything that I have now, and I think it was good, it kind of toughened me up and gave me a metropolitan experience."
Lauren's exuberance is contagious and no matter the topic, bad 80's fashion, the New York Mets, her TV obsession or online dating, she's got an opinion and a unique point of view. She's the best girlfriend we all wish we had.
Chosen as this week's Actor2Watch, Lauren will be featured in a series of articles, fun facts and social media tweets through this week for subscribers of Girl2Watch.com.
While in school Lauren was performing in "Little Shop of Horrors" when a friend helped kick start her professional career as an actor.
"Tara became a really amazing friend and was really supportive of my career in a way that I wasn't even. She was a TV and film major and was working and interning in the City at a talent agency. She was like, 'I think you really should get an agent.' I was pretty clueless, it really took people to watch me in a play and say you can do this.  I think some people do plays and it's great and they have a great time, but people don't necessarily say you should do this for a living, but people were saying that to me and so I took it seriously. Tara said to meet her in the City one day and I went to meet her at work. I met the people at the talent agency where she worked, who were wonderful and they asked her, 'Is your friend an actor?' She knew what she was doing. At the time I was blond and I looked different and I fit the sort of young soap opera girl thing so they started freelancing with me."
How did your experience interning at a Talent Agency help you learn about the business?
"I pulled head shots, filed and made copies of scripts.  It was like old school back then, you know, people picked up scripts, there was no e-mailing. I was really star struck because I had all these head shots.  I would see people on guest spots on "Law and Order." I'd be like I know him; I pull his head shot all the time! It also made me appreciate the work that goes into getting an audition. You have to submit and you have to get the appointment and then when you get it you're lucky."
What's your philosophy on auditioning?
"You can't focus on the enormity of the situation when you're going in for these things, now that's a big problem of mine just in life, you know, to sort of go through every experience and take it for what it is and appreciate it. Going day by day and not getting overwhelmed by it because that can screw it up, you know.
How do you prepare for an audition?
Usually I'll glance at the sides to see what I'm looking for when I'm reading the script, just to know I need to know when and why my character is in there at all.  Then I read a script and I read it very quickly once, just to get an overall feeling for it then I'll go back.  Usually I read them twice. If it's a comedy script I'm looking to see what the tone of it is, the pacing and what the character type is that I'm going to be auditioning for.
Do you always go out for the same type?
I'm pretty lucky I get seen for a lot of stuff.  I think I'm not as specific as I used to be. I used to get seen for the girl next door and now I get seen for mom stuff. I just played a young mom in the movie. I think that I can do the dark folksy girl and I can also do the girl next door, you know, so I've been lucky.
Do you ever read a script and just not respond to it?
Not often because usually I think that there's probably something great that can come out of it and I probably don't see it yet.  Sometimes I have my husband read it and give me another opinion because sometimes wherever you are that day emotionally is how you feel about whatever you just read. So I try to step back and get a little more objective about scripts. I try to give everything a shot for the most part. You just never know, I've done some jobs that have turned out to be the best things that I didn't necessarily think were going to be.