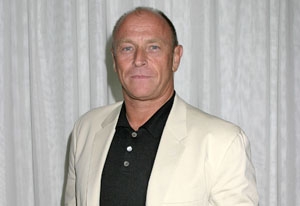 Though 15 years have passed since "L.A. Law" (1986–94) went off the air, Corbin Bernsen says he continues to be typecast as the vacant, philandering Arnie Becker. "In fact, it's assumed that's who I am," insists the 55-year-old Los Angeles–born actor. Until fairly recently, he adds, he was viewed as such a lightweight he couldn't even get a decent agent. "I finally said 'Screw it, I'll do my own thing,' " he says.
Bernsen has now turned his talents to helming and starring in his own films. Among these are the horror thriller "Dead Air" and "Donna on Demand," which he also wrote and which pokes fun at his own 1980s celebrity image. Each is a kind of morality tale, he says. More recently, he wrapped "Rust," a faith-based flick he wrote, directed, and stars in; he's looking for distribution.
"A part of me looks at life from a dismal perspective, not unlike Woody Allen and Larry David," he admits. "But I don't want to look at life like that. It's bad enough that I have to think it. What works for me is writing against that view. There is God, there is love, there is greatness, there is a plan, and there is beauty. I enjoy looking at the bright side of humanity."
Bernsen says "Rust" may well appeal to a far-right Christian audience, but he doesn't feel it's limited to that demographic. Further, he says he is not remotely concerned with whether the film goes directly to a DVD market, which is what happened with "Dead Air" and "Donna on Demand." While he admits a theatrical release might be nice, his goal is to have a following, and it's just fine with him for his audiences to enjoy his films on their "cool theater systems at home."
In addition to his new movie career, he also has a regular role as "psychic" detective Shawn Spencer's reproachful but ultimately proud dad on "Psych," now in its fourth season, premiering Jan. 27 at 10 p.m. on USA.
The Family Business
Bernsen comes from a showbiz family. His father was an agent-turned-producer, and his mother is Jeanne Cooper, who has been appearing on "The Young and the Restless" for 36 years. Initially, Bernsen had no interest in following in his parents' footsteps. But his father cast him in a small film, "Three the Hard Way," and, as he says, "I got to make out with girls, watch a car blow up, and I got $900 for it; bingo, I had my career."
Bernsen earned his undergraduate degree in theater and a master's in playwriting from UCLA, while landing an acting gig here and there. Early on in his career, he admits, his parents may have opened a few doors, though not beyond that point. Growing up in a showbiz household served him well in another way. "I knew about the ups and downs, having money, then no money, having a Cadillac and then seeing it repossessed," he recalls. "My mother told me, 'You will be fine if you love what you're doing. If you don't love it, it will eat you up alive and you won't make it.'"
Clearly, Bernsen's career turning point was being cast in Steven Bochco's "L.A. Law." After four and half years in New York, where he studied acting privately and acted sporadically, he got a call to audition for the pilot. He did not make it on his first try, but he was so convinced the role was made for him that he traveled to L.A., insisting his agent get him another shot at it.
In the interim, Bernsen had an epiphany about who Arnie was and the world he inhabited. As the actor recalls it, while he was running he saw a beautiful blonde drive by in a car and smile at him; that's when he grasped Arnie's carefree universe and understood the actor playing him was "not in New York doing Ibsen." For the next audition, Bernsen purchased an inexpensive Armani suit. "Arnie wore Armani suits, and I wanted to show that I could look like him," the actor recalls. Working from the outside in is the way Bernsen gets into character. "I create the look, the walk, and the body language, which informs me on the inside," he says. "But I also create the character's history, including his birthday and favorite color."
Among the lessons he learned on the show was bringing the acting down to scale, "just sitting still and saying the lines," in addition to accepting Bochco's idea that when audiences tune into a TV drama, they don't want the character to do the wildly unexpected; they want to see the Arnie Becker they've come to know. Equally important, TV characters reveal themselves gradually, Bernsen notes.
Following "L.A. Law," Bernsen had recurring roles on "JAG" and "Cuts" and guest-starring gigs on dozens of other programs, including "Boston Legal," "The West Wing," and "Law & Order: Criminal Intent." He also starred in the film "Major League" and its sequels. Bernsen says he tries to choose projects on the basis of character and smart dialogue.
At the moment, his thoughts are focused on "Rust" and another film he has written and is now in the process of getting off the drawing board. This one deals with the dying world of soap box derbies. He is looking forward to the day when he doesn't have to hustle to raise money for his movies, and, it goes without saying, he wants an ongoing career in television, which he likes for its sense of consistency, community, and family. "The lazy part of me would love to do a sitcom where I could work three days a week and make a fortune," he says. "The other part of me would love to do a drama again."
Looking back, Bernsen says he has a major regret: "During my first 'L.A. Law' hiatus, I was offered a part on Joel Schumacher's 'Cousins,' an American version of the French film 'Cousin, Cousine,' which was one of my favorites. I was all set for it, but Jeffrey Katzenberg wanted me to do a film with Shelley Long, 'Hello Again,' and all my representatives said, 'You can't turn down Jeffrey Katzenberg of Touchstone Films.' I did what I was advised, and it was a mistake. 'Hello Again' did terribly, and they cast me in a role exactly like Arnie Becker. In 'Cousins' I would have played the romantic lead, not at all like Arnie."
Bernsen has learned from his mistakes and has little patience for actors who don't take responsibility for their own careers. "Everyone talks about reality TV and that there are no roles left," he says. "That's false. Years ago, there were three networks. Now there are 20 cables networks and so many ways for films to be exhibited. It's an exciting time for actors, writers, directors, and producers. There's more opportunity than there ever was and more production. I've done four movies in four years. I have friends who are talking about the same script for 10 years that was never made into a film. At the end of the day it comes down to you. Do you want to do it or not? Everything else is an excuse."