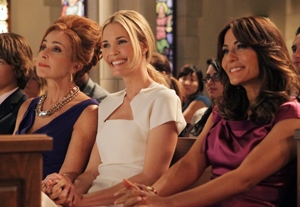 Leslie Bibb, star of ABC's suburban satire "
GCB
," has Oprah Winfrey to thank for her first big break. In 1990, "The Oprah Winfrey Show" had a nationwide modeling contest. Bibb's mother sent in pictures of her 16-year-old daughter. She was chosen as the winner by Naomi Campbell, Linda Evangelista, Iman, and John Casablancas.
Before the contest, while Bibb was growing up in Virginia, it never occurred to her to pursue a career in the arts. "It just didn't seem very realistic to me," she says. "I thought I would go to UVA, then law school, and then go into politics." When she went to New York that summer, after her junior year of high school, to pursue modeling work as a new client of the Elite Agency, the people and the industry there amazed her. She went back to Virginia for her senior year, spending about a week a month in New York. Then she started college at the University of Virginia but felt out of place. "Remember that saying on 'Sesame Street,' 'Which one of these things is not like the other?' she says. "Like you have circles, and then there would be a square? I felt like a square with all the circles. I didn't fit in. When I went to New York, I took a summer Meisner intensive at
[Esper] Studios
. When I walked in, it was like, 'Oh. I found my tribe. For the first time in my life, I found who I'm supposed to be with.' I think actors are a tribe. Either you understand it or you don't. For me, it made sense. It just fit. I love acting, actors, talking about acting, watching movies, seeing plays. I just love it. It's one of my greatest joys."
Bibb, who is probably best known for playing Carley Bobby in "Talladega Nights: The Ballad of Ricky Bobby" or the lead in the WB TV series "Popular," attributes part of her success to her training and work ethic. "If I get an audition, I do the same process that I do if I've booked the job," she says. "Sometimes financially it's difficult because I'm putting as much work into it even if I'm not getting the job. But I think it's important because when you finish school, your auditions become your scenes you've been allotted from your acting teacher."
Bibb says sometimes she'll "steal" scene ideas from film and TV actors she admires. "Nobody's reinventing the wheel with stories; they're just told a little differently," she says. "I watch movies to inspire myself while I'm creating a character. And not just current movies. You need to have an arsenal." Then, because she studied Meisner, she breaks down her character's subtext, actions, and intentions. "I go back to the basics," she says.
Scared in a Good Christian Way
It terrifies Bibb how invested she is in "GCB" becoming a hit. She says she has loved it ever since her manager, John Carrabino, told her the original title—"Good Christian Bitches." She plays Amanda Vaughn, a single mother who moves back to the affluent Dallas neighborhood where she grew up for a fresh start. "I need to stop wanting people to love [the show], because it leaves me very prone to being disappointed if people don't get it," she says. "I don't think I've ever felt this way about a TV show. I think with 'Popular,' I took everything for granted. Now I have a real appreciation for work and writing that is this good and this fun."
Bibb says that working with creator
Robert Harling
("Steel Magnolias") has been the most fulfilling part of her "GCB" experience so far. "I just think the sun shines out of that man's ass," she says. "Bobby's door is always open for his actors if you have a question or suggestion. That is such a blessing. I find that to be not the norm in television."
Another thing that has scared Bibb is working at the fast pace TV demands. As an actor who says she is very demanding of herself in breaking down a script, Bibb has had to adjust her method. "I want to keep the integrity of my work ethic even if I have to turn it over so fast," she says. "The thing about television is, it's like you're running a marathon every day, and you're constantly in training. You're ready to run at any moment. You're always in motion. You're always conditioning yourself. That part is awesome."
In the last seven years, she has enjoyed playing comedic characters in films such as "Zookeeper" and "Talladega Nights." "I remember saying to Will Ferrell, 'When I put on this wig and fake nails, it's like I can say whatever I want and nobody can get mad at me because I'm being Carley Bobby," she says. It has been a little nerve-wracking, however, for Bibb to play the straight person among the larger-than-life types enacted by "GCB" co-stars Kristin Chenoweth and Annie Potts. But Bibb understands that, in comedy, the straight man is just as important as the crazy character who gets the laugh. "In 'Arthur' you needed Liza Minnelli to sustain Dudley Moore, and in 'Wedding Crashers' you needed Owen Wilson in order to sustain Vince Vaughn," she says. "Maybe I don't have the wig and all of the craziness, but I'm adding to the comedy. With comedy and improv, our egos can start to overshoot what the scene is really about and what aids the script. You want that last laugh. You start to do all this shit that may be funny, but it's not serving the actual movie. Look at Drew Barrymore in 'The Wedding Singer.' She's so funny, but Adam Sandler comes off even funnier because of what she does. You can't worry about not getting the zinger. You are. You're just as important."
---
Keeping Good Company
Bibb had an interesting recent experience when her teacher, Maggie Flanigan, allowed her to audit a second-year class at
Maggie Flanigan Studios
. Flanigan said to her students, "Don't hang out with bad actors." Bibb laughed, then approached Flanigan after class and told her: "You know, I don't think I would have gotten it when I was in school, but you're right. I know it sounds silly and pompous, but you need to surround yourself with the real deals, the people who love the process. Same thing with movies, watching great performances, and going to see great theater: It's exciting, inspiring, and it keeps you in a creative light."
---
OUTTAKES
Has appeared in such films as "Law Abiding Citizen," "Iron Man," "Iron Man 2," "Confessions of a Shopaholic," and "The Skulls"
Receives tweets from fans as far away as Croatia telling her that "Popular" was their favorite show. Recently, she realized how similar her character in "GCB" is to her character in "Popular": "I started talking about the character, and I was like, 'Holy shit, this is like Brooke McQueen!' If Brooke McQueen was from Dallas, it's like her growing up and having to deal with Mary Cherry and Nicole Julian."