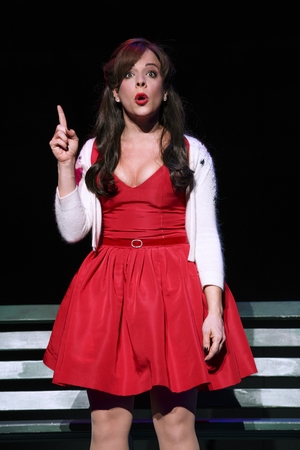 Leslie Kritzer is a Christmas person. "I love the holidays!" she says. "I love the decorations. I love the weather. And the city and the food and the cooking and buying presents – it's all just so fun!"
It's a good thing too, since Kritzer is currently starring in "Elf," the musical adaptation of the hit film that returned to New York this holiday season after a successful 2010 run. Kritzer plays Jovie, the bitter holiday employee who falls for Buddy, a human who grew up at the North Pole under the belief he is a Christmas elf.
Playing the romantic lead is new for Kritzer, who is known for standout in comedic roles "Hairspray" and "Legally Blonde"; dramatic roles in "A Catered Affair" and "Sondheim on Sondheim"; and – well – totally wacky roles with "Leslie Kritzer Is Patti LuPone at Les Mouches" and her infamous Liza Minnelli impressions. But it's the unexpected that keeps us watching Kritzer time and time again.
You may love the holidays, but your character in "Elf" does not.
Leslie Kritzer: My character works at Macy's, and she's not too happy with the way her life is turning out. She's a little disgruntled. So yeah, she's not a Christmas person. But she meets Buddy (Jordan Gelber) and there's something about him she finds appealing and fun. It's a classic little love story.
Is it hard falling in love on stage eight times a week?
Kritzer: Luckily I'm playing opposite somebody who I have great chemistry with. I love Jordan Gelber. We've known one another for several years, and he is so talented and adorable and easy to fall in love with on stage. That helps.
But falling for Buddy? I related a lot to how I fell in love with my fiancée (musical director Vedeem Fickner). I was kind of jaded with the whole dating scene when we met. When we started going out, I fell in love with him for who he was. And it's no different than Jovie and Buddy. She's falling in love with him because he brings out the best in her. He makes her feel beautiful and brings out the fun in her. Buddy's really a little kid, and inside everyone is a little kid. He brings out that part in her and that optimism and kind of chips away, and she falls in love with him.
How familiar where you with the material before you joined the show? Had you seen the 2010 production?
Kritzer: I hadn't! I saw the film when it first came out, so that was the only thing I kind of knew. And I didn't even remember the movie! I try not to listen to cast recordings of a show if I'm going to do a remount, so I just started with the first day of rehearsal and took it from there!
It's a really good, fun show. This is a book musical. Everyone in it is so good, and the music is amazing. We wish we could have this much fun this all year long because it's a great story and the audiences eat it up! It snows at the end of the show so all of a sudden all the kids in their elf hats totally freak out.
In "Sondheim on Sondheim," you worked with Barbara Cook, Norm Lewis, Tom Wopat, and Vanessa Williams in a show directed by James Lapine singing the songs of Stephen Sondheim. Did you get a chance to pinch yourself?
Kritzer: It was unbelievable. There's a picture that my friend took of Stephen Sondheim and I in rehearsal with James Lapine, reworking the lyrics to "Now You Know" to make it one full song for me. And I'll never forget that moment. I was just like, "I'm a colleague. I'm no longer a fan, I'm a colleague." And to sing some of the best music ever written and to have them entrust me with that, was a real honor.
How does one even prepare to start working with someone like Stephen Sondheim?
Kritzer: You know, you go to school and you train and everything, but no one can prepare you for those moments. Going inside the process of this brilliant man was fascinating. And to spend time with him? I mean, come on. You just have to be ready for those moments to happen and to listen and take it in.
You also starred in "A Catered Affair," which although critically-acclaimed, closed after five months. Is it hard to be part of a project that doesn't do as well as you hoped?
Kritzer: It is. I was depressed after we closed for a while just because it was a quality show and quality theater. And it was the first time I was playing a dramatic lead on Broadway, and I worked very hard in that show and I was really very proud of the work that I did. It was a beautiful show and one of my favorite theatrical experiences. And I'm just very grateful that I had the opportunity in the first place.
You've played both leading and supporting characters. Is there a difference in the way you approach both types of characters?
Kritzer: You approach them like anything else. No matter how small or how big, they have a journey; they have an arc; and they have to be specific. In "Legally Blonde," from the first reading, I was like, I need a pair of sunglasses and I need gum. Each week, I added a little more. It's about creating really distinct characters.
"Elf" runs at the Al Hirschfeld Theatre through Jan. 6. For more information, visit www.elfmusical.com.