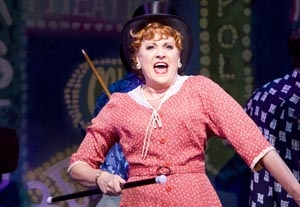 Every August for the last four years, Lorna Luft has called her agents to remind them that it's time to start booking her into a year-end production of the stage version of Irving Berlin's "White Christmas." Since 2004 this theatrical adaptation of the beloved 1954 movie has been a seasonal staple in regional theaters—and even made stops on Broadway in 2008 and 2009.
Luft, who played in the show's United Kingdom premiere and other productions, wouldn't miss appearing in it somewhere at the holiday season. After all, the unique performance period always spans her birthday (Nov. 21), Thanksgiving, and Christmas Eve. And since her fellow principals—James Clow (in the Bing Crosby role), Tony Yazbeck (Danny Kaye), Meredith Patterson (Vera-Ellen), and Jill Paice (Rosemary Clooney)—director Marc Bruni, and choreographer Randy Skinner have crisscrossed among various mountings of the show, all know it and one another well. "It's our family," says Luft, "and we'll be friends forever."
This year's bonus for her is that the production is at
Paper Mill Playhouse
in Millburn, N.J. (Nov. 16 to Dec. 24). The cast members are staying in New York and meet at Times Square to take a chartered bus to the suburban venue. Being in New York has provided Luft, who has spent most of her adult and professional life in London and Los Angeles, a rare chance to spend the two holidays with her sister, Liza Minnelli ("We're fine"), to see the Macy's parade again, and to take in as much Broadway theater as she can on days off. "I'm proud to be in this business," she says, "a part of the theatrical community—and it is a community here more than anywhere else."
Most important, Luft plans to spend the rest of the winter in the city where her son was born and even to consider living here permanently and pursuing a more permanent concentration on musical theater, "where I came from." Accordingly, her husband, musical director Colin R. Freeman, will join her in New York later in December, as soon as he has finished working in Palm Springs on "Plaid Tidings," the "Forever Plaid" spin-off, another perennial for the theatrical holiday season. The couple will test their survival of the city's winter snows—hardly a given since they live in Rancho Mirage, in the California desert, and the British-born Freeman is especially anti–white stuff. But Lorna is optimistic. "If you can survive eight shows a week, you can survive anything," she figures.
Long Roots
Luft made her debut at 11 on the television show hosted by her mother, Judy Garland, and mother and daughter played the Palace when Luft was 16. She was 17 when her mother died in 1969. She made her Broadway debut in the original production of "Promises, Promises" in 1971 and despite forays into movies and TV has largely stayed onstage, playing in everything from the U.S. tour of the Jerry Zaks–directed "Guys and Dolls" to a staged reading of "Follies" in Ireland. For the last few years, her most frequent appearances here and abroad have been in her concert "Songs My Mother Taught Me." She will even take four days off from "White Christmas" to sing three performances with the Winnipeg Symphony Orchestra in Winnipeg, Manitoba, Canada. "I'm very lucky to be able to do these concerts everywhere," she says.
Her concert (and its 2007 recording) resulted from a long re-examination of Garland's towering musical legacy and troubled and widely publicized personal life, beginning with Luft's 1998 memoir "Me and My Shadows." Three years later the book was turned into an Emmy-winning miniseries, which Luft co–executive produced. "I waited a long time to do my live show," she explains, "until I was at peace enough to look into this unbelievable catalog of music that had been left to me. In my 20s I was making my own footsteps in the sand; in my 30s I was having my kids." (Son Jesse, 27, is a money manager in Los Angeles, "another high-drama profession," and daughter Vanessa, 21, wants to be a chef, "an even higher drama profession, more cutthroat than show business.") "You don't really get to know your parents until you're in your 40s," she adds. "It took me that long to do justice to those songs—and to make friends with a ghost."
Garland had an affinity for the songs of Irving Berlin, from her starring role in the 1948 movie "Easter Parade" to countless recorded and radio renditions of his best-known songs in the 1940s and 1950s. (She was also signed as the original lead in the 1950 film version of his "Annie Get Your Gun" and recorded several of its songs before she was replaced by Betty Hutton.) Berlin's music and lyrics initially attracted Luft to this stage version of "White Christmas," in which his original score is augmented by some of the composer's other evergreens, such as "Blue Skies," "How Deep Is the Ocean?" and "I Love a Piano," which Garland sang in "Easter Parade." Although Luft's bossy Vermont innkeeper character, played by Mary Wickes in the movie, didn't get to sing at all, Luft here sings in two trios and some ensembles and delivers a knockout solo on "Let Me Sing and I'm Happy," which Berlin wrote for Al Jolson in 1928 but which Garland, Crosby, and others sang a generation later.
Luft's delivery of the song is reminiscent of her mother's style. "I don't hear that myself," she shrugs, "but if it's there it is in my genes. I can't help it. I was handed a kind of torch, and I do want to make sure that her musical legacy is never forgotten."
Lorna turned 59 last week. "You haven't had 'Happy Birthday' sung to you until it's been sung by a Broadway-style cast, with all those harmonies," she notes. But there won't be any slowing down for her any time soon. February 2012 is as booked as any month in her life has ever been, and she still has a vocal coach, David Sabella-Mills, with whom she studies on Skype—"so now you can study anywhere in the world. You can never be too old to learn or to study, and you can never get into the mindset that you know everything. I've been sober for 28 years, and I still feel that I've been given another chance. So I take good care of myself, and I wake up every day, grateful."