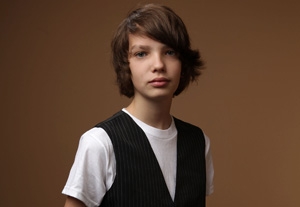 Kodi Smit-McPheeWhere you've seen him before:
For "The Road," his first major role in a motion picture, Kodi Smit-McPhee found himself walking a post-apocalyptic world while being pursued by cannibals. In his most recent film, "Let Me In," he faces off against sadistic bullies and befriends a bloodthirsty vampire. The Australian native pulled off both parts with maturity, intelligence, and a perfect American accent.
Upcoming projects:
After such tough, emotional roles, Smit-McPhee admits he'd be open to a comedy. But next is the animated film "Paranorman." "I play a kid who can see ghosts and saves the world from a zombie invasion," he says. "So even though it's animated, it's still kind of dark."
Something special:
It's become a cliché to speak of a child actor as being wise beyond his years, but the 14-year-old Smit-McPhee earns the compliment with his performances. "Let Me In" director Matt Reeves refers to him as a genius, saying he directed him as he would an adult. "He's very, very real," notes Reeves. "When I would ask him a question about a scene, he would always begin by saying, 'Well, keeping it real, I'd do this.' And that was always the thing that he did do, keep it real." Smit-McPhee became an actor before he even realized it was work. "My dad's been acting for 20 years and my sister's been acting a long time," he says. "It was just always around me. One day, my dad asked me if I wanted to go on an audition, and I said sure. It wasn't until I got my first film that I realized it was now a job." As for appearing in such intense stories, he remains unfazed: "People ask if I get scared filming, and I have to laugh. If anything, it's the total opposite of scary. I get to see blood and dead bodies—everything that a boy teenager likes."
Young at heart
: Though he delivers remarkably mature performances onscreen, it's refreshing to hear that Smit-McPhee remains a kid. "He was just happy to be there; he's very joyful," says Viggo Mortensen, his co-star in "The Road." "Then he would transform into this character when we were shooting. And he was undaunted by everyone. When Robert Duvall was on set, after one take, I asked him, 'What do you think of Mr. Duvall?' He said, 'That old guy's pretty good!' "
Chloe Moretz
Where you've seen her before:
Chloe Moretz has dispensed advice to Joseph Gordon-Levitt in "(500) Days of Summer," kicked ass as Hit-Girl in "Kick-Ass," exuded ennui as a world-weary student in "Diary of a Wimpy Kid," and currently appears onscreen as a decades-old vampire trapped in the body of a 12-year-old in "Let Me In." With her perfect comic timing and ability to expertly handle the most intense material, Moretz has become the go-to girl for challenging teen roles.
Upcoming projects:
The 13-year-old Moretz recently shot a role in Martin Scorsese's "Hugo Cabret" and will be seen opposite Jessica Biel in "The Devil and the Deep Blue Sea" and Sam Worthington in "The Fields." There's also an untitled ensemble comedy in the works and the lead in "Hick." And there are rumors she'll be reprising her most memorable role in a sequel to "Kick-Ass."
Breaking in:
Moretz is the only girl in her family and the youngest of five. She became interested in acting when her elder brother Trevor was accepted into the Professional Performing Arts School in New York. Moretz, her brother Colin, and her mother moved with him to the city. Then a 6-year-old, Moretz began stealing her brother's sides and urging her mom to let her audition. Recalls the actor, "She would say, 'I don't know, Chloe. It's not a business for kids.' She kept asking, 'Is this really something you want with your heart and soul?,' and I would say, 'Yes. I love it.' "
Her philosophy:
Though now in demand, Moretz struggled as much as other actors do starting out. "You'll get a thousand noes and one yes," she says. "There's a couple parts that I really wanted badly that I didn't get. But I tell myself that when a door shuts, another, bigger, more beautiful door opens." Even when she was younger, she encountered many of the same criticisms that actors twice her age hear. "People will say you have limits, but you have to brush it off," she says. "They say you're not good, or you're too good. They say you're too scripted, you're too pretty, you're too young, you're too tall. But you get that one that says you're perfect, and you book it."