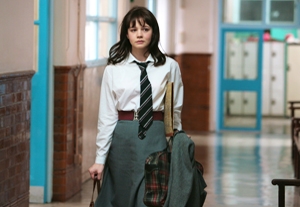 Long before "An Education" was even being made, Carey Mulligan was showing career smarts. And now that Hollywood is finally noticing her, she has the solid credits to back up her celebrity. Surely you noticed her in her first screen appearance, playing one of the unflaggingly giggly sisters in 2005's "Pride & Prejudice." So when you see her in "An Education," opening Oct. 16 in limited release, you'll immediately nod in happy recognition. And then you'll be astonished at the wonderful work Mulligan is doing in said film—playing Jenny, a 16-year-old whose thoughts of seeking admission to Oxford University fall aside when she meets an older, ultra-sophisticated man, played by Peter Sarsgaard.
Mulligan attributes her rising star to luck and her enthusiasm for each project, but she seems to have had a consistently commonsense approach to her career. Although she never formally trained, she was active in drama in school in the United Kingdom. After British actor-writer Julian Fellowes spoke to the students there, Mulligan contacted him to ask for career advice. Through the convivial Fellowes, she eventually was put on tape for one of the Bennet sisters and seen by casting director Jina Jay, which led to her signing with Julian Belfrage Associates, who remain her agents to this day.
As Mulligan tells it, while rehearsing "Pride & Prejudice," she was cast in Kevin Eylot's "Forty Winks" at London's Royal Court Theatre. The idea of getting into one of Britain's fine drama schools slipped away, Mulligan thinking she would try to learn by experience—a coincidental but happier parallel to Jenny's path. Katie Mitchell, who directed "Forty Winks," and Joe Wright, helmer of "Pride & Prejudice," took ample time to coach Mulligan, and she apparently soaked it up. She says her raw enthusiasm was a signal that she was open to their help.
While rehearsing the Royal Court play, she auditioned for and won the role of the charmingly innocent niece Ada in the BBC's sprawling "Bleak House," starring a who's who of British acting. Soon after, she was cast in "The Sittaford Mystery" as a supposedly repressed, superficially unattractive daughter in this Agatha Christie remake set in the 1950s. Then came a nonperiod piece, "The Amazing Mrs. Pritchard," playing a smart, sassy, sometimes wild daughter to a British prime minister. "I was really lucky," says Mulligan. "I didn't stop working for three or four years. And I think the gaps in your work come when you start doing bigger things, and maybe then you kind of take a little time to think about what you want to do next."
Of course behaving professionally ensured she'd continue working. "It's a job, ultimately," she says. "And ultimately you've got to behave appropriately, be professional, be prepared, and be ready to work every day. You never come into work not on your A-game. And also, I'm always reminding myself of how lucky I am. It's unbelievable to be working and to be in the position of comfortably working. I never in a million years imagined that I would have a steady career." She readily recalls, when the Royal Court production of "The Seagull" in which she played Nina first moved to the Walter Kerr Theatre on Broadway, standing on stage the first night and thinking back to being in the audience at that theater at age 14, watching Jennifer Jason Leigh in "Proof" and saying to herself, "I'll never get there."
Eyes on the Prized
After wrapping "An Education," Mulligan worked again with Sarsgaard in the Broadway transfer of "The Seagull." By observing him during the two projects, she says, her acting loosened up considerably. "I was probably more of a nervous actor before I worked with Peter than I am post-Peter," she notes. "He doesn't have inhibitions; he doesn't get embarrassed. So Peter will just do something, and you can't make mistakes with Peter. It took me a week [working on 'An Education'] to realize I couldn't make a fool of myself in front of him. So I would do some mad idea because he thought it was a good idea. We'd just play. It was the same when we did 'The Seagull.' He had four-page monologue. I remember one night he just got down on the floor and laid down and stared at the ceiling and did two pages of the monologue up to the rafters, and the audience couldn't see him. I just stood there, thinking, 'Only Peter!' So I learned to be playful with him.
She says she also learned from Emma Thompson, who plays the headmistress in "An Education." As Mulligan recalls it, "She came in for one day of filming, and by 11 o'clock in the morning she knew the names of everybody on the crew. And then by the end of the day—we ran over by an hour and a half—she ordered pizza, beer, wine, for the whole crew, had this miniparty, treated everybody with equal respect. I think that's one of the most important things. We're all doing a job, making this film together, and there is no hierarchy. I think crews operate the best, like our crew did, when there is no differentiation between actor, director, runner, caterer. We're all making the same film."
Mulligan probably honed her patience waiting for "An Education" to get green-lighted. She read for it "about three or four times," one of which was with Sarsgaard, once with its director, Lone Scherfig. "It was in my life for a long time," Mulligan says. "And then I got the job, and it was another six months before we actually shot it. I didn't actually quite believe that it was ever going to get made, really." But the wait caused her no anxiety, in particular because she never thought of herself as the film's lead. "I always thought it was sort of an ensemble film, and I just happened to be in it a lot," she explains. "I'm in it a lot, but so's Peter, and Dominic [Cooper], and Ros [Rosamund Pike, who play Jenny's two new, sophisticated friends], and we're all making this film together. I think Lone took that weight of responsibility away from me. I felt like I was just telling Jenny's story, and she took that and she monitored and she was in charge of the arc of my character. I just played things scene by scene."
Mulligan has forged long-standing friendships from her various projects. She remains close with her "Pride & Prejudice" co-star Keira Knightley, as well as with Ada's uncle on "Bleak House," Denis Lawson. Mulligan had known Cooper "just from around London" and rekindled a friendship with Pike, also a Bennet sister. It's natural to become close to the cast, Mulligan says. "From day one you have to jump in holding hands. I think it's from rehearsal, it's from the time you're sitting around doing the crossword or you're eating lunch or you're napping. You spend a lot of time waiting around, doing nothing. And those are the times when everyone goes a little stir-crazy. And when you stay up till 5 in the morning, filming a scene with someone, you get to know them pretty well. And it does happen very fast; relationships are very intense. You have to learn quite quickly that you won't maintain those relationships all the time, but sometimes you will. And the relationships that do last are brilliant."
Curse Work
Mulligan has no secrets to share about her character Jenny, but the actor laughingly confesses what she considers her false moment in the film. Jenny reads the results of her Latin exam, winces, and drops her head on her desk. "And it was a camera move, so my head had to move in time with the camera, and I hated it," Mulligan reveals. "And when I watch it on film, I just think, 'That's the worst acting I've ever done in my life.' And [screenwriter] Nick Hornby caught on to this in Toronto and decided that every time we watch the film together or every time I talk about it, he's going to throw a mint at me just to punish me for acting really badly, because it is just this moment of just me going, 'Camera move.' And it's in the trailer. Literally it's like a curse on me now."
Few others seem to be noticing. Mulligan's work is the toast of the industry, and Oscar talk is everywhere. Just don't call this wise-beyond-her-years young woman a newcomer. And expect a long, healthy career from her.