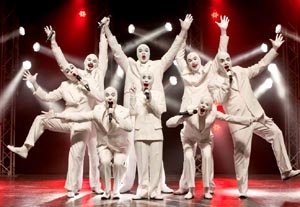 Bald, clad in white, and sporting classic mime makeup, the eight otherworldly creatures on stage utter an array of gentle squeaks, squawks, and plaintive bleeps. Far from Voca, their native planet, they find themselves unwittingly in New York in need of some refueling in the guise of musical energy that will relaunch their stalled spaceship. "
Voca People
," now playing Off-Broadway at the Westside Theatre/Upstairs, is a celebration of genial silliness bringing to mind the improbable image of Blue Man Group doing an a capella musical.
The show is the brainchild of creator-director Lior Kalfo, who slyly insists on calling the actors "aliens" on an "expedition" who happened to have crash-landed in New York. "We first encountered them in upstate New York," Kalfo says in his Israeli accent, "though the government won't allow us to say exactly where." Kalfo's fellow "discoverer" is musical director and arranger Shai Fishman.
Clearly the supposed extraterrestrials never auditioned, Kalfo explains. They're just naturally gifted in imitating musical instruments, rendering facial expressions, and performing physical comedy. The actors are especially gifted in "understanding the music and choreography very quickly," he admits. "Everybody loves them—the grandfathers and the grandchildren."
Though not known in this country, Kalfo is a household name in Israel, most recognized for his starring role in the sitcom "Ramzor," which won the international Emmy for best comedy series. In his creator's hat, Kalfo has forged comic spectacles, children's shows, and other extravaganzas that have found favor among international audiences.
Transcending Politics
Raised in Holon, a city outside of Tel Aviv, Kalfo says he was a painfully shy child and adolescent. But, like many future comics, he developed a clown persona and it served him well. He was a great face maker—indeed, he was ultimately called the "Israeli Jim Carrey," he says—which helped him socially and professionally. It became the basis of his career as a comedian.
During his three-and-a-half-year tour of duty in the Israeli army, he was part of the entertainment unit, moving from base to base in an effort to boost soldiers' morale. "I could perform for three soldiers or 3,000 soldiers," he notes. "That was my service and my training."
When he was 22 and out of the army, he became one of the five writer-actors on "The Comedy Store," an Israeli TV program in the spirit of "SNL." Influenced by Robin Williams, Danny Kaye, and Jerry Lewis, Kalfo further enhanced his reputation by performing his one-man piece and emceeing live variety shows all over Israel. Despite his success, he believes it's far more difficult to launch a show business career in Israel than in the States.
"In America, you have many more actors, especially in L.A.," he notes, "But on the other hand, there are hundreds of movies being made. There's just not as much producing opportunity in Israel. Also, in the United States you can have one very successful show and retire. In Israel, you can have three or five very successful shows and it means nothing, at least financially. You have to keep on working, just to make a living." Kalfo has little doubt that creating his own productions has helped him enormously. He also takes pride in giving so many other actors work.
For more than 10 years, he has focused on his behind-the-scenes talent as a creator, writer, and director, admitting he's enjoying himself in that role—"taking a white page and turning into a production, starting with a tiny idea and seeing it become a worldwide phenomenon on YouTube." Kalfo is passionate about not allowing politics to interfere with his work, maintaining his brand of theater transcends political issues. To date he has not encountered any flak from theatergoers abroad who may not like Israeli policy.
Kalfo recalls an unexpected encounter in Czechoslovakia with an Arab who "thought my show was wonderful and came up to tell me. He then asked where I was from, and when I told him Israel we just stood there staring at each other not sure what we should do. It was an amazing moment because we realized we had so much to talk about—just as people. There's too much tension now, but at some point I'd love to perform in the West Bank."
He has another dream as well. In five years, he wants to be the driving force as writer and director of a Hollywood action comedy. If Kalfo had his druthers he'd also star in it, though he doesn't put too much stock in that possibility. "That's too far down the road for me to even think about," he says. "Nobody will want to buy tickets for Lior Kalfo."
The modesty is becoming, but the truth of his assertion remains to be seen.
"Voca People" is playing an open-ended run at the Westside Theatre/Upstairs, 407 W. 43rd St., NYC. Tickets: (212) 239-6200, (800) 432-7250, or www.telecharge.com.