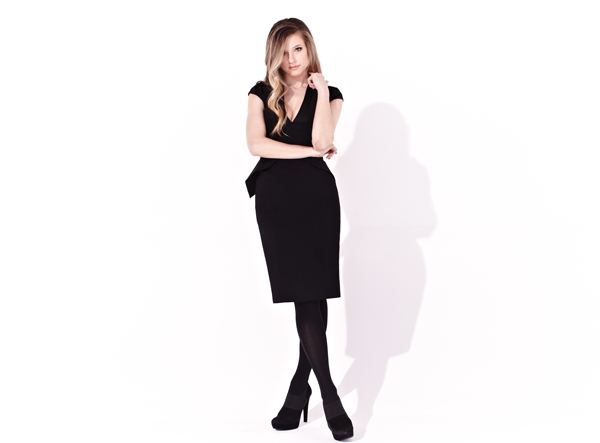 Lisa Donovan is standing in front of a cyc wall at Maker Studios, being a tall, striking blonde and wearing the sort of black dress that tall, striking blondes are meant to wear. The photographer for this magazine is putting her through some serious drills, and Donovan is responding gamely—wrapping herself in computer cables, hoisting a glass pane fashioned to look like a Play button, and basically being a natural. Someone who didn't know her could walk in and see that she's been in front of a camera before. But the next person to enter the room isn't a stranger. It's an employee.
"Do you still want to meet at three thirty?" the guys asks.
Donovan doesn't break from her power pose.
"Let's make it four," she says.
So goes another day for actor, YouTube sensation, and media mogul Donovan. Maker Studios isn't just a production company composed of some 300 staffers, 10,000 YouTube channels, and 70,000 square feet of Culver City studio and office space. It's Donovan's baby. She co-founded Maker in 2009 with her brother Ben Donovan and fiancé Danny Zappin, both now, like her, executives with the company. She recalls the moment in 2005 when Zappin showed her YouTube for the first time.
"In the beginning you couldn't really explain what it was," she says.
But the possibilities were obvious. Donovan comes from artistic stock (her father can be spotted pointing a gun at Robert De Niro toward the end of "Taxi Driver"), and she had moved out to Los Angeles a few years earlier to make a go of it as an actor, studying with Jeffrey Marcus. But the breaks didn't come, and she found herself drawn to production design and editing work, determined to make her own opportunities.
"I found the traditional way to break in was difficult," she says. "That's where the name Maker comes from—not to ask permission, not to audition, not to beg. Just 'to make.' "
That attitude worked as she set out to conquer YouTube, starring in a series of sketch videos shot by Zappin. Donovan became one of YouTube's early superstars, and mainstream Hollywood came calling. She joined the cast of Fox's "MadTV" but left the show after just a few episodes to focus on YouTube—and eventually Maker. The move proved prescient.
YouTube, Donovan says, has "democratized" the process of making it as a performer, turning the Internet into the audition room and the audience into the casting director. "There's a lot of luck involved in coming out to L.A. and auditioning," she says of trying to hack it as an actor the old-fashioned way. "You can be the most talented person—and I know some of those people, and they don't work."
Donovan does work. She now sits atop a company positioned to play a major role in the future of the entertainment industry, offering professional production, marketing, and distribution services to countless artistic partners creating original programming. It's a classic Hollywood story of a young actor making it big—just re-imagined for a new audience.