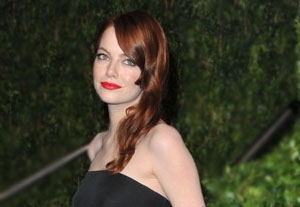 If Lorne Michaels is listening, we've found the perfect host for "Saturday Night Live"—and she's dying for the gig. Since her breakthrough role as Jonah Hill's dream girl who is even better in reality in "Superbad," Emma Stone has been charming audiences with smart, funny turns as girls wise beyond their years. After schooling Rainn Wilson in "The Rocker" and Anna Faris in "The House Bunny," Stone battled the undead in last year's blockbuster "Zombieland," crushing heads and stealing hearts. In "Paper Man," opening this week, she plays a wise teen who forges an unlikely friendship with an author, played by Jeff Daniels, whose only other friend is an imaginary superhero, played by Ryan Reynolds.

Stone's knack for physical and verbal comedy would make her a natural for the late-night sketch show, which she says has always been a dream. "My only goal in life is to host 'Saturday Night Live,' " she enthuses. "Since I was a kid, that's all I wanted to do. Can you contact them?" After she promises to pay me $10 if it happens, I assure her she'll likely get her shot within the next couple of very busy years. In addition to the rumored "Zombieland" sequel, she recently landed a role in the highly anticipated film adaptation of the bestseller "The Help" and a part opposite Steve Carell and Ryan Gosling in "Crazy Stupid Love." In addition to voicing a character in June's "Marmaduke," she will be seen this fall in "Easy A" as a high school student who finds her life paralleling that of the heroine of "The Scarlet Letter."

Back Stage: What appealed to you about the role of Abby in "Paper Man"?

Emma Stone: It was just the best script I'd ever read. The No. 1 thing I think I look for in scripts is originality. That's the only thing you can really ask because it's a world of remakes and sequels and remakes of sequels. The writing was so great, I would be crazy to not to want to do it. I still can't believe they actually let me do it.

Back Stage: I love that your character forges this friendship with Jeff Daniels' character, and it's never a sexual relationship.

Stone: I really love that. Sometimes you just need a friend; it doesn't have to be a sexual thing. You need someone to help you let go of all the shit you've been carrying. These two people each have their own baggage and are able to help each other let go.

Back Stage: Did you have to audition for the role?

Stone: Oh, absolutely, I went back in three times. I shot it right before I shot "Zombieland," so it was a while ago. Sometimes I get offers, but it's not typical. I'm very prepared to audition. There are times when it's really, really fun, but for the most part it's really daunting. The audition is never like it's going to be when you go to shoot it; they're two totally different things. You can be good at acting and you can be good at auditioning, but it doesn't mean you'll be good at both. It's like you can be a good student who's horrible at taking tests. Auditions are a job in and of itself.

Back Stage: What's been your worst audition?

Stone: I got screamed at once when I was 16 by a casting director. I vowed then and there I would never go back in for her again, and I never have. She was yelling at me because I didn't know my lines, but here's the catch: They had just given me the page, and I was reading it cold. She kept yelling, and it was all on camera. But that's the only horror story I have. One time getting yelled at in six years isn't too bad.

Back Stage: You grew up in Scottsdale, Ariz. How did you know you wanted to be a professional actor?

Stone: I can't remember a time when I didn't have a burning desire to be an actor. When I was 10 or 11, I auditioned for a play at a local youth theater and ended up doing 16 plays. But the best thing was, there was an improv troupe for kids. I think that should be more prevalent all over the country, for kids to be able to do improv. It helps everything: your public speaking skills, your social skills, your ability to bounce off people. It was such a great thing. And we played by the rules. When I moved to Los Angeles, I took some classes at the Groundlings, and we were taught the same ideas as I was learning back when I was 11.

Back Stage: I read that in order to convince your parents to let you move to Los Angeles, you gave them a PowerPoint presentation?

Stone: That is true. I can't really remember much of it, except I had pictures of other actresses that had started young. It was so ridiculous; I can't believe they let me do it. But I explained I just had a feeling that this was the right time for me, and my mom trusted me.

Back Stage: Your big break came about through a remounting of "The Partridge Family"?

Stone: Yeah. Oh, Lord. That was a reality-style competition show. I would never have the gall to do that now, but I was a sassy, hammy 15-year-old. I had an agent at the time, and I wasn't really going out on many auditions; she had just stopped sending me out. My mom saw this thing on TV, and she has never pushed me to do a single thing in my entire life, but she said, "I have a really good feeling about this. Let's just try it." Sure enough, I won. She had trusted me coming out here, so I trusted her on that one thing, and she was totally right. We only did one episode, and it aired, like, four and half months after the reality show had aired. I don't think anyone really saw it. But it introduced me to my manager and the people in my life now, so I wouldn't change all that for the world.

Back Stage: Your first film was "Superbad." How did you go about landing the role of Jules?

Stone: I actually read that role at a table read when they were trying to get financing. It was a Saturday, and Jonah was there, but he was reading miscellaneous male roles. Afterwards I was getting food at the back, and one of the writers, Evan Goldberg, said, "You're exactly what I had in mind for Jules. You really look like her." Six months later, the movie was green-lit and they had me come in and audition with Jonah. It was a long process but I wanted to do it so badly. I laughed out loud on every single page, and that never happens.

Back Stage: Did that film open a lot of doors for you?

Stone: No doubt in my mind. I got "The Rocker" and "The House Bunny" before that movie had even come out, just based on the buzz. There was a lot of word of mouth on it even before it opened. When you get down to it, L.A. is actually a small town. Everyone knows everyone.

Back Stage: When you start out as a young actor, how do you avoid that sort of "E! True Hollywood" syndrome so many child actors fall prey to?

Stone: Well, everyone has an "E! True Hollywood Story" these days, so that doesn't mean what it used to. But I guess everyone makes their own choices, and I'm just making mine. That's all it is. I'm no saint, trust me. There's a lot of people who can tell you some stories. I'm just living my life the best I know how. It helps that I like to sit in my house a lot of the time because I'm lazy as hell.