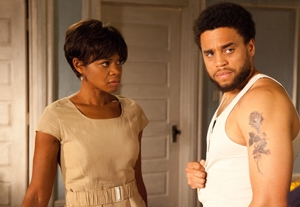 Kimberly Elise had five gray hairs when she started working on Tyler Perry's film "For Colored Girls." By the time it wrapped, she had 50. Playing the tormented, abused Crystal was so emotionally wrenching, "my body thought Crystal's experiences had actually happened to me," Elise says. "Once it was over, I was sure my hair would grow back black. It didn't. The body doesn't know 'pretend.' "
During shooting, Elise was so committed to becoming her character, she relinquished an offscreen lifestyle that includes vegetarianism, hiking, yoga, and meditation. She knew the loss would throw her off-center, "but that's where Crystal was: off-center," she says. "That was hard—not to be able to go home and meditate and come back down." Elise, who has never taken an acting class and doesn't view it as a detriment, says she can't articulate her technique, short of saying it's not cognitive but deeply emotional and spiritual.
The film is inspired by Ntozake Shange's groundbreaking drama "for colored girls who have considered suicide/when the rainbow is enuf," a Tony Award nominee for best play in 1977. While the play is written as a series of choreographed poems depicting the sometimes wretched, sometimes joyous lives of African-American women, the film presents the interwoven lives of nine women in a linear, realistic fashion—though snippets of Shange's poetry and heightened language are heard throughout.
It was "a huge responsibility," Elise admits. "I was determined to maintain the integrity of the words. I approached it with precision and care. But as I moved through the character, the words found their home and came out very organically. The emotions fueled the language." Prose, she says, would have been insufficient to capture the breadth of feeling. But she is keenly aware that the film's mixed linguistic styles will not be for all tastes: "I know purists are going to step into the movie theater with trepidation. I understand and respect that. But the words are huge. They are bigger than the stage or the screen. They can't be confined to any one space."
A high point for Elise was working with Perry as a director, she says, in part because he's also an actor and understands the actor's process (she acted with him in the feature "Diary of a Mad Black Woman," which Perry wrote and produced). But more important, because he respects what actors can bring to the process. He is open to suggestions and willing to try different approaches. "A great director hires the right people and allows them to do their work, and then finds a way to shape it," Elise explains. She seeks out directors who "know what they want and know the line between undercommunicating and overcommunicating."
Elise is drawn to material that serves a larger purpose and will resonate with an audience the following day or week or month, she says. "Also, I'm a mother, and for me to pack up and go shoot something and be away from my children, I want it to be worth it on a lot of levels, not just the money or how it stimulates me." But she concedes that after filming "For Colored Girls," something light and easygoing might just hit the spot. "It would be great if Adam Sandler called and said he wanted me to play his girlfriend," she says, laughing at the prospect.
A Multi-Threat
Growing up in Minneapolis, the daughter of two educators, Elise knew she wanted to act. At age 9, she wrote to a local newspaper columnist asking what she should do to become an actor. Though her letter wasn't published, she received a note from the columnist suggesting she get headshots and an agent. So she checked the Yellow Pages and secured a photographer. By the time she was 17, she had signed with a local agent, for whom she'd auditioned with a monologue. Within short order she booked a commercial and an industrial. At the University of Minnesota, she earned a degree in communications, then worked as a production assistant at a public television station.
It was a heady, magical period in her life, Elise recalls. In addition to her day job, she was acting with Minneapolis' Illusion Theater, where she earned her Actors' Equity card. At the same time, she was writing and directing short films. She was also married (and subsequently divorced) and the mother of a small child. Her turning point was meeting director Carl Franklin at a lecture he was giving. Despite feeling uneasy, Elise approached him to say that she too was a filmmaker and to ask for advice.
"He was gracious and gave me his phone number and address and said if I was ever in L.A., I should look him up and he'd give me advice," says Elise, who ultimately sent him one of her films. "He called me to say, 'You got talent,' and said I should apply to the directors program at AFI," the American Film Institute. "I submitted a film and was accepted." Though her husband had many reservations about a cross-country move, the fact that his wife had earned a place in a highly competitive program persuaded him to pull up stakes, and off they went.
"AFI was the most intense experience I ever had," Elise says. "I came out of there thinking if I made it through that program, there's nothing I can't do." But her heart was still in acting, and as much as she had wanted to attend AFI and try her hand at directing, her purpose in coming to L.A. was to pursue an acting career. Again she landed an agent quickly, and three months later she booked her first feature, "Set It Off," which "set off" her career, she quips. "And it hasn't stopped since. My friends from film school say, 'When are you going to direct a movie?' and I say, 'I will shift in that direction, probably sooner than later, but just give me a moment.' "
Her career milestones include an appearance in the film adaptation of Toni Morrison's novel "Beloved" alongside stars like Oprah Winfrey and Danny Glover, as well as working with Perry in "Diary of a Mad Black Woman." That film's over-the-top quality was alien to her and made her self-conscious at first, Elise admits, though in the end she was won over and found it "hilarious." She also marvels at how Perry, with whom she'd never worked, fought for her to be cast when the producers balked. "I wasn't the 'it' girl," she says. "He said if they didn't hire me, he wouldn't do the film either." That was particularly daring because Perry wasn't exactly a household name at the time, she points out.
Equally impressive was his certainty that the film would be a hit. Elise didn't believe it for a minute, though she patronizingly admired his "gumption," she says. "But when the movie came out, it was No. 1, and this whole new thing was born." She's talking about his onscreen alter ego, Madea, and Perry's burgeoning media empire. "Love it or hate it, it is here. I read with a guy I never heard of" who became "Tyler Perry in capital letters. Now we look at each other and know we've come a long way."   
Out Takes
-Is especially proud of her work in the indie film "Woman Thou Art Loosed," shot in 11 days
-Has guest-starred on such series as "Grey's Anatomy" and "Private Practice"
-Has won NAACP Image Awards for her work in "Diary of a Mad Black Woman," the series "Close to Home," and the TV movie "Gifted Hands: The Ben Carson Story"