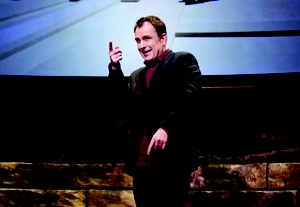 Standup comic Colin Quinn says he fancies himself an actor—if for no other reason than he's currently on Broadway, doing a solo show, "Long Story Short," at the Helen Hayes Theatre. It's not his first time in a legit theater—in 1998 he performed "Colin Quinn: An Irish Wake" at the Helen Hayes after an Off-Broadway run—but the challenge is not that he's on Broadway. "Anytime I perform, I feel pressure," Quinn says. "People have come to see you. They've paid. You'd better be good." The challenge is that performing in a theater is singularly different from doing your act in a comedy club, where his new show was born.
In "Long Story Short," directed by Jerry Seinfeld, Quinn evokes an unexpected blend of Jackie Mason and Studs Lonigan as he takes on, in 75 minutes, the demise of the world's major empires. Speaking rapidly in his marked Brooklyn accent, he wryly likens Julius Caesar to an early Italian mobster and Abraham to the first deadbeat dad. Throughout he compares the rise and fall of civilizations to the trajectory of failed personal relationships.
The material has evolved since he started performing it in clubs, with jokes sacrificed if they weren't feeding the show's larger themes, Quinn notes. He credits Seinfeld with helping to define those themes, along with selecting, editing, and structuring the material. "If you try to be thematic in a club, it's 'Hey, come on, change the subject. We've heard that,' " Quinn says. "The whole mentality is different. You can't talk about only one subject in a standup act, unless it's sex. And then it can go on for three hours."
His style in a club is far more improvisatory, he says, while in a theater he adheres to a script. "Though I break the fourth wall occasionally, I don't do it nearly as much as I would in a club. I don't talk about someone in the audience or comment on the day's news. For example, in the section on Islam, I can't talk about the controversy surrounding the proposed mosque near ground zero as much as I might like to. There might even be laughs, but it would throw the whole piece off. We're always thinking about the whole picture."
Though the street fighter is still evident in Quinn's onstage persona, he says he has become more civilized and reserved. The theater environment contributes to that, he explains, whereas the drinking and talking of a crowd in a club causes the comic to become a kind of survivalist. In a theater, the performer has to trust that the audience is engaged and able to pick up on subtleties, including moments of silence that can be very funny, he says.
The show was further tightened in its move to Broadway from Off-Broadway's Bleecker Street Theatre—"We did not soften it," he says—and Quinn again acknowledges Seinfeld's contribution: "Jerry is surprisingly good with movement on stage. He's limber. It's a bigger house, so the acting is a little bigger, but neither Jerry nor I is sure there's all that much difference between a Broadway and Off-Broadway house."
Missed a Few Parties
Though Quinn dropped out of Stony Brook University to pursue acting—which included performing in an Off-Off-Broadway play—he found himself increasingly drawn to the then-burgeoning comedy-club scene. He was often told he should consider being a standup. After all, "I was loud, outgoing, and the class clown," he says. After a few gigs, he was "addicted" to it. He gained a fan base and looks back at those years almost nostalgically. It was the mid-1980s, and comics and audiences both had a kind of innocence, he explains.
"You didn't really have to be very good. You could trick people, run around or be really dirty and get laughs. Today the comedy is better and you have to be good. Audiences know the difference, and comics have to have content. Sadly, Comedy Central raised the bar." He laughs. "They weren't intending to do that, but they did."
Within short order, Quinn was hosting the MTV game show "Remote Control," then writing and later performing on "Saturday Night Live," where he became the smart-ass host of "Weekend Update," rehashing the week's scandals and skewering the media circus surrounding them. It was a major career boost and a wonderfully instructive experience, he says.
"You learn editing, the art of paring down material. It's about laugh, laugh, laugh. In that way it's similar to standup. But unlike standup comedy, which is only about words, when you're performing on a stage, it really helps if you're comfortable in your body. In a club, you can be seated and hunched over, but if you're spewing out really funny words it'll go well even if the lights go out. But on a show like 'SNL' or in a theater, it's not all verbal. You have to be comfortable in your body."
It's a lesson that has served him well in his move to a theatrical venue. He is thrilled to be back on Broadway. Nevertheless, he has little doubt that he'd be much further ahead in his career if early on he had "acquired a stylist, gotten dressed up, and spent a lot more time going to all those stupid parties that I said, 'Oh, screw that. I'm going to work on my standup comedy.' Those parties are so much more important than I thought." Beat. "I'm dead serious."
"Long Story Short" runs through Jan. 8, 2011, at the Helen Hayes Theatre, 240 W. 44th St., NYC. Tickets: (212) 239-6200, www.telecharge.com, or www.colinquinnlongstoryshort.com.