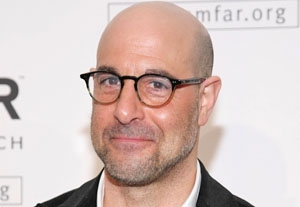 You know an actor has had a particularly good year when he successfully transforms into two completely disparate characters.
Earlier this year, two-time Golden Globe and Emmy winner Stanley Tucci made audiences sigh and wonder where they could find a doting, supportive husband like Julia Child's mate Paul in Nora Ephron's "Julie & Julia."  And starting this month, Tucci will achieve the opposite: creeping audiences out as the nondescript child rapist and killer George Harvey in Peter Jackson's "The Lovely Bones." It's a long scary leap, one that Tucci almost didn't attempt.
"As a parent, it's the last thing—I mean, I don't watch movies about serial killers," says Tucci. "I have no interest in any of that. I feel there's just too much of it. But this movie is not a movie about a serial killer and then in the end they get the serial killer. It's a human adult drama about the family and their reaction to the tragedy. The whole thing was really painful." He notes his most challenging villain prior to Harvey was Nazi Adolf Eichmann in HBO's "Conspiracy." "But that's what I love about acting," says Tucci. "The great thing was that they were done in reverse. Nora's movie was the antidote to Peter's movie."
The actor is hardly recognizable as Harvey, wearing a fat suit, fake teeth, blond comb-over wig, mustache, and blue contact lenses. He did extensive research on serial killers, specifically so he could get the right look for the loner. "Once you put that stuff on, you can't help but fall into a different rhythm," Tucci explains. "He had to be very innocuous-looking. It's not, 'Oh, there's the crazy bad guy.' He has to look very normal—so 1973, middle-aged, bland, boring kind of guy. All those things really helped, and it was nice to be able to shed those when the whistle blew at the end of the day."
Tucci has high praise for the film's star Saoirse Ronan ("Atonement"). He refers to her as "an old pro" with a gift. "She was just 13 when we did it. Now she'll be 16 in the spring, and she's 6 inches taller than she was when we shot it. I just think she's extraordinary. She's still very mature for her age and articulate, and she has a great sense of humor. She doesn't take herself too seriously," says Tucci, who admits that was a rookie mistake he made early on in his career. "As soon as you do that, it's all over. You learn over the years to work to be serious about what you do but don't take yourself too seriously."
Tucci originally told Jackson that he would play Harvey but that he would never watch the finished film. The actor eventually relented. "I had to watch it," he says. "Everyone was talking about it so much, and it was a great experience, but I don't know that I'll watch it again. Having directed myself, I've been forced to watch myself for five months in an editing room, so I had to get used to it. You have to kind of remove yourself from that person onscreen. It's not such a big deal. A lot of times you just don't want to [see the finished film] because you had a bad experience making the movie and you just don't want to see it, but I wanted to watch ['The Lovely Bones']. I think Peter handled it beautifully, as did Saoirse. It's just about delicacy but being truthful and really not pulling any punches."
Miranda & Julia
Not surprisingly, Tucci also raves about his other leading lady of 2009, Meryl Streep. The pair had worked together on 2006's "The Devil Wears Prada," a film Tucci admits he was "cast in at the eleventh hour." When Ephron was looking for the right actor to play the loving spouse to Julia Child, Streep put in her bid for Tucci. "Meryl said, 'I think Stanley should play my husband,' " Tucci recalls. "And then one time at a party, Meryl said, 'Would you be interested?' And I was like, 'Well, hello, yeah!' So we did it a year later, and it was great. It just made us closer and really closer friends, and I love working with her. We seem to hit it off. It's very easy to work with Meryl."
The two get to depict a rare onscreen romance: that of a happily married, middle-aged couple whose relationship isn't threatened during the course of the movie. They share several great scenes together—including fantastic nonverbal moments such as Julia savoring a delectable fish meal or Paul comforting her when the barren Julia receives a letter announcing her sister is pregnant. "I like those two scenes in particular," he agrees. "They're really great scenes."
A Direct Approach
The actor has stepped behind the camera to direct such films as "The Imposters," "Joe Gould's Secret," and this year's "Blind Date." His filmmaking debut, "Big Night" (co-directed with Campbell Scott) in 1996, earned him several awards, including a Spirit Award for best screenplay and the Sundance Film Festival's Waldo Salt Screenwriting Award. Tucci says he's learned much more about directing from working as an actor for bad directors than for good ones—like the time an oblivious producer read the New York Post during Tucci's audition or when a director sarcastically said, "Ooooh, scary" after Tucci read for the role of a bad guy. "It's just awful. There's no reason to be rude to people. So when I started directing, I vowed that I would maybe try to compensate for people like that," says Tucci, who is starting rehearsals in February for his next directing project, "Lend Me a Tenor" on Broadway. "You want to tell stories in your own way, but also I think it was a reaction to wanting to play roles that maybe nobody else would offer you, so you had to create it for yourself. You see the bigger picture of things [after directing]. You see the whole instead of the myopia of just your part. I like to go back and forth because I don't want to be the guy in charge all the time and I also don't want to be just a gun for hire all the time."
Aside from creating your own projects, Tucci, who got all his formal training from his time at SUNY Purchase's acting program, recommends that every actor read Keith Johnstone's "Impro" books. Among Tucci's upcoming acting projects are the star-studded musical "Burlesque," in which he'll play the club manager to Cher's club owner, and an HBO family drama in which he'll star as a politician who "has fallen from grace and then climbs back up." And if Tucci can get the money together by next summer or fall, he'll also be writing, producing, and directing his next feature, called "The Hunter." He reveals, "We have Pierce Brosnan, Julianne Moore, Patty Clarkson, and Maggie Smith [attached]. So I'm very excited. I'm hoping we get this together, because it's been a long time coming and I'm dying to do it."
Outtakes
-Realized he wanted to become an actor in elementary school, when he discovered he felt "more comfortable onstage than offstage"
-Runs Olive Productions with Steve Buscemi; together they will voice a new TBS animated comedy "Good and Evel"
-Earned a 2003 Tony nomination for his performance in "Frankie and Johnny in the Clair de Lune"