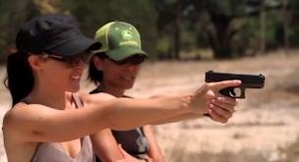 Generally, press junkets that involve meeting at 9:15 a.m. aren't worth it. Who wants to listen to a filmmaker or an actor talk about their project when you're half awake? But when the invitation is for a gun range 15 minutes outside of Austin, that's a reason to get up and go.
This particular event was for almost entire improvised SXSW film "Loves Her Gun," starring Trieste Kelly Dunn (currently on Cinemax's "Banshee") as a New Yorker who flees her life in the city after being attacked for the slower-paced life in Texas, where she falls into the gun culture. And the gun culture was fully evident at 10 a.m., when the parking lot of Red's Indoor Range was full.
Bused out in a large van (with black out curtains and a stripper pole), the journalists down for the ride peppered director Geoff Marslett with questions about the film and the production, which lasted for a month last September during record-breaking temperatures while a good portion of Bastrop, Texas, burned down. None of us thought it worthwhile to wonder what the grizzled Texans out for their morning shoot thought about a posse of out-of-towners nervously (or eagerly) clutching a matte black pistol on the range, their protective eyewear rakishly askew. The employees of the range offered enough opportunities for feeling awkward, particularly if you happen to load the bullets into the magazine backwards. There was also some good-natured floating aggression towards Aggies, which went over the heads of most of the assembled parties. (The Aggies are the University of Texas, Austin's rival football team.)
"You're shaking like a leaf," one of the employees told me as she watched over my shoulder as I tried again to load the bullets. "It's freezing in here," I whined. It was, but I was also nervous with him standing at my elbow as I aimed at the target. I won't post the results, but as Trieste said when she saw, "That man is dead."
She was also kind enough to tell me that her first time at Red's (one of the film's shooting locations) also involved her loading the bullets backwards into the magazine, so at least I wasn't the only one. And all that gun training paid off when it came time for "Banshee," which also involves her handling a lot of guns. "They're blanks," she said, "but it's still scary because a blank can put a hole in your hand. So I have to stay in the moment but also remember how to handle it correctly."
Much like the movie, the trip didn't have a political message attached to it, but there was something unreal about the experience of watching so many journalists ever so slightly seduced by the power of a firearm. Especially in a store that advertises an ammo shortage to its patrons. But the big takeaway from shooting this particular gun was: Don't rest your finger on the slide. It'll slice your thumb off.
And if you happen to be in the area, Mondays are ladies' day.