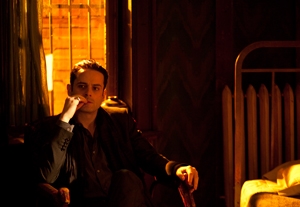 Every actor dreams of playing roles that showcase a wide range, but few have the opportunity
Luke Kirby
is enjoying. Currently in theaters luring ex-con Samuel L. Jackson back into a life of crime in the action-thriller "
The Samaritan
," the Canadian actor can also be seen as a sensitive artist romancing a married Michelle Williams in "
Take This Waltz
," premiering May 25 on Video on Demand prior to a June theatrical release. The roles are so wildly contrasting, it's jarring to realize they're played by the same person.
As it turns out, the experiences of making each film were also polar opposites. Kirby describes "The Samaritan" as a "jump on board" situation. He had just read the script when he was asked to fly to Toronto to meet director David Weaver for an audition. Six days later, he found himself on set going head-to-head with Jackson. "It was sudden but very freeing," Kirby says. "It turned out to be a great way to approach things because I didn't feel restricted by any kind of concept or idea about how this person was supposed to be. It was just one of those things when you have to turn around, close your eyes, fall back, and see where it takes you."
On the other hand, Kirby had months to prepare for "Take This Waltz," a situation he says is rare but welcome. "To have that kind of time with a story and with a character was such a gift," he says. His relationship with the film's writer-director, Sarah Polley ("Away From Her"), dates to 2003, when she played the object of his affection in the Canadian movie "Luck." At the time Polley was writing and directing short films, and Kirby was impressed by her talent. "I knew about her films, and also, just from getting to know her as a person, you know she certainly has more than one trick up her sleeve," he says. "So I wasn't surprised she went on to become such an astute filmmaker."
Luke Kirby as Ethan and Samuel L. Jackson as Foley in The Samaritan (IFC)

When Polley sent him the script for "Take This Waltz," Kirby had an immediate, strong reaction. "I was haunted by it," he says. "There was something that I couldn't really pinpoint, but there was a magnet that I was really drawn to at the time." In the story Williams' character is struggling in her marriage when she falls for a neighbor, played by Kirby, who is making ends meet by driving a rickshaw. "I'm so grateful to Sarah for having me come on board and trust me with this story," he says. "And so grateful to Michelle, who was so available to me and whose work goes so deep. They were both inspiring and exciting to be around."
The 33-year-old Kirby has been performing since a young age. Like many actors, he says he was shy as a child. "I had a great deal of social anxiety growing up," he says. "But I also had a real fever for make-believe." While attending a theater camp in his early teens, he was surrounded by "awkward drama nerds who made me feel less alone" and realized he could perform for a living. At 19, he auditioned for the National Theatre School of Canada; for his audition, he performed monologues from "Hamlet" and "Wild Abandon" and had to pick a play to distill down to three minutes in a performance. He chose John Patrick Shanley's intense drama "Danny and the Deep Blue Sea" and says the result was hilarious. "I grabbed a blue tarp from the shed and wrapped myself up, trying to present this very hungry play in a three-minute piece," he recalls. "I didn't even finish, they cut me off. I don't think I was very successful, but they had me anyway."
Not long after finishing school, Kirby was cast by Toronto's prestigious Factory Theatre in a production of "Geometry in Venice." The role earned him a best actor nomination at the Dora Mavor Moore Awards in 2000. In 2001, he was visiting his grandmother in Brooklyn, and his agent set up a general meeting with casting director Deborah Brown. Brown was casting an Off-Broadway production of "Troilus and Cressida" for Peter Hall and asked Kirby if he had any Shakespeare prepared. "Of course, I was fresh out of theater school, so I had a monologue handy," he says. He landed the roles of Deiphobus and Patroclus in the show, which brought him to New York.
While performing in "Troilus and Cressida," he booked his first American film, horror sequel "Halloween: Resurrection." Kirby laughs good-naturedly about going from working onstage with Hall to becoming a bloody victim of Michael Myers. "It was pretty funny," he says. "But I happen to have two best friends who are obsessed with horror films and had force-fed me knowledge about them throughout high school. So to be offed by Michael Myers was sort of a real feather in my cap."
Kirby has continued to bounce back and forth between countries for his career. In Canada, he was a regular on the hit series "Slings and Arrows," which was directed by "Luck" writer-director Peter Wellington, and "Cra$h & Burn." In America, Kirby might be best known to TV audiences for his work on the controversial HBO drama "Tell Me You Love Me." Kirby says being a known actor in Canada is very different from being known in the U.S. "I don't know quite how to put it; the Canadian audience is very specific, by virtue of how small the population pool is," he says. "I think the idea of being very famous in Canada -- it's a bit of an oxymoron!"