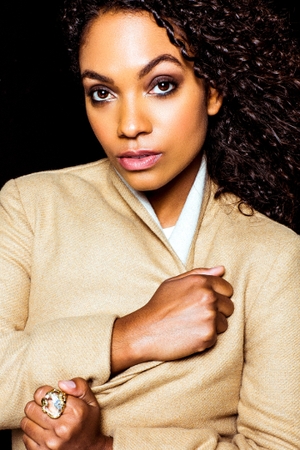 Between her roles on "Sleepy Hollow" and in the upcoming feature "Cut to the Chase," Lyndie Greenwood knows a thing or two about channeling her inner badass and portraying empowered women.
On the new season of 'Sleepy Hollow.'
"I can reveal that we're in a completely different setting. We're in [Washington,] D.C. instead of Sleepy Hollow. We've got a whole host of new characters, good guys and bad. It's a really exciting kind of new show in a way, but with the foundation of the show we've all come to know and love."
On portraying powerful women onscreen.
"It's so empowering to be able to go into that space and really find my strength and be this really strong woman and character that people watch and seem to really love. It's also super rewarding when people reach out and say, 'I'm just so happy to see a strong female character.' "
On dealing with rejection.
"You have to develop a very thick skin very quickly because we're doing this work that is so personal, but the business is not personal. The rejection you feel is not personal. There are a million different factors that go into booking a job, and even if you've done your absolute best, it doesn't mean you're going to get it. Just stay strong and remember casting can only choose one person. Sometimes that's really hard for them to do. Just keep going and remember to train and do the things that make you remember why you fell in love with this business in the first place."
READ: Stop Calling it Rejection
On growing with a character over several seasons.
"I really love TV for that reason, the potential to live with a character for so long. It really becomes almost like a second life that you live, which may sound a little mentally unhealthy but I think it's actually really wonderful. There is a lot of reward in watching your character grow and going through that with them. Because you come to care so much about the character, if you don't feel like your storyline is being told the way you want it to be told, that can be a little bit frustrating, but life can be frustrating! So it's an interesting experience."
On stepping out of character and back into reality.
"For me, any time I act, when I leave I feel a bit drained and a bit almost violated, in a way. I've just done this public, kind of embarrassing thing that I really can't help but do because it feels so right at the time. But right afterward, I kind of feel weird. Trying to wind down from that afterward can be a bit of a challenge. I usually just go home and try and get my mind off of things by hanging out with my dog or my boyfriend or going out for dinner."
Want to get cast in a series yourself? Check out our TV audition listings!