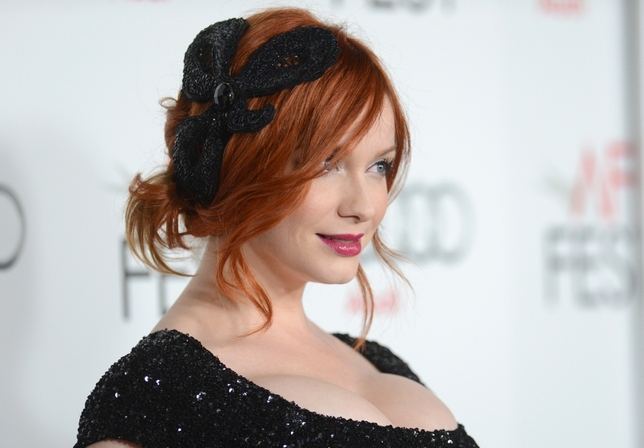 For five seasons and counting, Christina Hendricks has turned heads as fan favorite Joan Harris (née Holloway) on AMC's "Mad Men." So after more than a decade in the business as a model and actor, now with three consecutive Emmy nominations for her "Mad Men" supporting role under her belt, how has her role on the hit show changed Hendricks' audition experiences?
"When you're in pilot season, and you're on your third audition in one day, and no one knows who the hell you are and you're changing costumes in your car, it's the moment you hope for," Hendricks says. "It's the moment that you can walk into a room and instead of asking what your name is and what you've worked on, someone just turns to you and goes, 'Oh my god, I love your show.' It is more valuable and more extraordinary that anyone could ever express, because any actor knows that it is so damn hard.
"And it is so hard to convince someone who hasn't already seen you do it that you can do it," she adds. "Some people are way less creative than you wish they were. Sometimes you go in and knock it out of the park, but if they don't know you and they've never seen you do it, you fade from memory. You simply fade from memory, and then the next person comes in—unless you have a freaking beautiful show like 'Mad Men' to back you up."
Before becoming Joan, Hendricks had recurring roles on short-lived series such as "Firefly," "Life," "Jake in Progress," "Beggars and Choosers," and "Undressed," and she appeared in episodes of bigger hits like "ER," "Angel," "Cold Case," and "Without a Trace." Ask most fans, however, and they'll say her career began in 2007, when Joan took her first steps through the hallways of ad agency Sterling Cooper on "Mad Men."
"Most of the world does not acknowledge that I ever worked before," Hendricks says, bemused. "But I worked for years as an actor. There's a lot to be said for that. It's a tough business. To my parents or to their friends, I was not a success, but to me I was a huge success. I was having a blast. I was working on shows I loved, I was working with actors I loved, and I was making a living as an actor. And I loved every second of it."
She laughs and adds, "The difference between before—somebody flipping through a stack of headshots, looking for where mine is and who the hell I even am—to now is extraordinary. In that way and in every way, this show has changed all of our lives. There's no going back."
During breaks from working on "Mad Men," as her stock has risen with each season and each successive award nomination, Hendricks has appeared in a variety of films including "Drive," "Life as We Know It," "I Don't Know How She Does It," "Detachment," and Chris Colfer's soon-to-be-released "Struck By Lightning," in theaters Jan. 11. She's currently on screens in the feature film "Ginger & Rosa," another '60s-set drama, and is also prepping a role in Neil LaBute's forthcoming film "Seconds of Pleasure."
Hendricks is now in the midst of shooting the sixth season of "Mad Men"—which is expected to end its run after seven seasons—and will begin filming her role in her "Drive" co-star Ryan Gosling's directorial debut, "How to Catch a Monster," shortly thereafter.
"Every interviewer asks, 'What are you going to do next? What happens when it ends?,' " Hendricks says of her post-"Mad Men" plans. "For years we were like, 'Stop asking us that. We're so far away from that!' And now we're like two years from that, so the question is more real. As actors, we have been spoiled rotten [on 'Mad Men']. The material is extraordinary. It's unparalleled. It will be surprising if I ever get material like this again. That's scary."