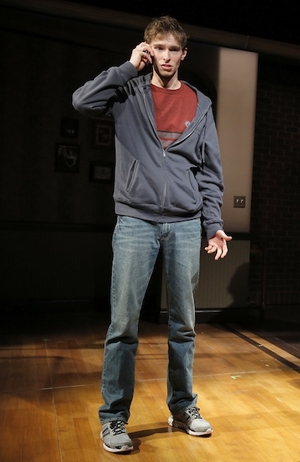 For Seth Clayton, his involvement in the Manhattan Theatre Club's "The Madrid," written by Liz Flahive, has been the professional breakthrough that he has been waiting for. Not only is he getting to work with Edie Falco ("Nurse Jackie"), but the young actor also obtained his Equity card for the production, which plays through April 21.
Directed by Leigh Silverman, "The Madrid" is about on what happens to a family when the matriarch decides to leave – what many would consider – a great life behind. Playing the abnormally gangly and comical teenager Dylan, Clayton chatted with Backstage about working with Falco, discovering his acting passion, starting his own theater company and gaining professional status as an actor.
Backstage: How did you get cast in "The Madrid"?
Seth Clayton: I submitted myself on Backstage and I waited, or rather, I didn't really wait. I didn't expect they would get back to me about it. But, they did and I had my first audition… I had one callback, which went really well, and I learned a new scene for that. And there was third callback, which I didn't hear about for weeks because of Hurricane Sandy basically. But, I had that third callback and I tried to do the same thing as before but also make it new and specific, and a couple of weeks later I got the call that I was cast.
Backstage: So, you're 6-foot-4, how has your height helped or hinder your burgeoning career as an actor?
Clayton: Since I got out of college I would look in the mirror be like, "Wow, how narrow of a chance does a guy my size have… But, my teachers and everyone else always told me, "No, it's beautiful," and "Own you're height." Then along came this part for a kid who's really, really tall and can play a sixteen-year-old.
Backstage: What has working with Edie Falco taught you as an actor?
Clayton: A lot of the time, I kind of creepily stand in the back of theater and watch the play and I love watching her scenes. She never said any of these things to me; it's all lessons that I gleaned from watching her act. It just has to be you on stage. The way I have seen her working, there has never been a moment where she is not herself up there, and her performance, she let it grow on its own. That's a tricky thing…I've always admired actors who let the scene be whatever it is on that particular day. So, in performances I'm trying to let myself do that.
Backstage: How does it feel to get your Equity card with this production?
Clayton: [Laughs] Glorious. It was great. When Kelly Gillespie, the casting lady at MTC, said "It looks like you are probably going to have go sign up for Equity," like it was a burden or something. I was like, "What! Yes. The answer is yes, I will do that." For me, it's a symbol that there's no going back. That I am a professional actor and I and the rest of the world for this point on is going to treat me as that.
Backstage: You also started your own theater company, Pipeline Theater Company. How did the company come about?
Clayton: We were studying at the Atlantic Acting School, and in your third year at the Atlantic, you have something called a company class. And so all the people that were left in our year were in this company class, and Atlantic completely encouraged people in the company class to bring that out into the real world. My friends took that to heart and they just like blasted through those doors and kept this company alive… Pipeline has changed so, so much in the past couple of years. We've kept this kind of like kernel of magic that we took from school and it's kept us glued together.
Backstage: You wrote on your website that "Death of a Salesman" inspired your love of theater. Can you share a little about that?
Clayton: In my junior year, we had this unit in English where we were reading plays aloud and we were reading "Death of Salesman." I was always on the edge of my seat clutching the play and talking way too loud and so I got to play Willie Loman a lot. I was so into it. It's like that kind of involvement in something where the perimeter of your vision is blurred and you just want to get deeper and deeper into this thing. When it was over, I was just sitting at my desk and everyone else was milling about and I just walked out of the classroom and I remember walking into the empty halls and just kind of roaming around not knowing what I was feeling.
Backstage: Do you have any advice for aspiring actors?
Clayton: My first advice would be go for it if you have that feeling and also to not judge yourself and define yourself by other people's expectations or paths that have been travelled. But, try to hold on to that first feeling you got when you were on stage or in your English class or your living room and you performed something and you felt a fire about it.