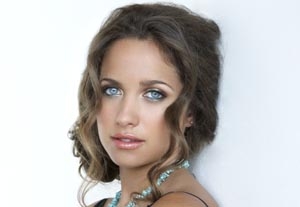 "I love to be different," says Maiara Walsh, and she is in the best sense of the world. Maiara (pronounced "My-ada" and don't you forget it) got her start a month after high school on the Disney Channel's "Cory In The House." She's since graduated to primetime in the role of Ana Solis, niece of Eva Longoria Parker on the ABC mega-hit "Desperate Housewives."
The daughter of Buddhist parents, Maiara is bursting with kindness and compassion for others, and helps out with various charities including Girl Prep, a self-esteem and goal-setting conference for inner-city girls in Los Angeles. She's also an avid reader with a particular interest in "brain plasticity".
Chosen as this week's Actor2Watch, Maiara will be featured in a series or articles, fun facts and social media tweets through this week for subscribers of
Girl2Watch.com
.
ACTOR2WATCH
: What was your first big break?
MAIARA WALSH
: My first big break was the Disney show "Cory in the House" when I was 18 years old. It was a fantastic experience. I really learned a lot about sitcoms. I've always considered myself a bit more of a dramatic actor, but I learned so much about acting and how important timing is. I think that's really helped me in my dramatic acting now.
A2W
: Who do you study with?
MW
: I study with Warner Loughlin at Warner Loughlin Studios. I absolutely love her. It's imagination based and I'm a very imaginative person, so it' great for me.
A2W
: How do you use Facebook and Twitter to advance your career?
MW
:  I basically use Facebook and Twitter and MySpace to communicate with the fans. I don't think it's necessarily about advancing my career, but I do want to be able to connect with my fans. They are so important to me, and a lot of them have stuck with me since the very beginning and that means so much to me.  I really care about people and I do my best to respond to people and take time out my day to say, "Hey, I appreciate you." 
A2W
: What role does your agent and your manager play in your career?
MW
: My agents and managers are great. I stay in close contact with them. I think what's important in a good manager and a good agent is that they know your vision and that they are passionate about you and believe in you. Because if they don't, then they're not going to work hard for you, and they're going to send you out on things that you don't want to do.
A2W
: How has your life changed since you've been on "Desperate Housewives"?  Do you get recognized a lot more?
MW
: Yeah, it's funny. I still get kids recognizing me from the Disney show, and I get people recognizing me from "Desperate Housewives," too.  But it's not to the point where I can't even walk down the street, which is nice because I like my private life as well.
It depends. If I wear my hair up, people don't recognize me as much. I think the best part has probably been being able to walk into an audition room some of the time and they know your work, which is nice.
A2W
: Do you have any tips for people starting out?
MW
: Always stay in class. I think that's very important. You can always improve from wherever you're at. And also to not allow the rejection to get to you. It's a very slow, difficult business and it's taken me eight years to even get to where I am now.
And this isn't even where I really want to be yet. It's just patience, perseverance and you've got to be passionate about it, and you've got to be in it for the right reasons. If you're here just to be famous, this is the wrong business for you.