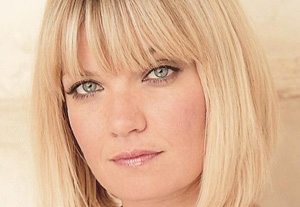 Watching Mary Catherine Garrison play the ditsy blonde Maggie in "Lend Me a Tenor" on Broadway, it's hard to imagine that she once suffered from paralyzing stage fright. At the time she was doing multiple roles in Caryl Churchill's "Top Girls." "In that first scene I played Patient Griselda," she recalls, "and I don't know what it was about the part, the way it was written or that I had to wait 20 minutes before coming into the scene, but backstage I was nauseous, sweaty, and in tears. It was bizarre, and these weird panic attacks lasted two years, though I continued to work. Olivier went through a period of stage fright and got over it. I figured if he could, I could too. And if I couldn't, I would have left acting. It's a quality of life issue."
Pragmatic and optimistic, Garrison says if she's not enjoying herself, she'll do something else, and there have been moments she's considered it. The political aspects of landing acting gigs and the need to keep on proving oneself can be wearying, she says. Also, she adds, "I can't abide all that stupid ego stuff. It's so boring and unacceptable. I don't have room in my life for that kind of noise. I like niceness, kindness, 'Yay team!' "
If Garrison were not acting, she'd "paint, draw, and cook. I have a Martha Stewart approach and love everything domestic. Right now, I'm writing an illustrated children's book." It is called "Little Red Fox (a fairy tale of cooking & baking sewing & crafting)." This is no fallback, she emphasizes. It's her other passion. Her quirky blog about art, cooking, and the book is www.littleredfox.typepad.com.
For the most part Garrison's acting experiences on Broadway, Off-Broadway, and television have been fun, she says. A strong advocate of a balanced life, Garrison has also found time to get married. "My husband is in sales," she explains. "I got over dating actors. There's just too much mutual instability. For me it's exotic that my husband gets up early each morning, gets dressed, and goes to work every day."
Living the 'Fame' Life
At the moment Garrison is grappling with the joy and challenges of "Tenor," Ken Ludwig's operatic farce, full of slamming doors and mistaken identities. It's a genre she never thought she'd tackle. "I was the one who could cry onstage, but I could never land a punch line," she recalls. "The first time I ever did comedy was in 'Debbie Loves Dallas' six years ago, and it was a challenge to flex those comedy muscles. The character I played was horny and not too bright." Still, "Debbie" was no "Tenor," which first and foremost requires precision, Garrison says. "It's a science. Sometimes three knocks on a door is funnier than five knocks, or your hand 12 inches away from your face is funnier than 6 inches away from the face." The art of farce is nailing down those details, which can become tedious Garrison admits. Farce also demands a clipped pace, "but not so fast that the material fails to connect with the audience," she elaborates. "It all has to come from a place of reality. If it's not authentic, I get disgusted with myself. I hate it, when words come out of my mouth sounding phony. Yes, style changes the reality, but that doesn't happen in a vacuum. You create the flavor—rhythm, tone, style—with the others onstage. One of the reasons I wanted to be in this production was the chance to work with Tony Shalhoub, Anthony LaPaglia, and Stanley Tucci, who is directing."
Though she never thought she'd be an actor, Garrison concedes she was always in love with celebrity. When she was 15 and heard about the New Orleans Center for the Creative Arts, a public high school for creative kids, she was determined to go. The actor, who grew up in Jackson, Miss., and New Orleans and still speaks with a slight Southern accent, says, "In my mind it was 'Fame.' I thought I might apply for the art department, but I didn't have enough of a portfolio. I didn't write well, dance, sing, or play an instrument. That left acting, and I quit tennis and swimming to prepare for the audition. I did a monologue from Juliet, was accepted into the school, skipped a level, and I've been acting ever since."
Garrison went on to major in theater with a minor in art at the University of Evansville in Indiana before enrolling at the University of California in San Diego at La Jolla, where she earned her MFA. "It was boot camp and exhausting, and I will never take another acting class," she says, laughing.
When Garrison graduated, she had an agent, and several months later she found work as a reader for the Roundabout Theatre Company's production of "The Man Who Came to Dinner." Jerry Zaks, who was directing the show, was so taken with her he suggested she audition, and she landed a role in the production.
"Being a reader was fascinating to me," Garrison notes. "It was obvious who was going to get the part and who wasn't. Some actors walked in, almost apologizing for being there. Others walked in believing they were right for the role, and even if they weren't, they often got the part. They made clear acting choices and were confident not just in their acting but also in themselves on a personal level."
Garrison has worked steadily and was featured in eight episodes of NBC's "Inconceivable," though only two were aired. Not surprisingly, she'd love to do another TV series and more film work. "It's a medium I don't know much about," she says. "I don't have a list of plays that I'd like to appear in, and I suppose I should when I talk to a reporter."
Suspecting she has been typecast over the years, Garrison says it's 80 percent her fault she hasn't broken away from "quirky ingénue. I have a little voice and I'm small and blond. Actually, I see myself as a character actor. But all you need is one role to be perceived differently."
"Lend me a Tenor" plays at the Music Box Theatre, 239 W. 45th St., NYC. Tickets: (212) 239-6200.
Outtakes
-Has guest-starred on "The Good Wife," "30 Rock," "Third Watch," and "Law & Order," among others
-Was featured on Broadway in "Assassins,"  "Rabbit Hole," and "Accent on Youth"
-Appeared in productions at Manhattan Theatre Club, Roundabout Theatre Company, Second Stage, Signature Theatre, Ensemble Studio Theatre, and the Williamstown Theatre Festival