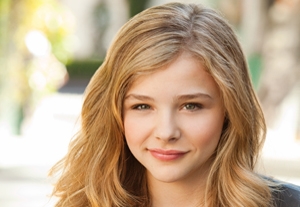 As far as entrances go, it ranks up there with Barbra Streisand's as Fanny Brice purring "Hello, Gorgeous!" Hit Girl, the 12-year-old masked vigilante in a purple Clara Bow wig and leather jumpsuit crashes into the villain's hideout, strikes a menacing pose, and utters the line, "Okay, you guys…let's see what you can do now."
Only she doesn't say "guys"—she uses one of the most offensive words in the English language, before proceeding to unleash bloody vengeance upon the bad guys. This is how "Kick-Ass," the new action-comedy about ordinary people striving to be superheroes, introduces Hit Girl, played by Chloë Grace Moretz. Up to this point, the film's audience has only seen her as her alter ego, hyper-intelligent but sweet Mindy Macready, and has no idea of just what she is capable.
Hollywood, however, seems to be well aware of just how much the 13-year-old Moretz can handle. Though it's a cliché to talk about child actors as wise beyond their years, its pretty much a given in the case of this one, who is quickly making a name as the go-to young performer for heady material. After counseling Joseph Gordon-Levitt on love in last year's "[500] Days of Summer," Moretz played a world-weary student in the recent "Diary of a Wimpy Kid." "Kick-Ass," which opens this week, will find her performing stunts and spouting dialogue actors twice her age would blush at. And in the fall, she'll appear as a hundreds-year-old vampire trapped in the body of a 12-year-old girl in "Let Me In," the American remake of the Swedish drama "Let the Right One In." And she recently signed on to star for director Martin Scorsese in his historical drama "The Invention of Hugo Cabret." Moretz already has big fans in her directors and co-stars—including Nicolas Cage, who plays Hit Girl's warped but loving father, Big Daddy. "I knew she was going to be an enormous star because of how well she performed," Cage says, adding he gave Moretz a silver starfish necklace when the film wrapped "because real stars are nice people, and that's what she is."
Summer Days
On a sunny day at the Farmer's Market in Beverly Hills, Moretz appears like any other teenage girl, not someone who was the toast of the South by Southwest Film Festival only hours earlier when "Kick-Ass" premiered to a rapturous audience. Eating a glazed doughnut and teasing her elder brother Trevor, she is discussing her Twitter account (at @chloegmoretz) and coming to the realization that she's going to have to start being more careful about tweeting her locations.
It's because of Trevor, now in his 20s, that Moretz became interested in acting. The youngest of five siblings and the only girl, Moretz was living with her family in Georgia when Trevor was accepted into the Professional Performing Arts School in New York. Moretz, her brother Colin, and her mother moved with Trevor so he could attend the high school, and a 6-year-old Moretz found herself stealing her brother's sides when he brought them home. She had always been a bit of a performer; she can recall at age 4 how Trevor would dress her up in various outfits and film her—most memorably as Princess Leia floating in the pool while being attacked by a sea monster, played by the cleaning tube. But while in New York, she began begging her mother to let her go on auditions. "She would say, 'I don't know, Chloë; it's not a business for kids,' " Moretz admits. "She kept asking, 'Is this really something you want with your heart and soul?' and I would say yes.
I love it."
After Moretz's year and a half in New York, her father's plastic-surgery business had him relocating the entire family to Los Angeles, where Moretz was finally allowed to go on auditions. Manager Pam Gold, who had met Trevor through school, also agreed to represent Moretz, and soon she landed her first role on two episodes of the CBS series "The Guardian." According to Moretz, being on set felt remarkably natural. "There wasn't much difference between being in front of a camera there and what I was doing in the pool," she says with a shrug. She also had the aid of an in-house teacher. "Trevor is actually my acting coach," she notes. "He's the only person I've ever studied with, and he's amazing." She points out that Trevor is now offering his coaching services in L.A. (www.trevordukemoretzstudio.com).
Roles in "The Amityville Horror" and "The Eye" followed, as did a role as Peter Krause's daughter on the ABC series "Dirty Sexy Money," but Moretz considers "[500] Days of Summer" her biggest onscreen break. She sounds like an old pro when she says, "I knew the film had Joseph Gordon-Levitt and Zooey Deschanel, and I'd always wanted to work with them and always wanted to do a movie like that." It only took one audition with the casting director and one with the producers and director for Moretz to land the role. 
Not that it was always easy for her. "You'll get a thousand noes and one yes," she says of auditioning. "There's a couple parts that I really wanted badly that I didn't get. But I tell myself that when a door shuts, another bigger, more beautiful door opens." She cites Olympian Michael Phelps, who was diagnosed with ADHD when he was 9 years old. "People will say you have limits, but you have to brush it off," says Moretz. "They say you're not good, or you're too good. They say you're too scripted, you're too pretty, you're too young, you're too tall. But you get that one that says you're perfect, and you book it."
The Girl for the Job
To avoid getting too attached to roles, Moretz says she usually doesn't read entire scripts until she gets the part. But two years ago, her mother brought her a screenplay and said, "Chloë, it's what you've been wanting." Moretz had recently seen "Wanted" and longed for an action role in the vein of Angelina Jolie's Fox. The script was "Kick-Ass," and Moretz instantly fell in love with the characters. "I read the script and said, 'I have to be Hit Girl,' " she recalls. "It was an amazing character and so different from what any other kid has done, aside from my idols: Natalie Portman in 'The Professional' and Jodie Foster in 'Taxi Driver.' "
Moretz put herself on tape for "Kick-Ass" co-writer and director Matthew Vaughn, then tried not to think about it too much. Months later, she was skateboarding in Santa Monica when her manager called and said Vaughn was in town and wanted to meet her. "I was wearing jeans and a pink top and looked really cute, but I thought I had to be a tomboy, so I threw a big jacket on and hid my outfit," Moretz recalls. "Then Matthew started talking about how Hit Girl is actually a girlie girl, and I said, 'Oh! Well, this is me!' I unzipped the jacket, and he saw I was pink and frilly, and he said, 'That's Hit Girl!' From there, we really hit it off."
Vaughn had thought casting Hit Girl would be his most difficult task, so he almost couldn't believe his luck when Moretz was only the second girl he saw. He asked Charlie Cox, the star of Vaughn's previous film "Stardust," to read with Moretz and recalls how impressed the actor was. "Halfway through the first take, [Cox] looks at me and mouths, 'Shit, I have to raise my game,' " Vaughn says. "That happened with every actor: They'd be talking to her like she was a 7-year-old, and then I called 'Action!' and all of them would be like, 'I am being blown off screen by a child!' "
To play the role, Moretz endured two months of basic training before filming began. She learned combat training, gymnastics, bow staff, and how to take apart a gun and put it back together. "Even on my days off, I was training from 7 a.m. to 5 p.m.," she reveals. "Every single day I would wake up, do crunches, pull-ups, push-ups and go do my training, then come home and go running and swimming. Somewhere in there, I would fit in school." Moretz is homeschooled by her mother, Teri, whom Moretz frequently refers to as "my best friend for life."
As for the violence and language the role requires, Moretz shrugs and says, "It's a movie. It's a character—a great character—and a role that challenged me and stretched me as an actor." But Vaughn was aware they were in treacherous territory; when he had originally tried to obtain financing for "Kick-Ass," many studios blanched. "Most of them said they liked the concept but only if it was done in a PG-13 manner, with no Hit Girl," he reveals. And though the aforementioned line is in the comic upon which the film is based, he admits it was left out of the original script. It wasn't until they were filming the scene on set that Vaughn realized the takes weren't having the right impact. Teri had read the comic and understood the importance of the right word. "She and Chloë agreed that it made sense to shoot one take with the word included," Vaughn says. That take has ended up not only in the final film but in the wildly popular red band trailer, and it reassured leagues of worried fanboys that the film will retain the same dark, subversive tone of the graphic novel.
Playing the Vamp
If "Kick-Ass" was the most physically challenging experience of her life, Moretz says her work in "Let Me In" was the most difficult for her to tackle emotionally. Writer-director Matt Reeves ("Cloverfield") knew his film hinged on the right actor to play Abby, the female vampire trapped in a state of arrested development who relies on a guardian (Richard Jenkins) and a young boy ("The Road" star Kodi Smit-McPhee) for survival. His casting director Avy Kaufman had brought in Moretz, and Reeves was instantly impressed. "A lot of kids came in and tried to play this hundreds-year-old vampire, not a 12-year-old girl," he notes. "Chloë was the first who really understood that she hasn't been able to grow up and is still a kid in many ways."
Reeves then placed a call to Vaughn. "Matthew couldn't say enough about her," Reeves reveals. "Not only about her ability as an actor but about her as a person. He told me how her family is so supportive and keep her grounded and lovely, which was very reassuring." Reeves confesses he had trepidation about putting a young actor through such a complicated emotional role. But any fears he had were soon allayed by his star. "Chloë wanted to do it all, even her own stunts," he reveals. "We did a scene where she was knocked down, and the first time, I was so worried for her. Then she jumped up laughing and said, 'Let's go again!' "
Moretz admits it was hard at times playing "such a deep, dark character," most notably in a scene where she had to cry—which she accomplished, she says, by thinking about her mother. But at the end of the day, she's able to leave it all behind. "Oh, yeah, you have to," she says, "because I love it so much, I love playing these people who are so different from me. It's not real life; it's entertainment."
It's something Moretz hopes to be doing for years to come, though if it doesn't work out, she wouldn't mind becoming a helicopter pilot. "I have a terrible fear of flying, so I feel if I'm in control of the helicopter, I might get over my fear," she reasons, before adding with a laugh, "Or it might be more terrifying!" For the time being, she loves her career and is aware of how fortunate she has been to have so many opportunities. "We all have an imaginary checklist of things we want to accomplish," she notes. "Working with Nicolas Cage—check. Playing a vampire—check. Playing an action hero—check. I've already checked off about 20 things on my list!"   
Outtakes
- Performs the voice of Darby in "My Friends Tigger and Pooh" and voiced a character in the animated film "Bolt"
- Recently signed on to join the cast of "The Fields," opposite Sam Worthington
- Had an arrangement with her family that for every film role she booked, she got a dog: "That had to end after my second movie."
- Says the only time she has ever been starstruck was with Daniel Craig, who visited the "Kick-Ass" set