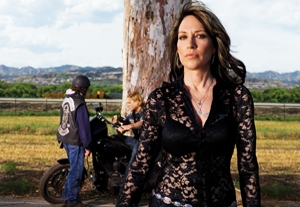 It's no secret that Katey Sagal has range. The actor played the big-haired Peggy Bundy on Fox's "Married With Children" for 11 years before segueing effortlessly into the role of one-eyed alien Leela on "Futurama." She's also made a few heartbreaking appearances on the ABC drama "Lost" as the woman who got away from John Locke. Still, even her biggest admirers were likely unprepared for her Machiavellian turn in the FX hit "Sons of Anarchy" as Gemma, a member of an outlaw motorcycle gang in Northern California. Manipulating her son and husband with moves that would make Lady Macbeth blush, Sagal makes for one bad mother.
The actor had an edge in landing the job; the show was created by Kurt Sutter, a former writer-producer on "The Shield" and Sagal's husband of five years. But the part wasn't just handed to her. "It wasn't as easy as my husband saying, 'I've written you a great part; let's go to work!' " Sagal reveals. "There are a few hoops I still had to jump through in terms of it had to be the right fit with the rest of the cast. I had to be network-approved."
Asked if she enjoys working with her husband, Sagal pauses. "I do," she says. "He loves being the boss of me." And she recognizes that living with the show's creator has some advantages. "There's a lot of mythology that went into 'Sons of Anarchy,' a lot of history before the stories he's telling now are even told. So he was a great resource. I have a lot of respect for him." She laughs and adds, "I just think he's great. He's a wonderful man, but he's also a very talented guy."
Mary to Married
Even though Sagal received her SAG card in high school, she didn't harbor ambitions of being an actor. Her father is the late director Boris Sagal, who had encouraged her creativity and put her in some of his shows, such as a "Columbo" TV movie. But Sagal's passion was music, and she spent most of her 20s as a background singer for artists as varied as Bob Dylan and Gene Simmons. In 1985 she was performing in an "avant-garde rock opera" in Los Angeles called "The Beautiful Lady," in which she played a Russian poet, and was asked to audition for "Mary," a new comedy starring Mary Tyler Moore. "I always thought it was such a stretch that someone saw that piece and thought of me for a sitcom," Sagal admits. "But they must have seen something, because I ended up getting the job." She played a sarcastic co-worker of divorcée Moore, who worked at a newspaper. "The show did not do very well," Sagal notes. "I don't think anybody wanted to see Mary divorced."
One person who watched the show was Sharyn Leavitt, then wife of Ron Leavitt, who was casting his new sitcom for the fledgling Fox network titled "Married With Children." She suggested Sagal for the role, and the actor soon found herself on an audition opposite future onscreen husband Ed O'Neill. Their chemistry was instantaneous. "As soon as they paired me with Eddie, I thought, 'If I get this job, I should be with this guy,' " Sagal recalls.
Though Sagal says she didn't base Peggy on anyone in particular, she notes she had a slightly different take on the role as written. "Peg was actually originally written to be very slovenly and a couch potato who didn't really take care of herself," she says. "It was sort of my idea to doll her up a little bit. I thought that would be much more fun. Also you had to see how they could be attracted to each other a little bit. If they were both slovenly and laid around, that didn't feel like a good picture to me."
From the beginning, Sagal had low expectations. "I thought the whole thing was very out-there and cutting-edge. But I didn't think anybody would watch it," she admits. "You had to put rabbit ears on your television to get the Fox network." She says no one had any idea the show would become such a runaway success. "I think we were popular much to the embarrassment of some of the people over there, because we were really the black sheep," she says with a laugh. "I think they would have liked to have seen one of their other shows succeed. But once it took off, it just couldn't help itself. People really, really liked it."
Audition Ambition
When the show ended its run after 11 seasons in 1997, Sagal found herself going back to auditioning. Although she had concerns about being typecast, she says, "I feel pretty happy that I've pretty much been working all this time." Still, it was tough at first. "I hadn't really auditioned that whole 11 years on 'Married' for anything, and I went on my first couple of auditions and I was so horrible," she says. "I had so many habits from playing one character for so many years." She found an acting coach, Julie Ariola, who helps her with most auditions. "It makes such a difference to read it out loud, rather than just in my head," Sagal says. Ariola is now Sagal's co-star, appearing on "Sons of Anarchy" as Mary Winston.
Although Sagal doesn't like auditioning, she's made her peace with it. "I audition for everything," she says. "The whole thing is about reinvention; you're constantly having to show people you can do other things. It's kind of the curse and the blessing of being on television in that people really get attached to a certain character that you play. For me, having been that one character for so many years, I've had to go into most of my jobs and show them that there's more to me than that." She also understands the necessity of the audition. "Now that I'm married to an executive producer and the creator of a show, I sort of see it from a different perspective. So much of the time they're trying to put all the right ingredients together and just fulfill in a vision. Sure, it would be fantastic to get straight-up offers all the time, because that audition process certainly is unappealing. But I understand why it goes on."
To the Future
With Season 2 of "Sons of Anarchy" wrapping up in November, Sagal will next be heard, if not seen, in new episodes of "Futurama." Though the show was canceled by Fox in 2003, it has proven so popular in reruns and straight-to-DVD movies that Comedy Central gave a 26-episode order for 2010. Sagal admits she wasn't surprised by the news. "I never thought it was going to be ending. That show is so driven by its fan base that it would be silly not to continue it somewhere," she says. "There's so many channels and so many options now. I'm never surprised that it's, 'Here we go again.' "
Although there were tense negotiations in June 2009, when a casting call went out to replace the voice actors on the show, things have worked themselves out. Sagal admits she wasn't actively involved with the talks. "I didn't think they would recast, but when my agent called and said, 'Maybe we better take the offer…' " she drifts off, laughing. "That's a whole game; it's the business part of this thing. Nobody knows what's going to happen. And luckily, it doesn't really involve the creative people; it's more the money people trying to save money. So you don't take it personal." She pauses and adds, "I knew it would kind of work out."
Outtakes
- Performs regularly with the Katey Sagal Band, often at the M Bar in L.A.: "I have to say music overall is the thing I'm most attached too. It's something I've done since I was a kid, so I feel very natural in that place. Music is something I came out doing."
- Spent the first two seasons of "Married…With Children" teasing her hair: "Once I knew we were actually going to stay around awhile, I asked them to buy me a wig. From Season 3 on, it was a wig."
- Is the elder sister of twins Liz and Jean Sagal, who appeared together on "Double Trouble" (1984–85); Jean is now a director on "Two and a Half Men," and Liz wrote Episode 9 in Season 2 of "Sons of Anarchy"