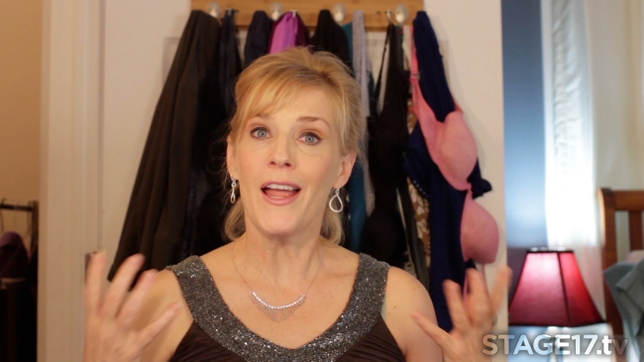 Sometimes the best ideas are born out of other ideas; such was the case for "Middle (St)age," a brand-new Web series about an actor trying to situate herself in Hollywood as an "older" woman. The show just premiered on the online platform Stage17.tv. Starring "Mamma Mia!" actor Stacia Fernandez and co-written with her fellow Broadway performer Jacob Pinion, "Middle (St)age" satirizes the idea that ladies in show business are grouped into two categories perfectly summed up by the musical "Oklahoma!"
"You're Aunt Eller or you're Laurey," says Pinion.
The two began their work up to "Middle (St)age" while performing together in "Mamma Mia!" When they realized their creative connection and Pinion came up with an idea for a show literally onstage, the two immediately hunkered down and got to writing.
"We talked about a lot of things and then one day during the megamix in 'Mamma Mia!' we had two seconds where we just hit hands together," explains Fernandez. "We did this silly bit of choreography, and he's like, 'What about a show about a middle-aged woman?' " says Fernandez, quickly blurting out the question.
"I tried to get [Pinion] out of the business so he could be a doctor, because he's markedly younger than me," says Fernandez. "I'm old enough to be his—"
"—aunt," says Pinion, finishing her sentence.
"Aunt," echoes Fernandez.
After Pinion began working for Stage17, he felt writing something such as "Middle (St)age" would be perfect for the new platform, which is targeted to women who are fans of theater and Broadway.
While the show is indeed hilarious, it's rooted in deeply disturbing realities.
"There comes a time when society does something to all of us—men and women included, but it's more evident with women—that we just start to become invisible," explains Fernandez. "That struggle starts at a certain age; the phone stops ringing when you're about 38, and then when you're in your mid-40s, you realize you walk in a room and people look right through you—it's sad, but it's also hilarious."
Fernandez plays Marina, a woman "somewhere between 48 and death," according to the actor. She, along with Pinion, wanted to take a closer look at the transitional point from the perspective of the female ingénue, transitioning to "whatever is after that," Pinion explains.
Since its release the show has spoken to women across the country going through the same period in their lives, something that accentuates Marina's universal plight, despite the series' focus on theater.
"['Middle (St)age'] does tell a story, and it's a clear arc, but there's more there about the business and the nature of life—just being a woman in that space.... I feel like it is about life," says Fernandez.
"I have friends in Ohio, in California, in Colorado, and in Texas who have absolutely nothing to do with show biz and have sent the most beautiful emails about Marina.... [One woman] said, 'You're telling all of our stories.' "
Like this article? See more of our Now Streaming articles here!