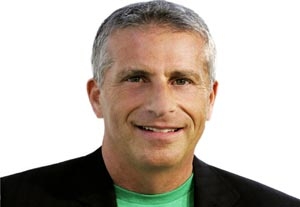 Marc Platt may not defy gravity, but he seems to dare the law of inertia. He has been a seemingly tireless producer of film, television, and stage productions, most recently and notably the musical
Wicked
, the franchise of which has grown so huge that its acid-green hue can be seen in cities across the globe. With plays on Broadway, films in the blockbuster league, and Emmys and a Golden Globe for his small-screen work, in the words of
Wicked's
"Defying Gravity," you can't bring him down.
He currently runs his own production company, out of a charming bungalow on the Universal Studios lot. Formerly an entertainment attorney and the president of production for several film studios, he certainly has demonstrated a deep grasp of the business side of the industry. But, says Platt, his pleasure is in storytelling, and he has told those stories with passion and an eye for talent.
Take, for example, his early experience at the figurative knee of former ICM agent Sam Cohn, during Platt's younger days in New York. Platt represented an up-and-coming actor in an Off-Broadway production of
Alice in Wonderland
whose work he presciently noted as "interesting": Meryl Streep.
After working for nearly a decade in film, Platt formed his own production company, specifically intending to broaden into theatre again. The stage had been on his mind since he was in high school, producing and directing theatre even then. And he has recently reconnected with actors he had cast while he was in college, at the University of Pennsylvania in Philadelphia— including Marilyn Caskey, now a Broadway veteran appearing as Madame Morrible in one of the road companies of
Wicked
.
Platt continues his close involvement in casting, at least for all principal roles. Advice from the top? "Any actor coming into the room has to be prepared," he says. "It's noticed right away, unless you happen to be just terrific at cold reading." He also lists the ability to take direction, to be open to direction, as an essential skill. He has found Los Angeles a rich source of musical theatre talents and filled its
Wicked
with such local talents as Eden Espinosa, John Rubinstein, and Jenna Leigh Green.
Even at the highest level of the industry, actors willingly read for him, even returning for second and third chances at a role. Obviously some are not cast. "And you are heartbroken for them because they want it so bad and put themselves out there," he says. "And there are also actors who don't have to audition or are at a certain level but want to because they want the role so bad, and that's something I learned early on, which is, there is no ego about it. It's your work. If you want to do the work, go and audition." Case in point: Jodie Foster, who insisted on reading for him for
The Silence of the Lambs
.
Popular
In packaging projects, particularly films, notes Platt, he faces the challenge of "marrying the right actor to the way the audience wants to see that actor." He explains, "There's certain people you want to see in comedies; there's certain people you just want to see in dramas. Not that there aren't individuals who do both, but it's not everyone. And the challenge of course is always finding the balance between the aesthetic and the creative imperative, and the marketing and commercial imperative, and what will bring people to the theatre, particularly in the movie business, and where that line is between what is recognizable in a brand name and what will ultimately make a good movie."
And so he pushed for seemingly equable Scottish actor James McAvoy for his 2008 action film
Wanted
. "James McAvoy is not an action star," says Platt. "And the initial thoughts were, 'Who's in the action world to play the role?' The director and I thought, 'Why not get a great actor who can play an everyday guy? Wouldn't it be a more effective story to watch this everyday guy actually transform, instead of something a little bit more formulaic, where you already know the end result because you've seen the actor in action films before?' So James comes out of the theatre and a more-serious film background, and played in the middle of an action film, and I think his transformation, physically and emotionally, is more interesting and believable."
Likewise, Platt produced
Three Days of Rain
on Broadway, starring Julia Roberts. "I think there was a hesitation from the audience because we want to see Julia be our sweetheart," says Platt. "As an actress, she wanted to stretch other muscles—and did so magnificently and loved every moment of it. But I think the audiences had to get over, like, well, 'That's not how we want to see Julia.' So it can work in reverse as well." Platt praises Roberts for continuing to work on the role throughout the run, for hitting a stride and deepening her work. "I'm extremely proud of it," he says.
To this day, after all the successes, he remains excited and enthused about his work. "I do love storytelling," he emphasizes again. "I do love being amongst creative people and facilitating that and being inspired by people. I get very bored with just competence and require inspiration all around me." At the same time, he notes that he is not curing AIDS or cancer. "And so I guess I have a good perspective: I care deeply about what I do and I'm competitive and I want to do well, but I also feel lucky to get to do what I'm doing, and I feel good when something works and you bring entertainment to people and their lives are changed in some way. I once was very instrumental in a film called
Philadelphia
that changed the way a lot of people viewed the world and put a name on a disease and changed people's thinking in parts of the world where I was told the film wouldn't even get distribution. And when art and the world collide like that and transcend, it's a very satisfying thing."
What Is This Feeling
?
Platt recognizes the gratification that comes from bringing people to the theatre, many for the first time.
Wicked
played about 800 times in Hollywood, at the 2,700-seat Pantages Theatre. Although a number were repeat customers, more than 2 million people sat in those seats in Los Angeles to see theatre. He gave speaking roles to at least 15 actors, plus a hefty number of other dancer-singers, each night. And for doing so, he is being honored with the Back Stage Garland Visionary Award, with our sincere hope that he keeps looking to the Western sky.