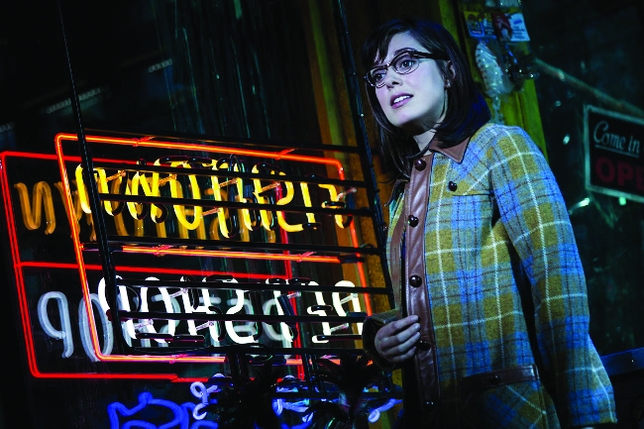 Margo Seibert, currently making her Broadway debut as Adrian in the musical "Rocky" opposite Andy Karl, thought two things when she first heard her character's songs: "That's a gorgeous song, and boy is that hard to sing!"
On auditioning for "Rocky."
"My agent called me and said, 'Hey, do you want to go in for Adrian in "Rocky"?' and we all kind of laughed. ' "Rocky" as a musical, how funny. But sure, we'll try it.' I was given portions of two of the songs; I had nine auditions altogether! It's a great confidence builder when you're called in again and again; there's obviously something they're enjoying."
On not knowing the film.
"I also hadn't seen the movie. So I didn't know a lot about 'Rocky.' I knew it was iconic but I was so surprised by how simply beautiful it was, these scenes between Rocky and Adrian. By callback No. 5 or 6 I watched the movie and went, 'Oh, it's lovely!' And I was happy that I didn't want to copy and have that in my mind and re-create what the film was. This is its own thing."
On making her Broadway debut.
"There are many days when I'm on my way home and I call my boyfriend and say, 'I just finished my show on Broadway!' because it's still surreal! But the first day in tech at the Winter Garden, I was being rolled onstage for my first entrance sitting on the floor and I looked out at the audience filled with our creative team and I couldn't stop smiling. And I'm not necessarily supposed to be smiling at the start but I think I yelled, 'This is the coolest job!' "
On working with Andy Karl.
"We met each other in an audition room, which isn't the loveliest place to meet. 'Hello, my name is Margo. Is it OK if I kiss you in this scene?' [Laughs] Once he heard I was cast he contacted me and we got together. We both realized we needed to be such strong teammates in this experience. We just wanted to be a really strong unit together and a good example for our cast. We're both from Maryland; we both worked at the same dinner theater growing up; we never formally studied theater, just worked our way up. I always have his back and he always has mine. It's wonderful to go out onstage and see that in your acting partner. It's not hard to fall in love with his character because he works so hard. The audience has no choice but to love him. He's just giving everything."
On her singular sound.
"I am so fortunate that [the creative team] just let me sound like me. Truly, that is the way my voice is and I have had other experiences or auditions where I'm asked to change. All in all, they celebrated the way that I sounded. And I've never recorded a cast album before, so the chance with those songs to give my spin on it, what I have to offer, and how that is what young ladies and men will be listening to... I was obsessed with "Once on This Island." Obsessed! And "Ragtime." To be working with [songwriters Lynn Ahrens and Stephen Flaherty], come on!
Inspired by this post? Check out our musical theater auditions!