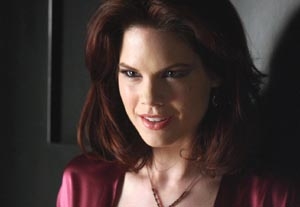 "Vampires are funny and intelligent and passionate," says
Mariana Klaveno
, and the same can be said about her.
After working as a hostess at Morton's in Burbank for seven years, Mariana got the break of a lifetime when she landed the role of Lorena, the vampire who "made" Bill (
Stephen Moyer
) on HBO's mega-hit "
True Blood
," whose third season is just underway.
Raised on a farm in a tiny town in Washington State, Mariana drove a Dodge pick-up truck nicknamed 'The Silver Bullet' to high school, where she claims to have never had a boyfriend. While those days are in the past, Mariana remains grateful for her current success, and wary of the unpredictable nature of Hollywood.
Chosen as this week's Actor2Watch for their special Vampire Week, Mariana will be featured in a series or articles, fun facts and social media tweets through this week for subscribers of
Girl2Watch.com
.
Actor2Watch
: What was your first real break as an actor?
Mariana Klaveno
: That's actually hard because in one way I want to say it's "True Blood." There was one guest star I did on a show that, after that, I started to work much more steadily. I actually started to make more money as an actor than I did as a host, so that can also be seen as sort of a breaking point. It was called "Standoff" with Ron Livingston and Rosemarie DeWitt. It didn't survive very long.
A2W
:  What kind of training have you gotten, and who did you study with now?
MK
:  I'm currently not taking classes now, but that may change—we'll see. In L.A., I studied with Cameron Thor. I was at his studio for a number of years. Prior to that, I went to the University of Washington in Seattle and got my degree in theatre. I did a lot of theatre and classical training there, not a lot of film and TV. One on-camera class, but otherwise, it was just straight-up theatre.
A2W
: Tell us about your worst audition story.
MK
: Oh, I've got a lot of them. I went out for this one sitcom, and I worked on it with a friend of mine. We both had the idea that it would be hilarious for me to do the whole thing in sort of a mock film noir voice—sort of like a film noir/screwball comedy, like a rat-a-tat-tat, Rosalind Russell delivery. Not a good idea.
I went in there and the casting director, about a page in, stopped me and said, "What are you doing?" I didn't really have an answer. I said, "I'm doing the scene the way I had it in my head." And she said, "No. Whatever you're doing, stop and do it over again." That was quite humbling.
Photo credit: HBO
A2W
: How has your life changed like on a day-to-day basis from "True Blood"? Do you get recognized?
MK
: Once in a while. I'm very done-up on the show, and I don't necessarily look like the casual me that walks around. It does happen though. But really, the biggest change has been getting to quit the restaurant job and getting to live in a nicer apartment. Those are sort of the basic things that have changed. It's not like I'm that wildly famous that it's disrupted my lifestyle in some way.
A2W
: Aren't some of the show's fans—for lack of a better word—quite rabid?
MK
:  They are pretty rabid. But I stay off of the fan sites a lot and the blogs, which I know is a shame, and I don't mean to ignore the people who are really big fans. 
But I've also experienced the dark side of that where people don't necessarily distinguish between your character and you, and they say quite vicious things about me because I play an evil character, and they have their feelings about that. They can be quite... impassioned. 
A2W
: What do you want to do in the future?
MK
:  I'd love to do more TV, but I'd love to get into more feature films. I'd also love to go back to the stage when the time and opportunity is right. I haven't gotten to do a lot of that here in L.A., but my favorite thing to do is live theatre. I'd love to actually have a career where you can kind of move in and out of all of those mediums.
A2W
:  Do you have any tips for novices, or is there anything you wish someone had told you when you first started out in acting?
MK
: How can I eloquently phrase this? I think one of the most difficult things is always feeling like you're at the mercy of everyone—especially when you walk into the auditioning room.
It's really hard to remember that they don't know what they want. I haven't experienced that first-hand, but I've been told that first-hand by producers, casting directors, and directors. They don't know what they want, so don't worry about trying to give them what you think they want. Give them
you.
Really try to focus on that and remind yourself that if you go in there just trying to please them, that's not going to work. You should just go in and be you. Just don't do a mock film-noir version of you.