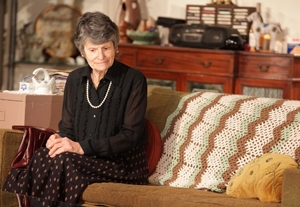 Veteran actor Mary Louise Wilson modestly insists there are few roles she can play. So, when a part like Vera, a feisty, multi-leveled 91-year-old, comes along it's a no-brainer. Wilson is deeply connected to Vera and the play,
"4000 Miles"
by Amy Herzog. "Vera is tough and I relate to her feeling, 'I happen to be old. I didn't mean to be,'" Wilson quips. "Like Vera, I don't feel old."
Now playing at the Lincoln Center's Mitzi E. Newhouse Theater, "4000 Miles" is an intergenerational drama with comic elements recounting the relationship between a deeply troubled 21-year-old (Gabriel Ebert) and his grandmother who remains intellectually and emotionally alert despite physical decline. With deadpan delivery and well-timed pauses, Wilson evokes a woman facing her end with dignity and humor after a full if not always happy life. Her slightly hunched back and slow shuffle are spot-on.
Interestingly, Wilson says Vera's posture and gait occurred spontaneously in rehearsal and it was only after she stood back and thought about the character's physicality she recognized the walk as that of her late sister's. "My process is not intellectual," she points out. "If the script is good you pick up clues as to what's going on and things happen."
Wilson has played a broad range of roles, but is perhaps best known for her Drama Desk Award-winning solo show, "Full Gallop," that explored the colorful life of fashion editor
Diana Vreeland
, who defined women's style for three decades at Harper's Bazaar and then Vogue. Wilson walked off with a Tony Award for her spin on Edith Bouvier Beale of
"Grey Gardens"
fame. Better known as "Big Edie" Edith was an upper-crust eccentric who was terminally dotty and wholly comfortable living in unabashed squalor.
Known for her layered performances, it's hard to fathom that early on in her career, Wilson perceived of herself as a clown and believed she was successful only if she played funny. After all, generating laughs from her classmates defined her throughout school. But on stage, even if her character was comic, the laughs were not consistent and that was disturbing to her.
In an effort to develop craft, Wilson trained with legendary acting teacher Sanford Meisner and was finally freed of the notion that she had to roll them in the aisles with every line. More important, she came to appreciate the value of a character's "intention." "In '4000 Miles,' depending on the scene, I may be trying to get my grandson to listen or talk to me," she offers an example. "I've learned I have something else to give besides getting laughs."
Funny and Glamorous
A New Orleans native, Wilson graduated from
Northwestern University
, where she majored in acting. From the outset she felt like a misfit, partly because she wanted to play characters like Ado Annie and the school wasn't big on comedy. Further, it was a brutalizing atmosphere with destructive criticism from her teachers and peers. "I got the stuffing knocked out of me," Wilson recalls. "I didn't think I'd be an actor at all. I became a pseudo intellectual hippie."
Nonetheless, she relocated to New York to launch an acting career and, like so many others, made her living at various odd jobs, while hanging out with theater folk. Through them she got to meet the major players at Circle in the Square. Her first New York gig at the now legendary theater was "playing the second dead lady in 'Our Town,'" she laughs. More roles followed and finally Wilson made her Broadway debut in a short-lived musical "Hot Spot" in 1963. Wilson has been a true actor's actor, performing on tours, doing the odd commercial and guest spot including a recurring role on the sitcom "One Day at a Time" along with stints on the Main Stem.
A major turning point was "Full Gallop," a project she co-wrote. "I was at a low point," she recalls. "I was going nowhere, though I was getting called to play domestics and bag women. Not that I have anything against them, but it's better to play women in power."
Clearly, Vreeland was the perfect choice on many fronts. She was, indeed, a powerful, fascinating woman who had her biggest triumph at the end of her career. She was also great fun and a survivor. But, perhaps, most appealing to Wilson, Vreeland was "funny and glamorous and that's what I've always wanted to be," she says, adding matter-of-factly, "I blew it in the glamour department."
Currently, there are no roles she feels compelled to tackle; equally relevant, she wants to avoid generic old women. Regrettably, scripts with those characters cross her desk far too frequently. "I don't suffer from ageism," she notes. "I just find it insufferable." Wilson emphasizes that she's having a mutual lovefest with her current cast mates, all of whom are in their 20s. "I'm one of them. I'm a happy person now and getting to do something like '4000 Miles' is such a gift."
"4000 Miles" will play through May 20, at Lincoln Center Theater at the Mitzi E. Newhouse, 150 W. 65th St. NYC. www.telecharge.com or www.lct.org
Outtakes
—Appeared on Broadway in "Cabaret" (Tony nomination), "The Women," and "Promises, Promises," among others.
—Guest starred on such shows as "The Sopranos," "Frasier," "Cosby," and an upcoming episode of "Nurse Jackie."
—Loves gardening