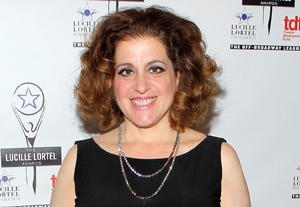 "They don't make 'em like her anymore," Lucille Lortel host Mario Cantone exclaimed after a video tribute to Michael John LaChiusa's "Queen of the Mist," which starred the powerful Mary Testa.
Nominate for Outstanding Lead Actress for the first time at the Lortels, Testa spoke with Back Stage about creating work Off-Broadway.
What do you enjoy about working in Off-Broadway theater?Mary Testa:
The chance to do art a lot of the time. The chance to express yourself in dangerous ways that aren't middle of the road. A lot of the time on Broadway, you have to sort of please a lot of the masses, and Off Broadway you get to really experiment and do pieces that affect people, make people angry, make people sad, and make people happy. The range of being artistic is a little looser because of the demographic in a way.

How has working Off Broadway helped you in your career as a performer?Testa:
Oh God, it's work. You get to try things. You really get to experiment. I love working Off-Broadway because that's where the new work is. It's all new. You don't do a revival Off-Broadway. Everything is new so I love working on new things.
What was it like working on "Queen of the Mist"?Testa:
Oh it was stunning. The most amazing role I've every played in my life. It was written for me so it was kind of tailor-made for what I can do, and it was a magnificent experience.
What is it like as an actor to have a role written for you?Testa:
It's wonderful. Someone like Michael John LaChiusa, who I think is a genius and I've worked with several times, to have him tailor-make something... He also stretched me in ways that I had never been stretched before, vocally and artistically and dramatically.
What advice do you have for actors?Testa:
Perseverance is the key. You just have to keep at it, just moving forward.


Suzy Evans is the Senior Web Editor at Back Stage. Follow her on Twitter: @suzyeevans.