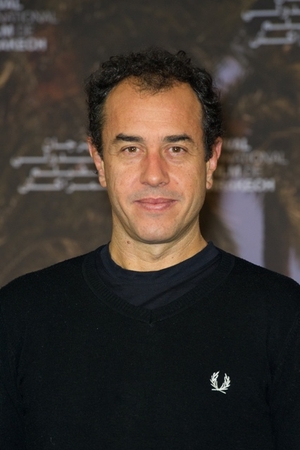 Legend has it Lana Turner was discovered at Schwab's Drug Store and Cameron Diaz was spotted walking down the street. But Aniello Arena might have the most unique discovery story yet -- he was spotted in prison by filmmaker Matteo Garrone, who went on to cast the actor in his film "Reality." Arena is currently serving a life sentence for crimes connected to his days as a Mafia hitman, and was let out during the daytime to shoot the film.
Ironically, "Reality" is not some dour drama, but quite fun. Acclaimed Italian director Garrone wanted to tackle lighter subject matter after his 2008 crime drama "Gomorrah." So "Reality" tells the story of Luciano (Arena), a charming fishmonger who becomes obsessed with landing a spot on the television show "Big Brother." The story becomes increasingly surreal as the lines between reality and "reality" are blurred.
Backstage spoke with Garrone about the film, which won the prestigious Grand Prix Prize at the 2012 Cannes Film Festival and hits U.S. theaters on Friday.

Matteo Garrone: I found Aniello Arena in a theater company in prison, the Fortezza Theater Company. He was the leading actor of this company. My father was a critic of theater so I used to go a lot with him to theater. One of our favorite companies was Fortezza. I saw Aniello many times on the stage and liked him very much as an actor. I tried to cast him in "Gomorrah," but the judge didn't let him out to play in that movie because it was a movie about the mafia -- with his past, being connected to such crimes. So we tried again with this movie, and it's not about crime so we succeeded. And I'm very happy. But to be clear; I cast him because he's a talented actor, not because he's a prisoner.
How did you go about finding the rest of your cast?
Garrone: All the other actors in the cast come from theater. Some do classic; some do comedy. I try to find actors that have a face that is very expressive, like a cartoon. For me, "Reality" was like a Pixar movie in a way—very colorful, with actors who have expressive faces that can be fun and dramatic.
So you're a Pixar fan?
Garrone: I have a son of four years and so I know their work well. They make so many masterpieces. I love "Up," "Toy Story," "Wall-E." I love "[Finding] Nemo." Their work is so visual; I like cinema when you tell a story with images. It's almost like a silent movie, how you can understand the story even without dialogue. When we write a screenplay, we try to think of it as a silent movie in a way. We try to think of ways to tell the movie with visuals. That probably comes from me being a painter before. So I always begin a project thinking about the visuals.
Would you ever make an animated movie?
Garrone: Not an animated movie, but I would love to make a fantasy. "Reality" has some surrealism; it's like a fairy tale in a way.
What was it like to win the Grand Prix?
Garrone: It was incredible. And it's important for the movie and our team. We are all friends who work together, and I know cinema is not made by just a director; it's a collective art. So I was happy for me, for the crew, for the movie. We made this movie and hoped that people would see it, we'd like to reach the largest audience possible. And a prize like this can help a lot when you have a movie without big names that's not in English.
What's up next?
Garrone: I'm trying to write something new, a new challenge. After "Gomorrah" I wanted to switch to comedy and made "Reality." Now I want to switch again. But at the same time, I think that "Gomorrah" and "Reality" are not so different, in a way. So I hope the next will be different but along the line of my same artistic journey.
Will you be able to cast Aniello for this one?
Garrone: It depends on the story. (Laughs) We'll see. It would be a great pleasure for me to work with him again. I'm sure he will work a lot after "Reality."