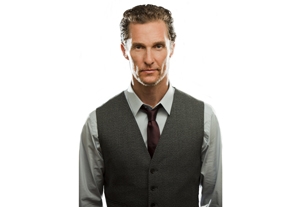 Matthew McConaughey's characters have frequently shared traits with his public persona—the easygoing surfer who drawls, "All right, all right, all right." The actor knows that people might not realize how hard he works. "There are a whole bunch of roles where people say, 'Oh, you're playing yourself,' " he says. "I guess it's kind of a compliment. Or people say, 'Oh, man, you just roll out of bed and do that.' The work is to make it look effortless. That's the hard part."

He is not above playing into people's perceptions of him. During filming of "Magic Mike," McConaughey's Dallas gives each of his strippers a theatrical introduction, and the actor hit on the idea of playing the drums for some of his announcements. At first, it didn't occur to him that this might cause audience members to remember his 1999 arrest on noise complaint, in which he was found in his house playing bongo drums naked.

"Funny how that was my most public session, even though I was all alone," McConaughey says. "But my thought was that Dallas had to give these guys entrances and exits; I have to be this host with sounds and lights and music. It was never 'Oh, that would be funny for me to do that in a movie.' What I said was 'That is what Dallas would do.' Five steps later, I thought, 'Oh, guess what? Because of that incident, it makes this even funnier.' " And yes, McConaughey is playing his own drums in the film—he owns 32 sets.