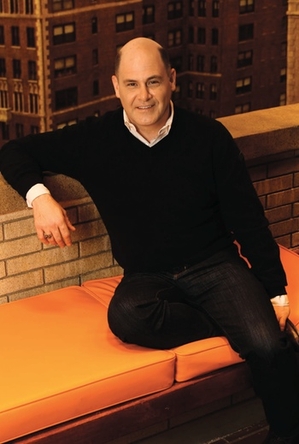 Matthew Weiner's office is like stepping into a time warp: You actually feel transported into the world of "Mad Men," his groundbreaking AMC show.
On the wall hangs a vinyl single of "Zou Bisou Bisou" and the New York Times ad where Don Draper declared why his firm would no longer have tobacco as a client. In one corner sits a collection of spirits that looks straight out of Roger Sterling's office. There are also clear traces of Weiner's subversive wit; mixed among the photos of his cast holding various awards is a framed photo of Stedman Graham, Oprah's significant other—a joke he sneaked in when a magazine wanted to photograph his office for a story.
This is where Weiner hatches his secret plot lines and writes the water-cooler show of the decade. But before he became the mastermind of "Mad Men," he wanted to be an actor. "I think there are very few people in show business in any job who were not drawn to the job of actor before they ended up doing whatever they are doing," he says. "So I've acted, but I never really like the type of people I'm right for. They're mostly smarmy or sleazy know-it-alls. Never the guy who gets the girl, which is why most people go into acting."
Perhaps that's why Weiner possesses what he calls an "empathic anxiety" for every actor who walks into an audition for "Mad Men." Whether the role requires one line or 50, Weiner is present at every audition, alongside producer-director Scott Hornbacher and casting directors Laura Schiff and Carrie Audino. "It's a very important part of the show," he says. "Also, I'm auditioning the scene sometimes, not just the actor." Weiner is notorious for spending time with actors, allowing them to work the scene multiple times. "I love actors, and I love directing. And my whole job is to relax them and get the best possible performance. There have been people who have come in and flailed, and you can see there's something in them, and I will just keep digging. I will take the five minutes to help get you into the professional space you need."
Countless filmmakers have said they can tell within moments of an actor walking in the door if he or she is right for the role. Not Weiner. "That's not true. I do not know," he says. "There have been so many people where I was like, I cannot believe that's the person I cast." As an example, he points to Jessica Paré, who joined the show in what appeared to be a minor role in Season 4 as a secretary named Megan and went on to become the wife of Don Draper. Paré originally came in to audition for the role of Candace, the prostitute who slaps Don. "I saw all of this talent and star quality and agility, and she was in the final two for that role," he says. "But there was a discussion because I had another part coming up that nobody knew about." He had her audition for Megan with sides for the character of Jane Sterling. "It was so deep in the season before she'd have anything substantial, and I hadn't written it yet. But I thought I could get a sense of her gee-whiz quality and sophistication."
Paré is also an example of the "great joy in casting people who aren't gigantic yet," something Weiner has done since the pilot. He was initially interested in Thomas Jane for Don Draper, a bit of trivia Weiner says has been blown out of proportion. "Do I think Tom Jane is a great actor? Yes. Had I seen him play Mickey Mantle? Yes. Did I think he could be Don Draper? Yes. Were we at the same agency? Yes," Weiner says. "Would he read, meet, even talk about the show? No. I was told it wasn't about auditioning; it was about being on television. Knowing the reality of the agency business, he may not have even known about it. What I do know is he's a great actor."
Instead, he cast mostly unknowns, which he says he learned could work from his time as a writer-producer on "The Sopranos." Says Weiner, "I just felt that these people would be the characters. You would know them from the show, not previous work, and another layer of abstraction was removed." From the first season, Weiner set a rule that everyone had to audition. The one exception was Talia Balsam, who plays Roger Sterling's wife and is married to John Slattery in real life. But that had nothing to do with her landing the role. "I had seen her read three times on 'The Sopranos,' and she's one of my favorite actresses," he says.
Weiner took other lessons from "The Sopranos"—it's also where he learned it was OK to give actors a line reading, which he says he does "about eight billion times a day." He adds, "I was broken in by Edie Falco. I was trying all these different ways to lead her to the line reading, and she turned to me and said, 'Just say it how you want to say it. I want to get it right. I'm not threatened by your performance.' "
And of course, the mob show is where Weiner learned to keep a secret. "David Chase felt strongly about there being a show where you don't know what's going to happen," he says. "How many things are you going to have that tension of watching it and really not knowing? And it encourages people to watch it again; it provides an actual experience while watching it. You can't fill out your checkbook during it; you've got to pay attention. I realized when 'The Sopranos' was gone, that was going to be a void to fill." To that end, he didn't include January Jones in any of the publicity at the start of the series, because he didn't want people to know Don Draper was married until the end of the episode. He also gives a "scary speech" at the start of every table read about keeping the secrets. "Our first read, we had 'confidential' stamped on every script, and I gave my warning," he says. "Everybody was just sort of looking at me like, 'You are so deluded; nobody cares what's going on with this show.' "
Clearly, people have come to care greatly, as speculation and conspiracy theories run rampant every season. Which is everything Weiner could have hoped for. "I promised the network from the beginning that I would try to deliver one 'Holy crap' moment a week," he says. "And the idea was people will start anticipating it and come with that expectation."
They also come for the performances, and the show has launched the careers of many of its actors. Still, despite the show's accolades, none has won an Emmy or a SAG Award for an individual performance. (Jon Hamm won a Golden Globe—the year the traditional awards show wasn't aired due to the writers' strike.) Weiner has nothing but praise for his cast, who he says make the hard work look easy. "The degree of difficulty in these scenes, the corners they are turning, from angry to sad to kind to funny to wry—and they will do this in a series of three lines sometimes," he says. "People acknowledge these are great actors, but there might be something about the style of acting on the show that may not be in fashion right now. Which is naturalism. How do you take the emotions down to what we're experiencing in everyday life?" Sometimes he will advise them against playing the scene too emotionally. "There was a big moment for Elisabeth Moss, and she goes, 'I want to cry here.' And I was like, 'Don't cry. Peggy's not going to let Pete see her cry.' Well, maybe if she had cried she would have won an Emmy. The drama of what these people are doing is huge, but they are playing it the way people in our lives would play it."