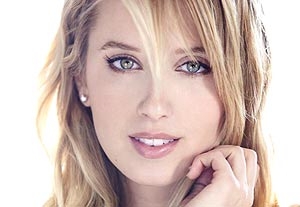 "I kind of missed the boat of the whole high school experience, but I'm reliving it now every day when I go to work," says
Megan Park
.
A theater buff since the age of five in her native Canada, Megan landed the choice role of Grace, the
über
-conservative cheerleader on ABC Family's hit show "
The Secret Life of The American Teenager
." She's making up for those lost high school years by having a blast in Hollywood, hanging out with her co-stars, listening to gangster rap, and even playing in her own band. Like her character, Megan is rather cheery in person, and seems completely untarnished by the trappings of Tinseltown.
Chosen as this week's Girl2Watch, Megan will be featured in a series or articles, fun facts and social media tweets through this week for subscribers of
Girl2Watch.com
.
ACTOR2WATCH:  What was your first real break as an actor?
MEGAN PARK: My first break wasn't professional—I was in "The Sound of Music" when I was five.  I played Gretel, the youngest one, because that was what kind of took off for me in terms of loving acting.
My first real break was probably "Charlie Bartlett." That was my first big American movie, and it was with Robert Downey Jr, and these amazing actors. I got to work with them for two months. Just being in that atmosphere I learned so much, and that really opened up a lot of doors for me. And I'm really proud of that movie. I think it's a great film, and that definitely started everything for me.
A2W: So how did you get your SAG card?
MP: I don't have my SAG card, actually, because the first thing I booked was a show and it was the other union. And I haven't been able to do anything other than the show. So that's yet to happen. I have my Canadian version of my SAG card.
A2W: What kind of training did you get and who did you study with?
MP: I trained in Toronto with a private acting teacher, who was wonderful, for years growing up.  Since I've moved out here I worked with Leslie Khan, who focuses on comedy classes.  She was amazing and I learned so much from her. I still work with her occasionally.
I've worked with Diana Castle, who is really interesting, but I really haven't had the chance to get really involved in a class or a teacher yet because I've just been so busy with the show. But Leslie Khan has kind of been my main teacher out here and she's been wonderful.
A2W: Tell us about one of your most worst auditions.
MP: One time I went to this audition for a movie version of "The Music Man," and the agents were like, "Can you dance?"  And I was like, "Yeah, I can dance a little." I had taken ballet and stuff. 
And I got to the audition and it turned out that everybody there was a professional dancer that went to a dance academy. I was probably like 14 or 15 and I was so traumatized.  I went into the audition room and they started teaching the dance routine and it was like straight up pirouettes, splits, all this stuff and so I just walked out of the audition room and I was so embarrassed. 
I was like, "I need to go to the wash room."  And they are like, "Are you kidding me? The audition has started."  And I'm like, "I'm sorry.  I really have to go".  I called my agent and said, "I felt really sick so I couldn't do it," but I just chickened out. I was really embarrassed. 
A2W: Do you have any tips for novices? Is there anything you wish someone had told you when you were starting out in acting?
MP: In terms of people who haven't done anything, I think a big thing that happens to a lot of people I see and they tell me about is don't pay anybody any money when you're starting out. They don't make money until you make money. So if someone says, "You have to pay me $5,000 and then I'll get you a movie," it's totally a scam.  A lot of people told me that starting out and I'm glad they did.
I think the most important thing is you have to learn to love auditioning, which I have definitely learned to love. It's going to be a huge part of your career, even if you're right at the top.  You're still going to have to audition sometimes, and if you don't learn to love that, that's such a big part of what you're job's going to be. You need to do whatever you can to get comfortable with the audition process.
A2W: Unless they ask you to dance.
MP: Then just run away!