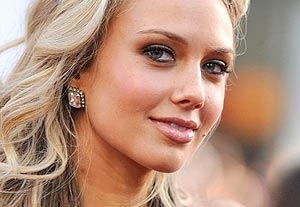 "I think that maybe, underneath, I have this suppressed, sexy troublemaker inside of me because I'm totally a goofball in real life," says Melissa Ordway of the minxes she plays on-screen.
After all, she did kick-start her career by winning MTV's 2004 reality show "The Assistant." But don't be fooled—she wasn't there for hottub hook-ups and catfights. After her win, this Georgia native moved to L.A. and, before long, she was picking up modeling jobs and landing small roles on hit shows like "Entourage."
But this month, she taps into her inner bad girl with not one but two breakout characters. She's a rebellious vixen on The CW's "Melrose Place," then plays a girl who gets her boyfriend stolen by none other than Miley Cyrus in "The Last Song."
Chosen as this week's Actor2Watch, Melissa will be featured in a series or articles, fun facts, and social media tweets through this week for subscribers of
Girl2Watch.com
.
Actor2Watch
: Tell us about your start as a model.
Melissa Ordway
: I modeled a little bit in Georgia growing up. I did catalogs and different things, but then when I came to L.A., I became a professional model. It sounds kind of crazy, but in L.A. was when I was able to start making a living from modeling.
A2W
: Did you feel any pressure going from model to actress?
MO
: Oh, definitely. All the time you're going into your modeling agency and they're taking Polaroids of you in a bathing suit. It was
not
something that was wonderful for me. It offered a lot of really great opportunities for me. But ultimately it's a hard job because it's based solely on what your body looks like, what you look like.
A2W
:  Do you remember what was your first real big break as an actor?
MO
:  I did an episode of "Entourage." I played Morgan—I think it was season three or season four. It was actually my third audition and it was my first big job.
A2W
: Is that how you got your SAG card?
MO
:  I did. I wish I had a more tormented story about how I got it because I know it's hard to get.
A2W
: How proactive do you have to be as an actor?
MO
:  I think you always have to be on your game and you always have to be working at acting, whether it's in an acting class or just auditioning. I think auditioning and being out there is actually the best form of practice for acting. 
But you always have to be current, you have to know what's on TV, you have to know what movies are out, and you have to just be constantly learning.
A2W
: What kind of training did you have?
MO
: I took theatre and stuff in college, then I took a bunch of different acting classes here in L.A. Sometimes when I have a hard audition, I'll call my acting coach and he'll come help me. I actually get more nervous in acting class than I do at an actual audition.  It's actually a really great way to get over your nerves.


A2W
: Have you built a support system in Hollywood?
MO
: I have. I have some wonderful friends, but it's taken me a while. It's hard to find those people who you can always count on and that will always have your back—true friends. I think it's hard to find anywhere, but I feel like it's even harder here in Hollywood. 
A2W
: Do you see yourself ever doing TV besides "Melrose Place"? Would you want to do a sitcom?
MO
: I would love to do a sitcom. I would love to be on "Modern Family." That would be a dream come true. I love to laugh, so I feel like it would be the perfect job to be able to go and make other people laugh.
A2W
: How do you stay so positive? Is it hard to wait for that next call?
MO
: Yeah. It's a hard thing because once you stop working, you're unemployed and so, you're like, "Oh, wait." Luckily, I've been pretty blessed in the sense that I haven't had too much time in between things.  So I haven't had to freak out yet.
But I do a lot of commercials, too, which is great because it makes money even when you're not necessarily working right then and there. I have a Clean & Clear ad coming out.
A2W
: Do you have any tips for people who are just breaking in?
MO
: I would say to keep at it. It's hard. It's a tough business. And never, never give up because one day it will happen for you; I promise.
I guess my biggest tip would be to constantly be working at it; I think that's the best thing to do—constantly being in acting classes or being on set. A lot of people don't like to do background work, but I think sometimes it's great because you're on set, and you're meeting people, and you're talking to people.
Just always be doing something about acting, even if it's acting class.  Just always be working at it because the more you work at it, the better that you'll get.