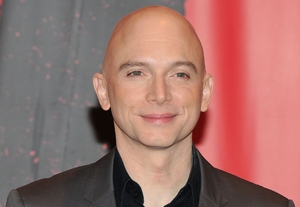 Michael Cerveris
admits facing challenges in tackling Juan Peron in the reconceived revival of Andrew Lloyd Webber and Tim Rice's rock opera,
"Evita."
Besides playing a character who is not the focal point, but part of Evita's story, "It's easy to fall into the trap of making assumptions about who Peron is," Cerveris says. "The common perception that the authors had was that he was a dictator and an unredeemed quasi-fascist whose wife was using him or perhaps he was using her. It's more complicated than that."
"Evita" recounts the stunning rise of Maria Eva Duarte Peron (Argentinian actor Elena Roger) from poverty to movie and radio star to first lady of Argentina, (1946-1952 when she died of cancer at the age of 33). At once a Machiavellian careerist and an impassioned advocate for the downtrodden, she is viewed to this day as Argentina's spiritual leader and a groundbreaker for women in politics. International music star Ricky Martin play Che Guevara, who acts as a Greek chorus.
After extensive research on the iconic pair, Cerveris is convinced Eva and Juan's relationship is basically a love story between two highly intelligent, political figures who recognize each other as equals. Though the archival clips feature the couple in public, Cerveris can't help noting, "The way they look at each other shows love, respect, affection, and connection. That's the central building block and that's what makes this production different from others."
As with any dramatization of a historical figure, Cerveris is balancing authenticity with his own interpretation. In this instance, the demands of a Broadway musical production bring yet another element into the mix.
Though not impersonating Peron, Cerveris captures the leader's body language and gestures. "The way he raised his arms, that's mindfully appropriated from Peron," Cerveris laughs. "I won't say stolen." Still, playing Peron is a major departure for him. "An actor's life doesn't prepare you to be in a position of authority," Cerveris admits. "Usually it prepares you to be at the mercy of forces you're not in control of. Perhaps, it's the fantasy life of the actor that has prepared me for this role."
Moving easily from stage to film, musical to straight play, classical to contemporary, the bald headed and highly articulate Cerveris is perhaps best known in New York theater circles as the bone-chilling title character in
John Doyle's
revival of "Sweeney Todd: The Demon Barber of Fleet Street"; and the gender-bending rock diva in "Hedwig and the Angry Inch." To wider television audiences, he may be recognized as the Observer in Fox's sci-fi series, "Fringe."
Always Picky
Brought up in Huntington, W. Va., the son of a music professor, Cerveris was performing as a youngster in college and summer stock productions his father directed. Cerveris went on to Yale University, where he majored in the humanities, with an emphasis on theater studies. "My acting training was ideal for live theater because each year we had a different teacher with a different approach," he recalls.
Still, it was working with director John Doyle on "Sweeney Todd" that became his artistic watershed. "Doyle's approach was so completely open and creative and not bound by precedent or expectation," Cerveris says. "He wants you to pursue every possible version of everything and then sculpt it into a performance. It's incredibly freeing and can be unnerving because it leads you away from making safe choices."
Not surprisingly, Cerveris is drawn to roles that are frightening, alien, and present challenges he is not sure he can handle. He refuses to address such concerns as "Will it enhance my career or visibility or bring me to a new audience?" he points out. "I was picky from the beginning, long before I had any grounds to be picky at all. Acting is really difficult because the parts I take involve emotional self-excavation and that can be painful and sobering, especially eight times a week. It's got to be worth it for me to put myself through that."
At the moment his thoughts are focused on "Evita" and its resonance for contemporary audiences. "We're not unfamiliar with the combination of cult of personality and manipulation from our government leaders," he remarks. "We're also not unfamiliar with the idea of a small town girl from nowhere who suddenly becomes a huge sensation and has to navigate all that in the spotlight." But the most significant parallel between the citizens of Argentina and America's population today is that, "We're also looking for a leader to deify followed by the inevitable disillusionment that sets in when human beings turn out to be human beings or the opposition turns out to be much stronger than we anticipated. I think this story is more resonant now than it was in the late '70s."
"Evita" is playing at the Marquis Theatre, 1535 Broadway, N.Y.www.ticketmaster.com; (800) 653-8000
Outtakes
—Won a Tony ("Assassins") and nominated for three other Tony Awards ("LoveMusik," "The Who's Tommy, "Sweeney Todd,")
—Appeared on Broadway in such productions as "In the Next Room or the Vibrator Play," "Hedda Gabler," and "Cymbeline."
—Performed concerts at Carnegie Hall, NY City Opera, NY Philharmonic, Kennedy Center, and Preservation Hall in New Orleans.