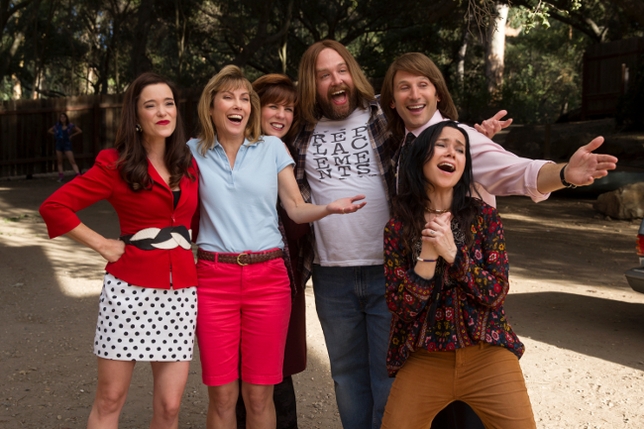 Co-created by Michael Showalter, the "Wet Hot American Summer" canon comprises a 2001 film and an eight episodes–each prequel and sequel on Netflix, the latter of which arrives this week. Although he plays several roles in the series—hapless counselor Gerald "Coop" Cooperberg and a vengeful President Ronald Reagan—when taking stock of his professional life, "multitask-oriented" Showalter sounds more like one of his scene partners, Camp Firewood's chef (Christopher Meloni). Like cooks who have "something on the grill, then they've got something in the oven, then they've got something in a top pan and they're just kind of keeping it all going," Showalter concedes, "that's a little bit how I like to work."
Soon after our call, he will head to the Brooklyn set of "Search Party," the TBS series he created with Sarah-Violet Bliss and Charles Rogers. The half-hour comedy returns for its second season this fall, rounding off Showalter's standout year. The third feature film he directed, "The Big Sick," was released in late June after Amazon Studios made one of the biggest purchases in Sundance Film Festival history, paying $12 million for the distribution rights. Thus far, no 2017 title has opened with a higher per-theater box office average than "The Big Sick," a Judd Apatow–produced retelling of how star Kumail Nanjiani met his now-wife, Emily V. Gordon (played by Zoe Kazan).
READ: Kumail Nanjiani on How to Write Autobiographically
Upon joining the film, Showalter says he advised Nanjiani and co-writer Gordon "to disconnect from the notion that it's [them]" at the center of the story and banish "self-conscious" thoughts like "I don't want my character to do that because I wouldn't do that" or "I want to look good."
"The most interesting characters are imperfect and have flaws and have to work on themselves," Showalter says. "Kumail—and Emily, too—were willing to let their characters be imperfect"—one reason why their love story with a life-threatening detour has resonated with audiences.
Showalter has been creating "imperfect" characters since age 23, when he and fellow New York University alums Michael Ian Black, Ken Marino, Joe Lo Truglio, and David Wain tackled the small screen with MTV's "The State," a sketch comedy show for which they wrote, directed, and acted. They never stopped collaborating; Wain directed each iteration of "WHAS" and, with Showalter, wrote the others into their scripts. "We were friends, but we were also always making something," he explains. "That's really how we're most comfortable."
READ: How to Audition for Netflix
While Showalter has been appearing on camera for half his lifetime, he insists he "never really was very good at auditioning at all, and I think a big part of it is because I was very preoccupied with trying to figure out what [casting directors] wanted." Now that he's casting his own projects, he says, "I think the best auditions are the people who come in and just fearlessly do it the way they think it should be done, and [are] not worrying about what they think the director or the producer or the writer wants." He favors well-prepared actors over those who've "clearly never seen the sides before" and are "almost giving you a cold read. That never works very well." He adds that actors are there to act: "I really want to just see the work." He dislikes when hopefuls "come in very schmoozy, making a joke and talking [me] up before they audition…. [It] distracts from what's important."
As Showalter amasses credits for everything from cabin-side farces to amateur sleuthing sagas, he maintains, "I have no big goal, I have no big real-world plan." What's "really fun" for him is "creating little worlds" and gauging what every contributor—"from the lead actor to a PA"—is "thinking and feeling." By the last take, he says he "want[s] everyone to feel like they have some ownership over [the project], and that it's important to them." •
Want to star in a Netflix series? Check out Backstage's TV audition listings!