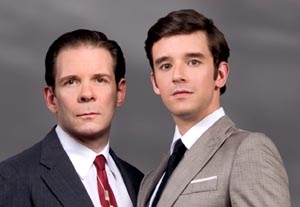 When the series finale of ABC's "Ugly Betty" airs April 14, devoted viewers of the dramedy will see Michael Urie as the flamboyant Marc St. James for the last time. Any of those fans who are regular New York theatergoers, however, will still be able to see him as fashion designer Rudi Gernreich at New World Stages in "The Temperamentals." In fact, it's possible some saw Urie as the Viennese gay activist and creator of the monokini even before he was Vanessa Williams' scheming assistant, because he's been doing readings of Jon Marans' play for six years.
"When Michael did the first reading, he hadn't been on 'Ugly Betty,' " Marans says. "This was just after he'd gotten out of Juilliard [in 2003]. So he was an actor who was looking for a job."
"From the first time I read it, six years ago," Urie says, "I was like, 'This play is really good. This part is really good.' " He signed on to the project, and things took off for him and for the play. "Six years ago, we do the play. We do a reading. We do a workshop. I go to L.A. I come back. I'm on TV. Now there's another opportunity. We do a reading. We do a small production. We do a little bit bigger production. Now we're doing this even bigger production. It's like the little show that could."
The success of "The Temperamentals" can in part be attributed to the little-known story it tells: that of Urie's character Gernreich and the American communist Harry Hay, played by Thomas Jay Ryan. In the early 1950s, the two founded the Mattachine Society, the first gay-rights organization in the United States, and became lovers. At that time, "temperamental" was a word used as code for homosexual. Hence, the play's title.
Credit should also go to the show's five-person cast, including Arnie Burton, Matthew Schneck, and Sam Breslin Wright, who join Ryan and Urie. Most have been involved with the play since the earliest readings and have formed a strong connection to one another and to the material.
Even though he's glad to be performing with his "Temperamentals" cast mates, Urie is sad to part ways with the ensemble of the recently canceled "Betty." He admits the situation could be worse. "We're very lucky," he says. "A lot of shows get canceled and you stop working the next day. We were canceled with two months left and five more episodes to shoot. So there's time to really savor the last part of the show, to hold on to all the great memories and the great relationships."
Urie and fellow "Betty" cast member Becki Newton are certainly holding on to their relationship. Their cabaret show "Becki and Michael Is Broadway," plays Feb. 21 at Feinstein's. As to whether this means more theater is in his future now that "Betty" is done, Urie is unsure. "Past this, I hope to do more of everything," he says. "I would love to get back on TV, if it's something interesting, and of course movies would be fun, too." But, as it has throughout his career, the allure of the stage remains. He says, "I mean, I don't want to ever not do theater."
"The Temperamentals," presented by Daryl Roth, Stacy Shane, and Martian Entertainment, opens Feb. 18 at New World Stages, 340 W. 40th St., Manhattan. Tickets: telecharge.com, (646) 871-1730. For more info, email info@thetemperamentals.com.