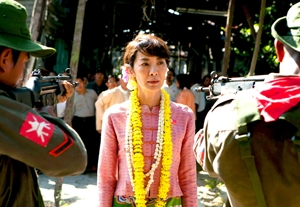 Michelle Yeoh
has fought men twice her size, grappled with James Bond, and battled an undead mummy. But the stunning actor says her hardest role to date was playing someone peaceful: Burmese activist
Aung San Suu Kyi
, who spent almost 15 years under house arrest before being released in November 2010. During that time, Suu Kyi became the first Asian woman to win the Nobel Peace Prize and continued to be an inspiration to advocates of democracy. Now "
The Lady
" brings her story to the big screen, courtesy of Yeoh and director Luc Besson.
The film not only details Suu Kyi's political rise but also shows the story of her largely unknown love story with husband Michael Aris (played by David Thewlis). Aris worked hard to keep his family out of the public eye, while also trying to obtain freedom for his wife, before dying of cancer in 1999.
Audiences are likely more familiar with Yeoh than with Suu Kyi, but following are five things they may not know about the actor:
1. She admits she forgot about Suu Kyi over the years.
Yeoh recalls that when Suu Kyi won the Nobel Peace Prize in 1991, it was a proud moment for Asian women. "But over the years, I think a lot of us just forgot about her," she confesses. "She was in house arrest, isolated completely." But in 1999, an American named John William Yettaw swam across the lake outside her compound to see her, bringing her back into the news. "It was then that I really wanted to tell her story," Yeoh says. "So I went to [my] manager and said, 'I'm sure there must be some wise person who is already working on this story.' " And there was: Documentary filmmaker Rebecca Frayn had been developing a screenplay about Suu Kyi for two years. Yeoh and Frayn began working on the script together. "We did a lot of research and threw around a lot of ideas," Yeoh says. "We wanted to tell the human story but also the love story that a lot of people didn't know about."
2. She went to Besson for advice and ended up with a director.
Yeoh and Besson have been friends for years and have long talked about doing a film together. But Besson is picky about his projects, as they take time away from his family. He originally agreed to read the script to give Yeoh advice on getting the movie made. "He read it, he cried, and he gave it to his wife, a producer, and she cried," Yeoh says. "He called me and said, 'What if I directed this?' And I was completely blown away; it was the beginning of our great adventure."

3. She never thought she would be an actor.
Yeoh grew up in the world of ballet and never dreamed she would one day be an actor. But when she was 21, a mutual friend showed her photo to a producer, who asked her to do a commercial with Jackie Chan. After that, she began receiving offers. "Because Hong Kong is a very small community, it was sort of like a studio system," she says, adding that she had no formal training. "It was like baptism by fire. There was no school for studying acting. You just have to take it upon yourself to learn from your peers. It's about opening your eyes, listening, and watching."

4. She taught herself to be an action star.
Though her first film, "The Owl vs. Bombo," was an action comedy, Yeoh says she was playing "the usual damsel in distress." She watched action stars such as Chan and Jet Li and realized what they were doing was similar to dance. "It's all choreographed; it's a routine," she says. "So I told everyone I really wanted to try fighting in action films. I had no stunt experience, but I had the dance background and I was very agile and coordinated. And the best thing about being a newcomer to acting is you can afford to try new things." She trained for six months with stunt coordinators and then found a director, Corey Yuen, who she says was brave enough to take a chance on her by casting her in "Yes, Madam!" She also credits Chan with boosting her career, saying, "He would say, 'There is only one woman that I will allow to fight me and that's Michelle. Because if I don't, she will kick my ass.' "

5. Tom Hanks makes her nervous.
Asked if she's good at the audition process, Yeoh quickly responds, "I'm terrible." She continues, "I think because I get nervous. You have that one opportunity, and there's so much pressure." She reveals she auditioned for the film "Angels and Demons" opposite Tom Hanks, and it did not go well. "You see him and you're like, 'Uh ... ' I fluffed it; you would have had no idea I was a professional. And then Ron Howard was there, and I got even more nervous. I was like, 'Forget this -- I'm never going to be able to do this well.' I completely blew it."