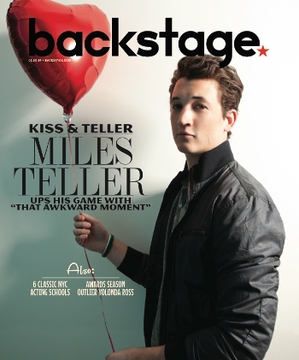 Miles Teller graces our cover this week, and he chats with Backstage about his performances in Sundance sensation "Whiplash" as well as his upcoming comedy "That Awkward Moment." Check out a sneak peek from the feature below!
Miles Teller On Going Down The Rabbit Hole
After almost scoring the lead in "The Sorcerer's Apprentice" while still studying at NYU (the role went to Jay Baruchel), Miles Teller got the opportunity to audition for John Cameron Mitchell's film adaptation of the Pulitzer Prize–winning play "Rabbit Hole."
After going through the usual names, the casting directors embarked on a nationwide search, and Teller went in. Juliette Lewis was also sitting in the waiting room, which marked Teller's first encounter with a celebrity. (He told her, "Look, I loved you in 'The Other Sister.' That movie makes me cry every time I see it.")
After working with Mitchell on the scene for 45 minutes, Teller's manager called him the next day to inform him that he'd been asked to come back and read with star Nicole Kidman. "Wait for a phone call from John Cameron Mitchell tonight, and he'll give you notes for the read," his manager told him.
As Teller says, "I waited around, and he never called me that night. I just thought, 'That's how it goes. Hollywood, right? It was there, and now it left.' " It wasn't until the next day, while Teller was shooting a student film in Brooklyn, that the director called.
"I get my book out and I'm ready to take notes," Teller recalls, "and he says, 'Well, I'm calling you because I wanted to personally offer you the role of Jason.' " He pauses. "As soon as I got off the phone, I called my mom!"