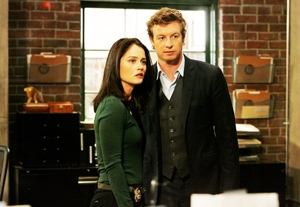 Try mapping Robin Tunney's career and you'll find she's been all over it. Unassuming yet instantly glamorous, she moves seamlessly between film and TV, studio and independent, lead and supporting. Consider the following role pairs: a teen sorceress in 1996's "The Craft" and a woman coping with Tourette's syndrome in the following year's "Niagara, Niagara"; the unwilling bride of Satan in the 1999 Arnold Schwarzenegger flick "End of Days" and a young climber trapped on K2 in 2000's "Vertical Limit"; feisty Leonore Lemmon in 2006's factually based "Hollywoodland" and in-deep attorney Veronica Donovan on the Fox show "Prison Break" in 2005 and '06.
Last year Tunney put a new pin in the map of her two-decade career with the CBS breakout hit "The Mentalist," the second season of which premieres Sept. 24. Tunney stars as California Bureau of Investigation senior agent Teresa Lisbon, whose team takes on high-profile criminal cases with the help of the titular consultant, former TV "psychic" Patrick Jane (Simon Baker). Lisbon has her hands full balancing Jane's razor-sharp behavioral insights with his frustrating disregard for legal procedure.
"It's basically a personality dynamic that's been used in movies since the '50s," says Tunney. "If you think of, like, Spencer Tracy and Katharine Hepburn, it was the left-of-center, anti-establishment, free-spirited guy and the uptight, by-the-book woman. I think that my character is hard-wired that way, and that's certainly not going to change, but I think that the reins get loosened, and like the audience, I do learn that he's effectual and start using him like a missile, where at least my character can still feel like she's in control of him."
But keeping that dynamic fresh is a big job. "You can only roll your eyes and say 'Jane' how many times," says the actor, who had a conversation early on with series creator Bruno Heller about not letting Lisbon get angry with Jane too often. "It would lose its seriousness if I did it every episode. This cannot be a power struggle." For Tunney, open communication with the writers is important. "It's tricky. You certainly don't want to do the same thing every week, and you don't want to get, like, the four reactions that the network really enjoys and that's all you do," she says. "With the writing, they're definitely, second season, sort of taking off the mask of the character—not with my subordinates but with Jane. You see more of her and more of her private side."
Behavior Specialist
Tunney shifted between indie and studio fare early in her career, but she found the entertainment landscape changing—which affected where she could find the characters she was drawn to. "The '90s were a lot different for film," she says. "There were a lot of co-financed character-driven films you could go and do that weren't huge budget but you could make a living. That sort of dried up in 2001, 2002. And it seemed like the only roles for women that had any dimension beyond the grieving wife were on television. If you think of the great female roles of the past 10 years—I mean, Edie Falco in 'The Sopranos'—it sort of became about wanting to act and play interesting characters, and more of those lived on TV."
The way Tunney approaches her roles depends on what feels right for the character. "Sometimes I go to a coach," she says. "I'll do a certain amount of research depending on what the character is and what it requires. Sometimes music helps. Sometimes it's nice to get a pair of shoes for the character—it changes the way you walk and carry yourself, and that's really important. It's different for every job."
In getting said jobs, she's gone through "a whole bunch of different phases." There are periods when she's just been offered work, as with "Prison Break," and then she'll go back to auditioning again, though she feels auditions are "a bad environment for acting. Generally you're not reading with another actor, [and] listening is half the job. And it's an environment that is false in every way."
Still, she's always off-book. "My fiancé made a movie, and I was really surprised at the amount of actors who came in without having their lines memorized," she says. She tries to dress somewhat in character. "I will even bring props, like, if I'm eating something or drinking something, because you feel really stupid faking them."
Her agent, Leslie Siebert at The Gersh Agency, sent her "The Mentalist," and though Tunney liked it immediately, she was "on the fence about the project because they didn't have a mentalist, which is a big gaping hole." She wasn't familiar with Amanda Righetti, Tim Kang, and Owain Yeoman, the supporting cast already in place. "It was obvious that the show rested on the shoulders of whoever the man was going to be and my own," she says. "I also wanted to make sure that it was a nice actor, because I knew I'd have to spend a lot of time with the person."
She was a fan of Heller's previous series "Rome," so a few days before shooting was set to begin, she sat down with him and "Mentalist" pilot director David Nutter. "They said they were getting Simon Baker," says Tunney. "And I'd met him before, we had friends in common, and I knew he was a really hard worker. I've always thought he was a great actor, and thought I'd love to work with that guy and be stuck with him for five years; I think that'd be a pretty good job." She went back to the network and the studio, "which I'd never had to do before. I found it incredibly scary."
She says she has learned a lot from Baker, who came to the show with three seasons' experience on "The Guardian." Says Tunney, "After being the lead on a television series over the past year and playing a character that's in more scenes than not, I have a lot more admiration for actors who've done that on television, because the pace is insane and you have to be a total grownup."
"The Mentalist" hit pay dirt as the No. 1 new show of last season. It's hard to ask for a more rounded career than Tunney has enjoyed, but she quips that she hopes the highlights are still to come. She's proud of her work in "Niagara, Niagara," which won her the Venice Film Festival's Volpi Cup, and the 2002 indie "Cherish." She recalls "Hollywoodland" fondly: "It was just really easy to say the words; I can still say them."
The through-line in her journey is life experience. "Even the bad [projects]: For one reason or another you did them, and they made you who you are." She regrets only the times she didn't appreciate the good stuff as it was happening. "I think that maybe I was a bit too hard on myself," she says. "I don't really do that anymore." Her advice is to live a life. "If you're constantly in the makeup trailer or you're in an acting class, you're not really exposed to any real life or real people to play."
 Finally, she says, "Always want to get better. I think the scariest thing to me would be the idea that I could be complacent, this idea that you're in a place and you're cashing a check and you don't want to make it better or get better. I think that's scarier to me than not working."
Outtakes
-- Doesn't like watching herself: "I'm never like, 'Oh my God, great work, Tunney!' Which is a great reason to keep on doing the show. It's like getting a do-over."
-- Appreciates the difficulty of theater but says it never called to her: "I think it's the sort of thing people go do to refuel and to fall in love with acting again, and when I feel like I need that, I usually do a tiny movie."
-- Admits to doing the 2008 film "August" solely to meet co-star David Bowie, whom she's loved since she was 6