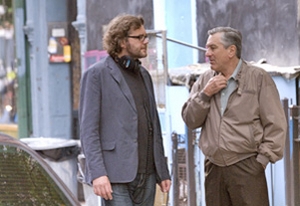 As an Englishman, Kirk Jones believes he had advantages—as well as many challenges—in writing and directing a film centering on the lives of an American blue-collar family. Still, "Everybody's Fine," starring Robert De Niro as a widowed patriarch, has universal themes, he says: "Everyone has had some experience with parents or brothers or sisters or children."
The Bristol-born director of "Nanny McPhee" and "Waking Ned Devine" says he is drawn to material that has broad-based appeal and frankly admits his ambition is to create films that are commercial—if for no other reason than that he spends close to three years on each and wants substantial audiences to see them. De Niro on board won't hurt the cause.
"I rarely write a script with an actor in mind, because it's usually just too disappointing, but Bob was the obvious choice," Jones says. "I wanted an actor who has aged gracefully and who is naturally comfortable in his own skin. I also wanted an actor who could deal with the subtlety of emotion and performance. I think Bob is a master of underplaying. You can see what's going on in his head just by looking at his eyes. He rarely overacts unless he's playing for comedy, and then he's brilliant at that as well."
Loosely based on Giuseppe Tornatore's 1990 Italian film "Stanno Tutti Bene," "Everybody's Fine" tells the story of the aging and ailing Frank (played in the Italian film by Marcello Mastroianni) who travels across the country in an effort to reach out to his three adult kids—here played by Kate Beckinsale, Drew Barrymore, and Sam Rockwell—with whom Frank has had troubled relationships.
"I knew Bob could handle Frank," Jones continues. "It's amazing how many people come out of that movie and say, 'That was my dad.' How can he achieve that? He is one of the most iconic actors in the world, and yet onscreen he convinces everyone he is their father. It's the way he moves, the way he looks, the way he does quirky things with the camera bag he's holding." That De Niro is a father of five further enriches his portrayal, Jones says.
Once De Niro was secured, the next order of business was nailing down the rest of the cast. Interestingly, Jones maintains he was not interested in actors resembling each other; he was far more concerned with finding actors who could convincingly convey family dynamics. "For example, Kate is the bossy older sister who takes control, while Drew plays the more insecure, needy younger daughter, and Sam is the rebellious son who stands up to his father," says Jones. "When I brought them together, I was reminded they had worked together in the past. Drew knew Sam from 'Confessions of Dangerous Mind,' and Kate knew Sam because they had done 'Snow Angels' together. And Bob knew Drew. That isn't the reason I approached them, but I realized bringing old friends together helped create that sense of family. Nobody auditioned. The casting director and I thought of these actors and were very respectful of Bob, making sure he was comfortable with each actor."
In an effort to grasp the American experience, "I took Frank's journey on Greyhound buses and trains and stayed in the cheapest motels I could find," Jones says. "I started in New York and went to Pittsburgh and Cincinnati and St. Louis and Kansas City, through Denver, the Rockies, and ended up in Vegas. I also took 2,000 photographs [which is now a book] and interviewed more than 100 people I met on the journey. The conversations and opinions were as important as the landscape, and some of them ended up in the movie. As an Englishman, I brought a fresh pair of eyes to a packet of Twinkies or the faces in buses or the ordered shelves in supermarkets."
Jones reconceived the story in several ways, not least Frank's ability to finally accept the truth about his family. Frank's stubborn refusal to do so would be implausible to a contemporary audience on either side of the Atlantic, Jones says.
Step by Step
Growing up, Jones had no intention of being a film director, he says, adding the pressure to declare a profession early on was not as heavy as it is now. "So many kids today say they want to be movie directors, and they don't know why," he says. "They think it's cool or glamorous. And then when they direct, they realize they don't like it, or it's too much work, or they're not too good at it."
As Jones tells it, he "stumbled" into directing, though he had a vague interest in film editing and camera work. He attended the Newport Film School in Wales and studied virtually every aspect of filmmaking. Along the way, he discovered he had a flair for making TV commercials—winning a few national competitions—and became an intern for a production company that produced television ads. He worked his way up, performing a host of menial tasks, before being offered the opportunity to direct TV ads full time.
But he was uncertain he had the temperament to be a director. "I was stunned at how aggressive directors could be," he recalls. "There was a lot of shouting and screaming and tears. It was in the '80s, and there was a lot of bad behavior. When I saw how things worked in the real world, I doubted whether I could survive. I don't scream or shout or thrive on stress. It's not my nature. When I got to work on a commercial, it was such a thrill for me to hear the cast say it was one of the most enjoyable experiences they had ever had on a set because the atmosphere was so relaxed."
Five years down the road, he wanted to try his hand at a feature. His first effort was a 10- minute short that never got made but ultimately inspired "Waking Ned Devine." Though not "driven with ambition," Jones undoubtedly had beginner's luck. The producer with whom he had worked on TV commercials came on board as his film producer and within short order had raised $3 million from private companies in France and England. "Proportionate to the budget, it was the second-highest-grossing film in the world that year," Jones says.
Three years ago, Jones created his own company, through which he plans to make two more films in the next five years. "During the first 10 years as a feature director, I made three films," he says. "I do a lot of research, and I take care in committing to a project. My goal is to be able to do more films more often."
Still, he has no regrets. "I value the time I've taken to move up through the industry," he says. "I like the fact that I made people's tea and swept their floors. I worry about those 21-year-olds who think they should be directing big movies right away. It helps to start at the bottom and work your way up so you know what everyone's job is and how the system works."
Outtakes
- Earned a BAFTA nomination for best newcomer for "Waking Ned Devine"
- Garnered many awards for his TV commercials, including the Silver Lion at Cannes
- Favors films that bring together humor and emotion