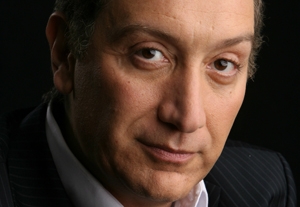 Directing Simon Gray's
"The Common Pursuit"
seems an unlikely choice for Moises Kaufman. After all, the Venezuelan-born theater artist is best known for writing and directing such experimental works as "Gross Indecency: The Three Trials of Oscar Wilde," "The Laramie Project," and "33 Variations."
By contrast, Gray's play, which premiered in England in 1984 and Off-Broadway in 1986 and is now playing at the Roundabout Laura Pels Theater, is a realistic work, recounting the evolving relationship among six buddies, from their hopeful collegiate days in mid-1960s Cambridge, England to the realities of adult life two decades later.
"It's the first realistic play I've done and it is unusual for me," admits Kaufman. "I think of realism or naturalism as fascinating forms. But I have trouble with them because they're so prevalent. Also, TV and film do them better than theater. On stage, I'm interested in exploring what's possible theatrically.
"I was drawn to this play because it's so smart, moving, and wise," Kaufman continues. "Also, it feels like an autobiographical piece. It describes a group of people who come together to create an arts magazine and what happens to them 20 years afterwards. We came together to create the
Tectonic Theater Project
and now 20 years have passed."
Still, the literalness of real furniture and cocktail glasses on a stage was challenging for Kaufman he says. So too was putting an emotional handle on the hopefulness of the '60s, though he tried to evoke that sense of possibility by forging a set without walls. Kaufmann was determined to avoid the claustrophobia of walled rooms.
A Collective Understanding
As a youngster his ambition was survival, he recalls only half kidding. Theater as a career couldn't have been more removed from his practical goal of earning a living. In fact at the Universidad Metropolitana in Caracas, Kaufman was enrolled in the business program. But after his first accounting class, he rushed out in search of extra-curricular activity that didn't repel him. Almost by accident he found himself involved with the school's theater company and for the first time Kaufman had a sense of direction and purpose.
Equally relevant, he found his esthetic. The school's theater was influenced by the work of such experimental artists as Peter Brook, Pina Bauch, and Jerzy Grotowski. In addition, Caracas plays host to an annual international theater festival. "I grew up watching work that was not realistic," he says. "So, when I saw my first realistic play, 'Private Lives,' I thought, 'Oh, how avant-garde.'"
With a business degree in hand, Kaufman headed to New York City, where he matriculated as an undergraduate in the Experimental Theatre Wing at Tisch School of the Arts. After three years he dropped out to create the Tectonic Theater Project whose mission was (and is) to explore new theatrical forms, while telling stories that have cultural, social, and political relevance. Kaufman employs historical texts, newspaper accounts and, where relevant, personal interviews. Some of his works have sparked debate, most notably
"The Laramie Project,"
which explored the aftermath of the Matthew Shephard homophobic murder in Laramie, Wyoming.
Kaufman utilizes lots of improvisation in the creation of his projects. Indeed, whether he is the playwright and/or just the director, "I try to create a room where everyone is allowed to not know," he says. "By that I mean you should feel free to try things out and not make definitive choices, to know you can go down one route and then go down another route. Hopefully that allows for a new collective understanding of the text. I like it when we arrive at an understanding collectively."
During the course of his career, the core of his esthetic has remained the same, but "The questions have become clearer and with that I've become more daring," he notes. "But I wish the company's infrastructure had progressed quicker. I wish we had a school that taught our methods and continued to expound our ideas."
Kaufman is now looking forward to working with Duncan Sheik and Steve Sader on their musical version of Hans Christian Anderson's "The Nightingale," and directing "The Heiress," starring Jessica Chastain, Dan Stevens and David Strathairn.
At the moment, however, his thoughts are focused on "The Common Pursuit," and the resonating questions it poses. "How do we deal with our original dreams and aspirations and how do we negotiate life?" Kaufman asks. "True strength comes not from avoiding pitfalls, but having pitfalls and then surviving them. It's an affirmative play. A great piece of dramatic literature has the same-or similar-values it always had, but it's original enough to still make a dent in the cultural dialogue and shed light on how one lives."
"The Common Pursuit" runs through July 29 at Roundabout at Laura Pels Theatre, 111 W. 46th St., NYC 212-719-1300 www.roundabouttheatre.org.
Outtakes
-Earned a Tony nomination for Best Play, "33 Variations"
-Helmed Doug Wright's "I Am My Own Wife," which garnered Obie, Tony, Lucille Lortel, and Drama Desk awards
-"The Laramie Project" was tapped for a Drama Desk nomination as well as two Emmys when it aired on HBO.