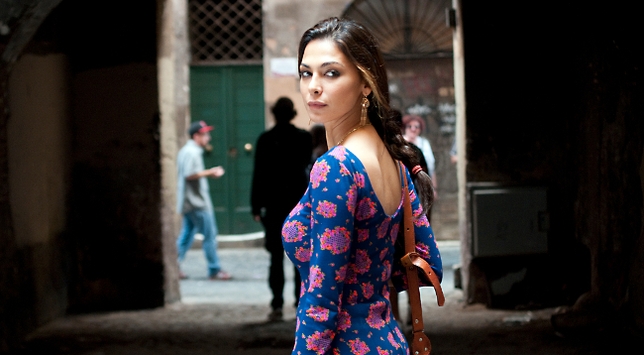 Get ready to see a lot of Moran Atias. In addition to Paul Haggis' upcoming "Third Person" (which Atias helped develop), the Israeli actor will soon be seen on FX's "Tyrant," the new show from "Homeland" creator Gideon Raff.
On pitching a story.
"Before I was in the lucky stage of 'developing a script' I was…pitching Mr. Haggis an idea I could possibly act in. He finally said 'Interesting...' [and] I was thrilled until he suggested I write it. But it was clear that I had to really bring my ideas to a place he would consider writing it himself. After months he finally made that decision. But there was no guarantee for a role. Any experienced producer would prefer a 'name' actress, especially for a leading and challenging role."
On working with Paul Haggis.
"Working with Mr. Haggis on the script was the best school I've ever attended as an artist and as a student of life. He puts himself in other people's shoes with no judgment, but a humility that can only make his characters original because he is shaping a new reality into something he already knows."
On auditioning for "Tyrant."
"Since it's not this creative journey I take when I actually develop a character, I try to keep it simple, open to any suggestion the casting director can provide. For 'Tyrant,' I had worked with Jay Scully… He opened the scene to me in many different ways. So when Gideon Raff had a note, I felt confident to execute it because I already did it with Jay."
On acting in a story she co-created.
"I had to clear myself from the work that I had done with the story and distance myself and start with a blank page. So I started a wide research, first gypsies: I read every book, article…saw every piece of art in its many different forms, and gradually narrowed it down to details to create one voice that doesn't represent all women, all gypsies, all relationships, but just hers. That takes time and exploration. Trying out different things until I know what clicks for me. What convinces me [that] I'm her. What I personally want to bring to her and to this story.
"One of the things I had on my 'character to-do list' was getting to a place where people were disgusted by her; they would look and treat her as dirt. To get to that place was very inspiring, as I have often received a very different attention. I wanted to develop a sweat not of a girl that just finished her yoga workout, but one that had been in her unwashed clothes and covered with that greasy street smoke. I could have created an artificial sweat with our makeup artist, but living with that new sweaty skin created the reaction I was hoping to feel and after long, unbathed weeks, people moved away and tried very hard to not get that sweat anywhere near them.
"I was barely making a euro a day trying to wash people's cars, and I was the same girl they would probably try to hit on if I wore my Levis. It was astonishing to see what a long skirt, a bucket in hand, and a little greasy hair would do. I never felt such unjustified judgment. It was a powerful feeling I tried to bring to every scene—feeling dirty, unworthy, with a need to survive. I will not make her a victim but a force of life."
Inspired by this post? Check out our audition listings!