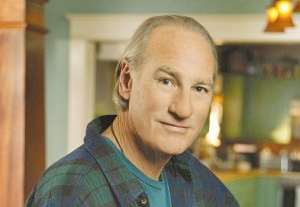 Craig T. Nelson, perhaps still most identified with the comically oafish and bumbling title character on "Coach" (1989–97), insists his lifelong career on television has in no way curtailed other options. More to the point, making TV his base of operation was his choice. "I have had to feed a family, and the best way to do that was to do television," he says. On March 2 he will be seen on a new NBC series, "Parenthood," co-starring Lauren Graham and Peter Krause. Nelson plays Zeek Braverman, a macho, traditionalist grandfather in a totally dysfunctional and very contemporary family.
"The script was just great," says Nelson. "It's sophisticated and funny, and the cast is extraordinary. When I heard them read, I realized just how remarkable they all were. The actors, directors, and the character I'll play are all considerations. But it's predominantly the story that draws me to a project."
Whatever the role, Nelson has a clearly delineated approach, starting with "going by the smell," he remarks cryptically. After that, he defines the character's physical traits and a little bit of his personal history. "Is he tall, dark, have an accent, and where is he from?" Nelson asks himself. "How does he walk? What does he wear? What is he feeling physically? Is he hurt? It's all external, and then I work into the internal, his circumstances and backstory. Some characters mask their backstories, while others utilize them. Some are so involved in the past they can't get into the present. I start from the outside and then get to the fine points. And sometimes you don't find them until you're in the actual scene, and that's when it's alive."
Nelson's method has evolved over a lifetime, though he admits he recently had an acting epiphany working with Tommy Lee Jones in "The Company Men," a new John Wells film slated to be released this year. "He was so professional in what he was doing, it gave me room to be who I was," he recalls. "I don't know how he works—I didn't ask him—but it manifests. The two characters we play have a complicated relationship that we had to formulate in a short time. I said, 'Who are you? Where are you from? How did we get to be friends? How did we start this business?' And for the next 15 minutes, he gave me a rundown. He was concise, intelligent, had done his homework. I had come in with my own backstory, but I was willing to adapt to what he came up with. And again, that backstory may or may not inform the scene, but it was still there. These are performance enhancers."
A Standup Comic
Born in Spokane, Wash., Nelson attended three colleges and graduated from none. "I had trouble studying," he admits frankly. "But I loved theater, though at that time I was more involved in the technical aspects: costumes, scenery, and lighting."
After relocating to Los Angeles he earned a scholarship from the Oxford Playhouse, where he met (the now notable director) Barry Levinson. The two launched a standup comedy act, leading to a gig on a local TV show and ultimately with Tim Conway, who hired them as writers and performers. Despite Nelson's comic chops, he went on to play an array of film heavies. When "Coach" came along, he jumped at it because it gave him the chance to flex his comedy muscles once again, not because he anticipated the show's success. Unlike other actors on high-profile TV series, says Nelson, he never suffered from typecasting.
His next long-running role was Chief Jack Mannion in "The District" (2000–04). Mannion was inspired by Jack Maple, who played a major role as a crime strategist in the administration of former New York Mayor Rudy Giuliani. Because the character was based on a well-known and still-living person who had intense and colorful views on crime-fighting, not to mention a flamboyant style, Nelson says, it was one of the most challenging roles he has ever tackled. For starters, he was straddling the line between impersonation and interpretation. He says he was not imitating Maple's vocal style or physical mannerisms, but he was determined to capture the man's essence, "his sense of humor and his love of what he did," he says. "But you also want to make sure you're accountable and that your integrity is intact. You don't want to be distorting for the sake of an entertaining moment onscreen."
Though Nelson has worked steadily, he says in recent years the offers are not coming in the way they once were, and he attributes that to ageism. "I really bemoan the fact that actors younger than I am, my age, and older, who are not only qualified but wonderful, are not working because of age discrimination," he says. "The industry is becoming younger, and we're all losing a sense of legacy and tradition. Children are not taught history, and we've become contemporized, meaning we can't relate to the past." When he was coming up, he says, there was an interest in the industry's cultural lineage, which no longer exists.
'No Need for Real Writers'
Nelson talks about other changes in the industry that trouble him—including time restraints, money pressures, and an overlying fear factor that has become pervasive. He says, for example, directors come to the job with a lack of practical training and experience, adding there's nothing like "Playhouse 90" or "The Philco Television Playhouse," where practitioners can hone their craft. It's not coincidental that no Paddy Chayefskys or Rod Serlings are emerging on TV today, he adds: "There's no need for real writers. There's a need for scenarists, people who write scenes." Nelson contends the best dramatic writing is in books, "everything from action-oriented novels to histories. You have David McCullough and John le Carré, and you have Vince Flynn and Michael Connelly."
 Perhaps not surprisingly, Nelson has little use for the Internet as a source of employment and admits if it ever became a primary way for an actor to make a living, "Oh, heck, I'd do theater." In 1998, Nelson took on the role of the benign and rational dad Nat Miller in a Lincoln Center Theater production of "Ah, Wilderness." It was a great experience on several fronts, he says, not least because it gave him an extraordinary amount of time to develop and explore his character and performance. Throughout the play's run he kept a daily journal, making note of the moments he missed onstage and where he needed to improve. He also recorded how his own thoughts and feelings informed his performance. He would like to do more theater and was toying with starring in a production of "The Lion in Winter," but other obligations intruded. "I think it would be fun to do the classics," he says. "That would be a challenge. And by the same token, depending on the contemporary piece, it might be wonderful to do a new play, one that hasn't been written yet."
Outtakes
- Has been nominated for three Emmys (winning one for "Coach") and four Golden Globes
- Directed 25 episodes of "Coach" and two episodes of "The District"
- Guest-starred on "Monk," "CSI: NY," "My Name Is Earl," "Chicago Story," "WKRP in Cincinnati," "Wonder Woman," and "Charlie's Angels," among many others
- Appeared in such films as "The Devil's Advocate," "Ghosts of Mississippi," "Turner & Hooch," "Poltergeist," Poltergeist II: The Other Side," "Private Benjamin," and "Silkwood"