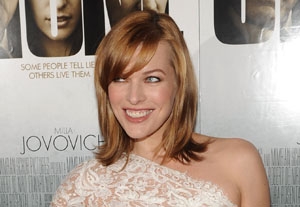 A model since the age of 9,
Milla Jovovich
pushed herself to transcend her status as someone merely nice to look at. "Because the modeling started pretty early, my mom always raised me to have something more than my face to rely on," says Jovovich, who immigrated to the United States from the Soviet Union as a very young child. "She used to say that your pretty face can get you through the door, but what are you going to say once you get there?"
This desire to go beyond her beautiful exterior not only led Jovovich into acting; it has come to symbolize the trajectory of her career. She quickly moved into action roles, such as the zombie killer Alice in the "Resident Evil" film series, probably her best-known work. But there is much more to Jovovich than her ass-kicking persona. She gets to show off her dramatic chops in the new film "
Stone
," directed by John Curran.
Jovovich plays Lucetta Creeson, wife of Gerald "Stone" Creeson (Edward Norton). Lucetta attempts to persuade a parole officer, Jack Mabry (Robert De Niro), to release her husband from prison. The role represents a remarkable shift from Jovovich's "Resident Evil" character: The only ass-kicking she does is the acting kind. Even beside Academy Award winner De Niro and nominee Norton, Jovovich stands out and offers the film's most subtle and complex performance.
Zombies and Spaceships
"Stone" is certainly artier than her usual fare. Most people first took notice of  Jovovich in the 1997 cult science-fiction film "The Fifth Element," in which she played the "perfect being" Leeloo. " 'Fifth Element' was one of the big breakout performances for me as an actress and opened up the doors for a lot of different films," Jovovich says. "It was definitely one of those very rare films, with such a special character like Leeloo, that doesn't come around every day. The whole action thing came out of that as well."
"The whole action thing" refers to the 2002 sci-fi horror film "Resident Evil," which has spawned three sequels, the most recent released last month. The movies are very near to Jovovich's heart. "I love the franchise and love that people really want to see me in action films," she says. In addition, in 2009 she married the series' director, Paul W.S. Anderson, with whom she has a daughter. "I'm very, very proud of the franchise. Because my husband and I have been doing these movies for almost 10 years, they're like our little baby, so I'm very happy that people were so open to them."
The success of her action films has given Jovovich the chance to do less-mainstream projects like "Stone," she says: "It's nice to be able to get lots of other, smaller films made based on my international appeal, and the fact that I can get movies financed is really interesting for me, because I get to play really diverse characters…and get more experience," something she can't do in blockbusters.
Femme Fatale

In "
Stone
," Lucetta is a femme fatale who uses her sexuality to manipulate men. Her main target is Mabry, whose affair with her forces him to question his long-held beliefs. The film doesn't wholly vilify Lucetta or turn Mabry into a victim; it sets our opinions of each in constant flux, leaving a lot of questions unanswered—something that drew Jovovich to the project.
"When I read the script," she says, "I was very compelled because it's one of those rare scripts that isn't what it seems…. So many times we make movies where we're telling you what to think, we're giving you the story, we're giving you who the characters are, and we're giving you the ending. You don't have to come to your own decisions too many times; you're told what to think and what the filmmakers want you to think. When I read 'Stone,' it was so gray in that sense; the characters were so flawed; the story—you really didn't know where it was coming from at certain points…. I'm so used to reading a story that leads you with a lot of answers to the end, and here, when I finished the script, I had a lot of questions."
Jovovich became attached to the project through Norton, who recommended her to Curran based on her work in Spike Lee's "He Got Game." "Edward really went to bat for me," Jovovich says. "He showed John 'He Got Game' and said, 'Listen, you've got to see Milla for this.' And so that's how I got the audition. I got myself put on tape with the casting director for John, and that kind of set the ball rolling."
Jovovich sees Lucetta as multidimensional—sinister and "scary" but also sweet and naïve: "It would be very easy to play her as just a femme fatale or just a manipulative sexual creature, but yet when I read the script, I saw this great joy in this character and this light and this freedom that none of the other characters really possessed. It's like, yeah, she's an animal and there's this ominous feeling about her, but also she's a very sweet, fun, kind of normal girl, at least on the surface." Jovovich's description of Lucetta as an "animal" is not merely rhetorical. She looked to animals for inspiration in crafting the character. "The first animal that came to my mind was a bird," she says, "and then a wolf, specifically the way a wolf is a predator."
For Lucetta's naiveté, Jovovich also looked to the animal kingdom, describing the character's movement through the plot in terms of instinct. "Even as a predator," she says, "there's still an innocence to any animal, because they're just doing what they're made to do by nature. In the same way, there's this natural quality about her that sort of doesn't see the forest for the trees because she is so much living in the moment."
Jovovich, however, seems to be in full control—testament to her constant drive to improve. "I always wanted to inspire myself and do as many diverse things as I could," she says. "I've been doing what I've been doing for the past 25 years: being a performer, being an artist, being an actress, and trying to do as much as I can and get more experience."