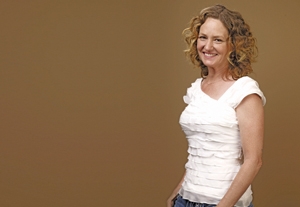 Melissa Leo is about to ring some bells. Despite receiving an Academy Award nomination for her raw, memorable turn in 2008's "Frozen River," the actor admits her life didn't change overnight. "Along the Oscar trail, I learned that I'm known and respected within the industry," Leo admits. "But to the general public, my name doesn't really ring bells." That's likely to change after her fierce and funny turn as matriarch Alice Ward in the true-life tale "The Fighter."
Leo is earning raves for the brassy, controlling Alice, the mother of nine children, including boxers Micky Ward (Mark Wahlberg) and Dickie Eklund (Christian Bale). Alice fiercely protects her family but is often misguided in trying to help them. As Micky's manager, she sends him into fights unprepared and holds him back from pursuing opportunities away from the family. But there is another side to Alice—such as the adoring mother whose eyes fill with tears when she catches her beloved Dickie feeding his habit at a crack house, leading to a tender duet between the two. Or the woman who has learned from a tough life to fight for what she believes in, a trait she obviously passes on to her seven daughters. There is also the woman who firmly believes, despite all evidence to the contrary, that her sons are champions. "There aren't many people who do what Melissa does," says "The Fighter" director David O. Russell, who cast Leo on Wahlberg's recommendation. "She's the lioness of this family who may commit unlikable acts, but you never question her love for those kids."
The chameleonic Leo disappears into Alice under a bad bleached-blond hairdo that grew increasingly shorter just before filming began. She says she "begged" for prosthetics, particularly false teeth like Bale and some of her onscreen daughters wore. "That family has appalling teeth genetics," she says with a laugh. "Lovely family, but weak teeth. I had worked with a false denture once and hoped to for this film because there is a behavior Alice has with her mouth, especially her lips, and some of it has to do with keeping her teeth in her mouth." Instead, Leo relied on makeup artists Donald Mowat and Tricia Heine to age her for Alice and paint her teeth temporarily dirty. "It brushes off pretty easy, but the residue just isn't good," Leo notes. "I think I'm owed a dental cleaning by the film company."
Leo was able to briefly meet the real Alice during the film's shoot on location in Lowell, Mass., even though Alice was in the hospital with pneumonia. "She opened her room to me, and I met her," Leo recalls. "Although there's something so disparate in our foundations, upon meeting her I was immediately brought back to my mother's mother. And I began to walk into her from there." Also of help was footage of Alice from the 1980s, particularly a short televised clip of her before Eklund's fight with Sugar Ray Leonard. "It's just a very telling moment, just her looking into the camera and saying, 'My boy is gonna beat Sugar Ray, believe it. I know it!' " Leo says of the clip, which she re-creates in "The Fighter."
Though Alice at times makes questionable decisions, Leo is adamant that she should not be perceived as a villain. "Alice has every reason to hold her head up high and be proud for what she's accomplished in her life," Leo notes. "She was involved in a game in which honesty and loyalty is not going to get you anywhere. Boxers are used and thrown away, so how can you say anything against a woman who says she won't let her children go into that world alone. And if it appears to be ambition for herself, I don't have to agree with that."
Even those who may dislike Alice are loving Leo's brash, bold performance. But all the positive buzz aside, Leo says she has already won over the toughest critics. "The reaction to Alice is great," she notes. "But I don't think anything is ever going to top the reaction to Alice in Lowell, Mass. When I would come out of the trailers and people who have known Alice all her life would step back in amazement, that was extraordinarily fun."    
OUTTAKES
-Currently filming the second season of the HBO drama "Treme," created by the late David Simon, whom she worked with on the series "Homicide: Life on the Street"
-Also appeared in "Conviction" and "Welcome to the Rileys" this year
-Other notable credits include "21 Grams," "The Three Burials of Melquiades Estrada," and "Everybody's Fine"