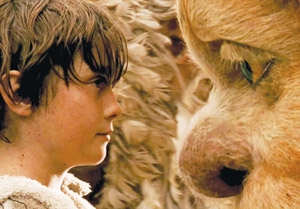 Director Spike Jonze has delved into the mind of John Malkovich and captured the most realistic  portrayal of writer's block ever seen on screen. But for his third film, he wanted a challenge. The result is the years-in-the-making adaptation of "Where the Wild Things Are," the beloved children's book by Maurice Sendak about a boy named Max who travels to a strange land and becomes the king of a group of colorful creatures. The director took a tortuous path to achieve his vision, one that involved two first-time screenwriters, a long shoot on another continent, unusual directorial methods, and much public scrutiny.
Through it all, Jonze held on to his vision by surrounding himself with a crew of trusted collaborators, many of whom he's worked with for the last 15 years. But the artists had no blueprint to operate off of in creating a wholly original work. "We didn't look at the way other movies were made and try to make it that way," he says. "We looked at what we wanted it to be and figured out a way to make it happen." Perhaps most integral to his mission was the involvement of his two main actors. First, there is Max Records, 9 years old at the time he was cast as Max, who brings Jonze's world to life through a purely uninhibited, transcendent performance. Then there is Catherine Keener, who has appeared in all of Jonze's films and ended up not only acting in "Wild Things" but also becoming, as Records puts it, "Spike's guinea pig." She ended up doing myriad things—from wearing creature suits to coaching Records to covering herself in blood—to help her director because, in her words, "That's what you do for Spike: You go all out. Because he does, and it inspires you to do the same." 
From Maxine to Muse
With his quiet voice and unassuming air, Jonze hardly looks like the man who launched the youthful magazines Homeboy and Dirt or revolutionized the world of music videos and commercials with his whimsical but edgy style. Yet two weeks before the biggest movie of his career opens, Jonze is sitting in a Los Angeles hotel room calmly signing publicity stills and recalling the first time he met the actor he calls "Keener." The director was working on his feature debut, "Being John Malkovich," and having a difficult time casting Maxine, the tough-as-nails object of everyone's affection. "It could have easily been played as this ball-busting bitch, and a lot of people we read for it—great people—couldn't pull it in a different direction," Jonze reveals. "I wanted it to be played with a grin and a sense of play, and that was effortless for Keener. She's like Maxine in real life, in that she sees through everything; she has the sharpest radar for what's really going on. Yet she doesn't use it in the way Maxine does. Maxine is very manipulative; Keener is compassionate with it." Keener had agreed to audition—but only for Jonze and not on camera. As a result, Jonze says, "I walked out of that room and told everyone, 'We got her. I can't prove it, but it's her.' "
The two hit it off immediately, personally and creatively, and Jonze had the opportunity to work with her again when she played herself in his second film, "Adaptation." When prepping "Wild Things," he knew he wanted her to play the harried but loving mother of Max, but he had additional plans for her. "I asked her to work in this other role, which was basically a utility player," Jonze says. "Wherever she was needed, we'd send her."
One of her early assignments was auditioning with Records, who has obviously become more than a co-star to Keener. The two share an easy rapport, often teasing each other and completing each other's sentences. Records, now 12, bears more than a passing resemblance to Jonze, not only in appearance and the fact he refers to his onscreen mom as "Keener" but also in intelligence and imagination. Records resides in Portland, Ore., and through his father, a photographer, had appeared in small music video. "That video led to another one, and one of Spike's friends was on that set and passed my name on to Spike," Records says. "They asked if I was interested in auditioning, and I said, 'Why not?' " Having never auditioned for anything before, Records found his first experience fairly enjoyable; after reading a few lines from the script, he was told to "go crazy and do things like attack my parents with a plastic sword and have water-balloon target practice." Interjects Keener, "Which didn't faze them at all. The entire family is like the shrug family. They're completely cool and easygoing and just amazing people."
For his second audition, Records went to Astoria, Ore., where Keener was shooting "Into the Wild." "We basically just goofed around," Keener admits. "We were crawling around on our knees in this conference room at the Holiday Inn and having dirt-clod fights. Max was incredibly smart and poised and fun." Keener turns to Records at this point and says, "I knew it was going to be you."
Records wasn't as confident. He was asked to come to L.A. for a third audition and to meet Jonze. Says Records, "The whole time we were thinking, 'I'm never going to get the part, but look at this! We get to go to Astoria and now L.A.!" And, as it turns out, Australia for a five-month shoot when Records landed the part.
Down Under
From the beginning, Sendak had only one request of Jonze in adapting the book: "Make it your own." One of the filmmaker's first decisions was to bring on writer Dave Eggers, author of "A Heartbreaking Work of Staggering Genius" and founder of literary magazine McSweeney's, to co-write the screenplay. Though both were first-time screenwriters (Eggers later co-wrote "Away We Go") and perhaps not the obvious choices to adapt a children's book, Jonze went with his instincts. Producer Vincent Landay says this is typical of the director: "Spike likes to put people into situations where they might not have been in before, because you often end up with a fresher result."
In turning the slight book into a full-length screenplay, the pair expanded the story to show more of Max's home life. The film begins and ends with scenes that perfectly capture the joys and pains of childhood before Max journeys to the land of the Wild Things. The creatures, anonymous in the book, now have names and distinctive personalities, with voices provided by such actors as James Gandolfini, Chris Cooper, and Catherine O'Hara. They also have very real problems with leadership and cooperation, as Jonze didn't want to shy away from powerful emotional questions. "I interviewed a lot of kids for inspiration and ideas," Jonze notes. "This is a very dramatic age, and I wanted to capture that frustration."
Once filming began in April 2006, Jonze often went to unusual lengths to get the dramatic reactions from his young star. When Records needed to appear frightened, Jonze had flamethrowers going off behind the camera. He even brought in sideshow performers and learned fire-swallowing—which worked because, Records says, "Spike wasn't very good at it, and I was scared for him." One day, Jonze asked Keener to come to set on a day she wasn't shooting. "Max was supposed to be frightened, and I wanted to help him off-camera," Keener says. "So I showed up on set—"
"And Spike covered her in blood," Records says matter-of-factly. Keener laughs, adding, "He sent me into makeup and said, 'I need you to be bruised, covered in blood, and have a stump for an arm.' So then we went to do the reveal, and Max sees me, and, well, basically, he yawned. At that point he'd moved from the 'shrug' phase to the 'yawn' phase."
The tricky part for Jonze was eliciting the performance he needed from Records while maintaining the naturalism that drew him to the actor in the first place. "There were days when he would start to think he knew what I wanted and therefore would try to do it," the filmmaker says. "And I would just say, 'No, that's not what we need.' He was only 9, but he's also a very smart person, and I didn't direct him like I was directing a kid. I directed him like a person I was collaborating with, and I had eyes on the outside that could help him see what he was doing."
One scene in which Keener was particularly helpful was a fight between Max and his mother. "We had to dig down and really hurt each other's feelings," Keener recalls. "But we were safe with each other, so we could go pretty far. Just before the scene, I called him over and said, 'Just scream every curse word to me that you can.' Then we would scream back and forth to each other. At first it was funny; then it got really serious."
Keener's workload didn't end there. "When I couldn't go to rehearsal with the suit players, I'd send her," Jonze notes. "She and I tag-teamed playing Max during the voice shoot. She was this amazing asset because she's so sharp and has the keenest radar for what's real and what's fake. I was fortunate to have her dedicate that amount of time to helping me." At one point, Keener flew to Australia for 12 hours to work with Max—less time than she spent in the air flying to the set. Keener downplays her involvement, saying, "Honestly, I was just another set of eyes for Spike. He's very collaborative with everyone and was kind enough to include me in that experience, which was amazing."
Keener received a producer credit on the film. Asked when she took on that title, she admits, "About three weeks ago!" she laughs and adds, "It was a gift. It was so surprising and touching that they did that. I was so flattered." Jonze says he and Landay called her with the news together, and she was indeed overwhelmed. A slight smile crosses his face as he says, "She cried."
Tuning Out
When a beloved book is adapted for the screen, there is going to be much interest and, inevitably, criticism. Public interest gathered steam when the film's original release date was pushed a year. Then, in February 2008, test footage from the film, including a creature suit Jonze admitted was a "very early cringe-y prototype," hit the Internet. The buzz around the film—good and bad—was becoming a deafening roar even as the filmmaker was still working on the project. And with the film opening this week, billboards and advertisements are difficult to miss. 
The actors, for one, have done a good job of ignoring the expectations and hype. "It's actually pretty easy," Keener says. "I don't drive many places, so I don't notice the billboards." Adds Records, "And I live in Portland, so we don't have billboards."
Jonze seems equally unfazed. "I remember on the other movies, there was a point where we finished the film and I went to dinner with Eric [Zumbrunnen], the editor, and Charlie [Kaufman, the screenwriter]," Jones recalls. "We'd locked picture, and I remember thinking, 'We worked really hard on that, and I'm really proud of what we made.' I remember trying to take a snapshot of that feeling, and that's the feeling to hold on to. Amidst all the other stuff, that's really the thing that matters."
As he continues autographing, Jonze comes across a still of Records: a close-up in character as Max. "Or I look at this photo, and I just think about Max," he says, emotion creeping into his soft cadence. "I don't think about any of the hype around it, just this person that I met that gave me so much, and what he gave is the movie. It wouldn't be alive without him. And those are the things that mean something to me, more than what others say."    
OuttakesBack Stage:
What would you want someone to know if they're coming in to audition for you?
Spike Jonze:
To not have any preconceived notions but to have imagination. The way I do auditions is more like work sessions. I rarely will just have someone come in, read a scene twice, and let them go. I want to know what I can get out of them. I've had so many great auditions with actors I haven't cast. I had an audition with Thomas Jane once, and it was the most fun audition. He wasn't right for the role and I didn't cast him, but I'm sure I'll work with him one day.
Back Stage:
Which role was it for?
Jonze:
It was John Laroche, Chris Cooper's part in "Adaptation." He was probably one of the first people to audition for it. Now that we've cast Chris, it's clear he was too young, but in that first audition, you don't know. You're trying to discover what the possibilities of the character are. So I'm discovering what the character can be and what the most important essence is. Because you're not going to find one person that's everything but you're going to find one person that is the most important thing. Chris Cooper wasn't naturally John Laroche; he wasn't naturally this swaggering, extroverted, condescending, cocky guy. But what he was, was someone who could tap into the soul and broken quality of John Laroche. And through the course of auditioning with actors, I realized that's the most important trait: I find somebody that can tap into where all of this swagger is coming from. By casting Chris and working with him and pushing him and giving him the room to play, we developed all the stuff that went on top of that. But the audition process to me is a big discovery of who the character is and what I need and what I'm looking for."