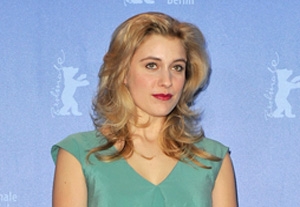 There's a scene in Noah Baumbach's latest film, "Greenberg," in which Greta Gerwig's character, Florence Marr, is going through her voice mail. As she listens to an awkward yet sincere message from Roger (played by Ben Stiller), there's a mesmerizing close-up of her face, and you see the true beauty of the equally awkward yet sincere Florence. In other words, Gerwig has arrived. The actor formerly known as the "Mumblecore Queen" definitely has what it takes to play with the big boys.
Aside from her role as the sassy best friend in last year's "The House of the Devil," Gerwig's credits—including "Nights and Weekends," "Baghead," and "Hannah Takes the Stairs"—are all within the recent DIY filmmaking movement dubbed mumblecore. Think $1,000 budgets, hand-held digital cameras, and often inarticulate dialogue improvised by filmmakers serving as actors—hence the term coined by sound mixer Eric Masunaga.
"We didn't know that anyone would even see the films, which is kind of a beautiful way to make films when you're just starting, because you don't have any of the crippling self-doubt that comes with bigger projects," says Gerwig. "The sad truth of being an actor in New York or L.A. is there are more good actors than jobs. I think that there's something great about mumblecore or whatever you want to call it—making your own things. I hope that it extends to theater as well. I just like that feeling. It's very infectious, and nobody ever walks away and thinks, 'What a waste of time.' Or at least my experience is everyone walks away from it thinking there's so much to do, there are so many places to go with this."
These are the kind of films influenced by the hipster angst in Richard Linklater's talky "Before Sunrise" and "Before Sunset," but they tend to come out looking more like two people sitting on a couch in a YouTube video. So it takes quite a special actor to stand out in this bare-bones environment and garner the attention of Baumbach and his wife, "Greenberg" co-writer and co-producer Jennifer Jason Leigh. Gerwig was the first actor they auditioned for the plum role of Florence, a typical 25-year-old L.A. girl fresh out of college, who works as a personal assistant by day and sings at open mikes by night.
At what she calls "the most fun audition I've ever had," Gerwig read the entire script with Leigh and sang the couple a Judee Sill song at their dining-room table. "Then I left and I was on cloud nine," she says. "I thought, 'If that's just my audition experience, I'm so happy that I had that.' It was really fulfilling. I was happy every step I got to go on, because it meant that I got to play this girl a little longer." After two more auditions, with producer Scott Rudin and with Stiller, the part was hers. "I didn't find out from my agent," says Gerwig. "Noah called and said, 'Would you like to be Florence with me?,' and then I cried. I was so happy. It was that moment, if you put it in a movie, it would look fake."
Gerwig says she loved Florence because of how she deals with the world and how she leads with her heart. In one scene, Florence chides her tendency to fall into bed with men by saying, "I've got to stop doing things just because they feel good." And during an awkward love scene, she apologizes for wearing an ugly bra. Gerwig is thrilled to hear that the line is getting laughs in early screenings: "That makes me happy. I remember being in my trailer with Noah and the costume designer and Jennifer, and we were having, like, an ugly-bra fashion show, trying to figure out which one was the ugliest. It was pretty awesome.
Sticking to the Script
Unlike Gerwig's previous mumblecore fare, "Greenberg" was completely rehearsed and true to the script. She understood that this screenplay was not one to be "tinkered with," she says, and calls each phrase "a gift that fills so much of it out for you." The major challenge for her was to pull back and let things be. "There's this simplicity to Florence—not stupidity," she says. "She doesn't have a performative quality as a person. I've played people who have more performative qualities, and someone who is less concerned or less aware of the impression that she's making on the world is hard, especially for someone who's an actor." Gerwig calls Michelle Williams' naturalistic performance in "Wendy and Lucy" an influence.
Her co-star, for one, feels she has succeeded. "With Greta, you don't feel like you're acting; you feel like you're just living real life with her," says Stiller. "She seems incapable of being false on camera, and nothing she does feels forced. She's a beautiful person, and that comes through in what she does.
No stranger to nudity, Gerwig has disrobed for sexual and nonsexual scenes in many past films. It's not easy to forget the scene in "Hannah Takes the Stairs" in which she and another actor sit naked in a bathtub playing the trumpet together. Gerwig has that rare commercial quality that all sexually aware female actors long for: She's the girl that other girls want to be friends with and guys want to date. So when it came time for her to do the "highly choreographed" love scene with Stiller, she says, it was a wonderful experience, mostly due to the supportive camera crew.
Gerwig urges other actors not to feel an ounce of regret after their own first love scenes. "Don't beat yourself up if you feel weird about it. You should feel kind of weird about it. It's weird," she says. "I think, let yourself feel all the feelings you're going through. I was very lucky to be with Ben, but know that your partner is going through the same thing as well and that everybody wants you to be okay. Trust that everyone is on your side, and if you need to take a minute or if you don't feel comfortable, you can say something and nobody is going to be mad at you. Remember how you felt about [the scene]. Remember that you thought that it was right, and remember what the reasons for it were, because people will take things out of context all the time. And if that fails, just show your movies in Europe; they don't give a shit. It's really funny. I never get asked about [nudity] in Europe."
Gerwig began her career as a ballet dancer, but after "wrecking her knees," she says, she switched to fencing. She joined the now-defunct Sacramento Fencers Club and at one point was the third-ranked fencer in California. She studied English, theater, and philosophy at Barnard College and was on the Columbia University debate team—"not surprisingly, that really helps with improv," she says.
Looking back on her patchwork background, Gerwig doesn't regret not attending Juilliard or NYU for acting: "I'm sure a lot of actors have this moment where they realize that in all the other activities they ever liked, they liked the part of it that seems like acting. Like in dance, I liked the ballet where you'd get to be the swan or Clara. I loved fencing, but even more than I loved fencing, I really liked the Renaissance Faire. I was always drawn to the geekier, more performance aspects. In English, I was always most interested in Renaissance poetry. It's all kind of tied into some vision I have of living in London when Shakespeare was rising. I have a great desire to go back to that time."
Gerwig might get to use her time machine when she shoots a tiny movie in the summer with a bunch of girlfriends. "I think we're going to go to upstate New York for a month and make a movie about early colonial women," she says. "It was like a simultaneous fetish that we all realized we had, and I know all these girls who are filmmakers now, which is great, because we need more lady filmmakers."
Since "Greenberg," the only film that Gerwig has shot is a small indie called "Happy Wife," which she co-wrote with Alison Bagnall ("Buffalo '66"). "Right after 'Greenberg,' " Gerwig says, "I spent a lot of time not doing things, because the things that were being offered seemed like, 'Why would you go from something that you felt so passionately about to something you felt lukewarm about?' It's not the size of the project that excites me. It's the project and the people."
But Gerwig's ultimate career aspiration is to become friends with filmmaker Jim Jarmusch: "I keep looking for his hair!"
"Greenberg" will be released in Los Angeles and New York on March 19 and nationally on March 26.